Before Capitol Riot, CNS Pushed Trump's False Election Fraud Claims
Topic: CNSNews.com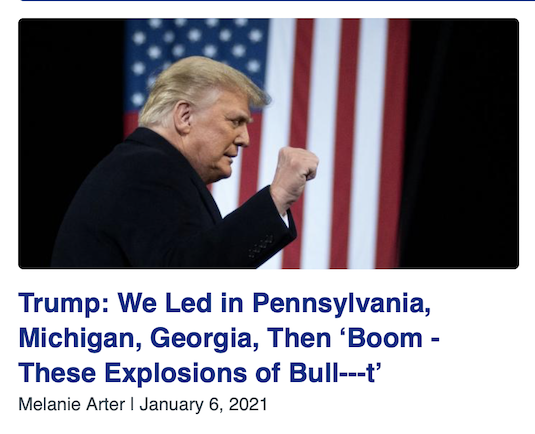 CNSNews.com led into the Jan. 6 Electoral College vote the way it had in the weeks previously: uncritically promoting President Trump's bogus claims of election fraud. First, it put a pro-Trump frame in an anonymously written article on his call to Georgia Secretary of State Brad Raffensperger trying to coerce the official to overturn the election in that state that "'based on what' Trump had 'heard'—ballots from November's presidential election were being shredded in Georgia. Another article, by Susan Jones, carried the uncritical headline "Trump Claims at Georgia Rally of 2016 and 2020 Elections: 'I Won Both of Them'."
The following days featured stories like:
Craig Bannister even trotted out right-wing actor Jon Voight to rant, "We all know how this election was false. We all know. But, is anyone standing up for the truths? Is anyone?"
As expected from such a pro-Trump outlet, none of the articles admitted the fact that no solid, credible evidence exists of massive fraud on the level that might overturn election results. But, surprisingly, CNS did a couple articles to offer a modicum of perceived balance:
On Jan. 6, CNS put an unambiguous pro-Trump tilt o the Electoral College proceedings:
And on the morning of Jan. 6, Melanie Arter served as stenographer for Trump's speech of incitement at the rally outside the Capitol:
President Donald Trump on Wednesday claimed that the 2020 presidential election was "pure theft," alleging that voter fraud changed the election results to favor Joe Biden.

Speaking at the Save America rally in Washington, D.C. ,Trump called on supporters to get their elected Republican officials to fight, "and if they don't fight, we have to primary the hell out of the ones that don't fight."

"You primary them. We are going to let you know who they are. I can already tell you frankly, but this year, using the pretext of the China virus and the scam of mail-in ballots, Democrats attempted the most brazen and outrageous election theft, and there has never been anything like this. It's a pure theft in American history. Everybody knows it," he said.

"That election, our election was over at 10:00 in the evening. We are leading Pennsylvania, Michigan, Georgia by hundreds of thousands of votes, and then late in the evening or early in the morning, boom. These explosions of bullshit, and all of a sudden it started to happen," the president said.

[...]

The president called out the mainstream media, saying they have become "the enemy of the people."

"We don't have a free and fair press. Our media is not free. It's not fair. It suppresses thought. It suppresses speech, and it's become the enemy of the people. It's become the enemy of the people. It's the biggest problem we have in this country. No third world countries would even attempt to do what we caught them doing, and you'll hear about that in just a few minutes," he said.

[...]

"Now, it is up to Congress to confront this egregious assault on our democracy, and after this, we are going to walk down, and I will be there with you. We are going to walk down. We're going to walk down. Anyone you want, but I think right here, walk down to the capital, and we are going to cheer on our brave senators and congressmen and women, and we're probably not going to be cheering so much for some of them, because you'll never take back our country with weakness," the president added.

"You have to show strength, and you have to be strong. We have come to demand that congress do the right thing and only count the electors who have been unlawfully slated, lawfully slated. I know that everyone here will soon be marching over to the Capitol building to peacefully and patriotically make your voices heard. Today we will see whether Republicans stand strong for integrity of our elections, but whether or not they stand strong for our country, our country. Our country has been under siege for a long time," he said.
No mention, of course, of the fact that none of Trump's election fraud claims have been proven.
And then the riots began.
How did CNS cover them? We'll examine that in an upcoming post.
Posted by Terry K. at 12:20 AM EST
Updated: Thursday, January 14, 2021 12:24 AM EST