MRC Defends And Deflects Over Trump's Debate Failure on White Supremacy
Topic: Media Research Center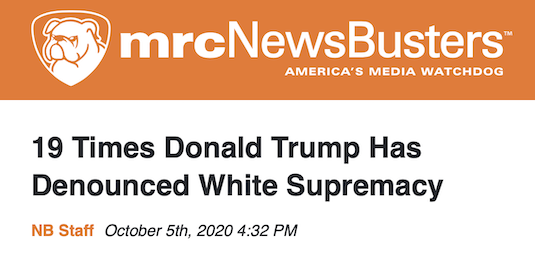 When President Trump couldn't quite denounce white supremacy and the thuggish right-wingers in the Proud Boys during the first presidential debate, the Media Research Center -- as you'd expecct from the media arm of the Trump campaign -- launched into the usual defense-and-deflection mode it has had to do so many times.
Gabriel Hays kicked off the defense by complaining that Joe Biden "called Trump a 'racist' and repeated the thoroughly-debunked lie that Trump praised white supremacists in Charlottesville." (Yeah, not so much.) Hays then tried to explain away"lefties in Hollywood" pointing out that Trump told the Proud Boys to "stand back and stand by": For the hyenas of Hollywood Twitter, the only interpretation of this moment was that Trump was sidestepping the condemnation of white supremacists and telling a group of racist militiamen to hold their villainous action until he gives the order. Though Trump has specifically condemned white supremacists and neo-Nazis at least twice now." Then he played whataboutism: "But, again, as Trump pointed out in the debate, where's the condemnation of ANTIFA and the Black Lives Matter left which has inspired most of the violence on city streets since May?"
Curtis Houck whined that one commentator criticized Trump "for having supposedly failed to denounce hate groups." Nicholas Fondacaro, insisted that Trump actually did denounce white supremacists and militia groups when he merely agreed to do so without actually doing it:
But the full context, the transcript showed that Trump had mentioned the Proud Boys after demanding moderator Chris Wallace to give him a name of a group to condemn, and Joe Biden chimed in with the name. And the main take away was Trump saying "sure" after Wallace had asked: "Are you willing tonight to condemn white supremacists and militia groups?"
Kristine Marsh linked to Fondacaro's post in claiming that Trump's failure to condemn white supremacists was "another lie from the media." Joseph Morris asserted that Trump merely "inartfully answer[ed] a question about a white supremacist group," adding, "While Trump's response was not the best wording, it was not a call to violence." He too played whataboutism, huffing that "Joe Biden refused to even acknowledge the existence of far-left violent extremists, falsely proclaiming: 'Antifa is an idea not an organization.'"
Houck once again served up more embarrassing gushing over White House press secretary Kayleigh McEnany by parroting her attempted defense of Trump:
After Tuesday's exhausting presidential debate and Wednesday's 20-minute cage match between Chris Cuomo and Senator Ted Cruz (R-TX), Thursday's White House press briefing was an unmitigated disaster thanks to meltdowns from reporters demanding President Trump and Press Secretary Kayleigh McEnany denounce white supremacist groups on what must be a near-constant basis, regardless of what Trump has said in the past.

Fox News chief White House correspondent John Roberts went first and asked McEnany "for a definitive and declarative statement without ambiguity or deflection" of Trump "denounc[ing] white supremacism and groups that espouse it, in all their forms."

McEnany noted that it was answered on Tuesday at the debate and on Wednesday (thanks to a question from Roberts's wife Kyra Phillips of ABC) and noted three direct instances of when he's denounced hate during his presidency.
Norris returned to rant: "Appearing on CNN's New Day on Thursday, unhinged left-wing commentator Errol Louis was given free reign to fabricate wild claims that President Trump was sending a clear signal to violent extremists, militia-type organizations" and telling them 'That he does want them, in fact, to go out and help disrupt the elections.' Not only was there no challenge of the false smear, the cable network has actually been actively pushing such hysteria."
Noirris served up another reframing of Trump's remarks, claiming he was being criticized for "not denouncing white supremacy the way they demanded him to."
Jorge Bonilla got in on the action, claiming that Univision anchor Jorge Ramos -- a longtime MRC target -- "twice pushed the lie that President Donald Trump has not denounced white nationalism generally, or the proud boys specifically."
This was capped by an anonymously written piece with video headlined "19 Times Donald Trump Has Denounced White Supremacy" -- which included the debate clip in which Trump didn't actually denounce white supremacy. The unnamed author added whataboutism: "Oddly these same journalists don't demand that Joe Biden repeatedly denounce Antifa."
It's almost as if the Trump campaign paid the MRC to crank out that last piece. And all the other defenses and deflections.
Posted by Terry K. at 9:18 PM EDT
Updated: Tuesday, October 20, 2020 9:27 PM EDT