MRC Cheers That White House Twitter Accounts Must Rebuild Followers Under Biden
Topic: Media Research Center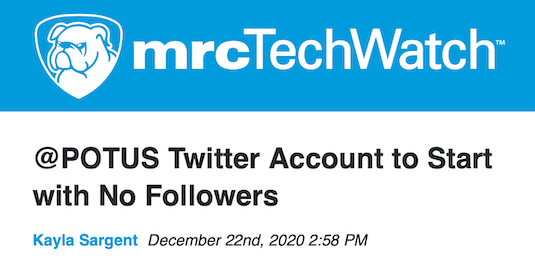 For all of its failing victimization narratives regarding "Big Tech," the Media Research Center actually found something to like about them -- and that's because it impacts President-elect Joe Biden. Kayla Sargent seemed pretty pleased in a Dec. 22 post:
Former Vice President Joe Biden will reportedly have a long way to go to build up his Twitter presence, assuming, as currently projected, he takes over as president in January.

Twitter has reportedly told the Biden team that the official @POTUS account will be reset to zero followers, and "Donald Trump's followers will not carry over to the official Twitter accounts assigned to the new president and White House in January, a reversal from the last transition," Bloomberg News reported.

"The move would mean the Biden administration will start with zero followers and would cut off a way for Biden to instantly reach millions of people who currently follow the official accounts used by Trump," said Bloomberg News. "The @POTUS account has more than 33 million followers while @WhiteHouse has 26 million."

[...]

Rob Flaherty, Biden's digital director, said in a tweet that the team "pushed back" but "were told this was unequivocal."
No histrionics and no ranting about "censorship" here. Just an clear undercurrent of happiness that Biden was being inconvenienced.
The next day, Dan Gainor was even more pleased by the situation:
The left is never happy. Likely president Joe Biden's team is angry at Twitter because the site won't transfer all of President Donald Trump's official followers to Biden.

Digital Director Rob Flaherty whined that, " In 2016, the Trump admin absorbed all of President Obama's Twitter followers on @POTUS and @WhiteHouse -- at Team 44's urging. In 2020, Twitter has informed us that as of right now the Biden administration will have to start from zero."

Trump has been the most interactive president in history … and the media and the left hated him for it. They especially despised the Twitter account that he built up to more than 88 million followers. But that's Trump's personal account and not at issue.

[...]

Fifty-nine million fans is a big PR baseline, though presumably many would unfollow Biden.

Team Biden would have a tough case to make that Twitter is somehow unfair to them. Twitter censored the Hunter Biden scandal and shut down the New York Post account for 17 days. It has censored Trump or his campaign 553 times, compared to zero for Biden.
As we've noted, flagging Trump for spreading false information is not "censorship," as there's no inherent constitutional right to spread lies, and Gainor doesn't explain why private companies have no right to enforce their terms of service against someone who has repeatedly violated them.
Also: Note how neither Sargent nor Gainor were willing to unambiguously concede that Biden won the election; Sargent equivocated by saying it's based on "assuming, as currently projected, he takes over as president in January," while Gainor called him the "likely president."
Posted by Terry K. at 11:01 AM EST