Fraud On The Bookshelf
WorldNetDaily's online store sells books that have been roundly discredited -- and David Barton's tome on Thomas Jefferson isn't the only one.
By Terry Krepel
Posted 4/21/2015
---
You can find all sorts of things at WorldNetDaily's online store, from books and videos to bulk food and homeschooling indoctrination materials.

A couple of those books, however, have been thoroughly discredited, something WND surely knows -- yet it continues to offer them for sale.
"The Jefferson Lies"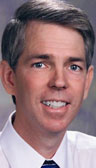 David Barton
In 2012, the publisher of right-wing "historian" David Barton's book "The Jefferson Lies" pulled the book from the marketplace amid growing concerns over its factual veracity. In the wake of the withdrawal, Barton bought 17,000 copies of the book.

It appears that some of those copies may be popping up at WND -- which, of course, continued to sell the book while refusing to tell its readers about the controversy about its accuracy. WND then made a new push to sell the book -- while telling a blatant falsehood in the process. A May 2013 WND article proclaimed:
Thomas Jefferson stands falsely accused of several crimes, among them infidelity and disbelief. Prominent historian David Barton sets the record straight in the hard-hitting book "The Jefferson Lies: Exposing the Myths You've Always Believed About Thomas Jefferson".

It's so hot and so politically incorrect, the publisher pulled it from the shelves of every bookstore in America.

But the WND Superstore has plenty of copies and is making them available to you so you can know the truth about one of America's founding fathers.
No, the book was not pulled by its publisher (Thomas Nelson, which if you'll recall was WND's original partner for its book division) for being "politically incorrect"; it was pulled because it is factually inaccurate.
And where did WND get those "plenty of copies" it claims to has? Given that Thomas Nelson has not distributed the book for months, the one place WND can get its hands on plenty of copies of Barton's book is from Barton himself.
WND's online store -- where Barton's book remains on sale -- continues to list the book as a Thomas Nelson product despite the fact that Nelson has disavowed the book through withdrawing it from the market.
WND continued to promote Barton's flawed work in a Dec. 20 article by John Aman touting how "Barton won a $1 million defamation judgment in August against two left-leaning candidates for the Texas State Board of Education" that claimed he was "known for speaking at white-supremacist rallies." Aman added:
Barton also won in court against W.S. Smith, a self-described atheist who published an online article in 2010 calling Barton "an admitted liar" whose "books have been picked apart time and again and exposed as fallacious."

Smith was a no-show throughout the lawsuit, disappearing shortly after Barton sued him in September 2011. Barton's legal team hired a private detective and published notices in Texas newspapers statewide in an unsuccessful attempt to find the elusive writer.

Smith disappeared after he boasted, in an email to Huffington Post columnist Chris Rodda that he was "happy to meet" Barton in court "because the truth in [sic] on my side."

"If this is what you want, Mr. Barton, then let's do it," Smith said. "Bring it on. Bring it on. Bring it on. The path you've chosen will lead only to your embarrassment and ruin."

Three years later, a Texas court found Smith's assertions about David Barton both false and defamatory.
Aman suggests this is vindication against anyone who ever claimed Barton is a liar and that Barton will sue others he claims have falsely defamed him. But as religious blogger Warren Throckmorton detailed, the court never adjudicated the accuracy of Smith's claim because Smith failed to show up in court to defend it, and that Barton's attorneys sought, and received, a default judgment in Barton's favor. Throckmorton added: "To use a sports analogy, the other team didn't show up and Barton won by forfeit."
Unsurprisingly, WND included a plug for Barton's discredited book in the article: "Thomas Jefferson under attack! Learn truth in book spiked by publisher – 'The Jefferson Lies: Exposing the Myths You've Always Believed About Thomas Jefferson' (Hardcover)."
"The Boy Who Came Back From Heaven"
A Jan. 15 WorldNetDaily article stole a Washington Post item on a Christian publisher recalling the book "The Boy Who Came Back From Heaven" after the boy and his mother recanted the book's central claim by admitting the boy did not go to heaven and that he said so because "I thought it would get me attention."
But what's that in the middle of WND's stolen excerpt? A plug to buy the book from WND's online store. The plug even tries its best to spin the book being discredited: "'The Boy Who Came Back From Heaven' shook up the Christian world before — now it's doing it again."
That's right -- WND was trying to sell you a book through an article that admits the book is a lie.
If that wasn't insulting enough, WND wasn't even offering much of a deal on this discredited book. As of this writing, it was available for the "discount price" of $19.99, a mere $5 off the cover price.
Wouldn't it have been easier for WND to simply return those books to the publisher instead of cynically trying to sell a book it knows is false?
WND has since pulled the book from its store -- something it hasn't done with Barton's book despite also being withdrawn by its publisher.
"From Time Immemorial"
WND has long been a champion of Joan Peters' book "From Time Immemorial," which sought to discount the claims of Palestinians to the land claimed by Israel. She was interviewed for the web-based talk show WND operated in 2001, in which Peters noted that Farah "is very keen on my research." She also appeared on Farah's short-lived radio show in 2004.
In a 2013 column, Farah praised the book as the one to read to understand the Middle East:
"From Time Immemorial," the product of seven years of original research, helped, at least briefly, to change the terms of the debate about the conflicting claims of the Arabs and the Jews in the Middle East.

Peters documented the complex history of the region and in so doing deftly and authoritatively contradicted common misperceptions about the role and strategy of each side of the struggle. According to Peters, part of the problem in getting the truth out about the Mideast are the restrictions the Arab powers – including the Palestinian Authority – have placed on the media.

[...]

Buy yourself a copy of "From Time Immemorial." Read it. Devour it. Reread it. Embrace the history. Pass it on to others who need to know the truth. Send a copy to President Obama, to your congressman, to members of the Knesset.

Because if we don't learn the lessons of history, we are surely doomed to repeat its mistakes.
What Farah and WND won't tell you: The book has been largely discredited.
Related articles on ConWebWatch:
MondoWeiss details the history of Peters' book, noting that it "proved to be a godsend, particularly for those Zionists who were slightly troubled by the possibility that the non-Jewish inhabitants of Palestine might have been disadvantaged by the Zionist project of creating a Jewish State on their land." But as researchers such as Norman Finkelstein and Israeli history professor Yehoshua Porath dismantled the book, some early supporters backed off -- anti-Muslim activist Daniel Pipes admitted, "From Time Immemorial quotes carelessly, uses statistics sloppily, and ignores inconvenient facts. . . The author's linguistic and scholarly abilities are open to question. . . In short, From Time Immemorial stands out as an appallingly crafted book."

MondoWeiss concludes by stating, "From Time Immemorial is an embarrassment that taints anyone who embraced it as well as those who continue to do so."

WND has largely ignored criticism of Peters and her book. The last time WND appears to have broached the subject was in a 2002 article by Art Moore, which noted the controversy then let Pipes walk back his criticism of Peters, claiming that "Pipes said that despite its shortcomings, critics had failed to refute the central thesis" of Peters' book. Moore copied-and-pasted that segment of his 2002 article for his Jan. 9 obituary of Peters, declining to delve into the issue any further, despite the headline of the obituary referring to "From Time Immemorial" as a "hotly contested book." It does, however, quote Farah lamenting the controversy his website largely ignored: "Farah said the 'unwarranted criticism she faced for this truly great historical work caused her to withdraw from the public spotlight for the rest of her life.'"

So WND has not only buried the controversy, it keeps selling Peters' book without warning buyers about the dubious nature of its claims.