CNS Still Pushing Only Polls That Make Trump Look Good
Topic: CNSNews.com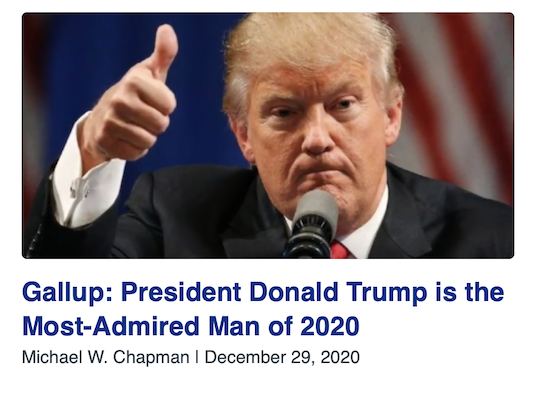 Throughout the Trump presidency, CNSNews.com has focused on reporting only on polls that make Trump look good and his critics and opponents look bad. That's continuing to happen after the election as well. Managing editor Michael W. Chapman gushed in a Dec. 29 article:
In Gallup's 2020 poll on the most admired man, President Donald J. Trump came out on top. For most admired woman, Michelle Obama placed first and first lady Melania Trump placed third.

In the survey, Gallup asked, "What man that you have heard or read about, living today in any part of the world, do you admire most?"

In response, 18% of Americans named Trump, the highest percentage. In second place was Barack Obama with 15%.
Chapman did eventually concede that Gallup also noted "The incumbent president is usually top of mind when Gallup asks Americans to name, without prompting, which man living anywhere in the world they admire most."
Craig Bannister went the Biden-bashing route in a Jan. 7 article citing CNS' favorite pro-Trump pollster, Rasmussen:
Far more Americans expect crime to increase, rather than decline, with former Vice President Joe Biden as president, and a strong majority oppose defunding the police, a new national survey of American adults by Rasmussen Reports finds.

[...]

Differences among parties are stark, with only 20% of Democrats expecting crime to rise, compared to 69% of Republicans and 39% of "other" political affiliations who fear crime will increase.

By race, 44% of Whites, 28% of Blacks and 41% of other races expect crime to get worse with a Biden administration. Forty-six percent (46%) of both married adults and those with children at home predict an increase in crime.
While the poll was taken before last week's right-wing riot at the Capitol, Bannister's article was posted afterwards, so it looks highly ironic that crime appears to be increasing under Trump (which Bannister didn't note).
Posted by Terry K. at 1:35 AM EST