After Capitol Riots, MRC Plays The Victim Narrative On Social Media
Topic: Media Research Center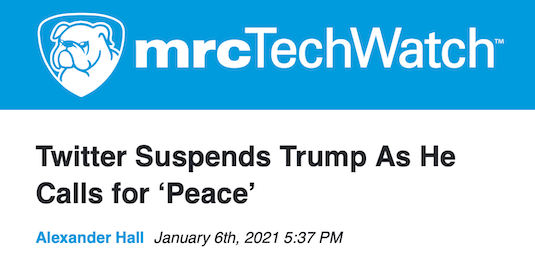 The Media Research Center has gotten a lot of mileage out of pushing the victim narrative regarding social media -- that conservatives are solely and uniquely "censored" by "Big Tech" merely for the sin of being conservatives -- and it's not about to let a little thing like a Republican-instigated riot at the Capitol get in the way.
Alexander Hall went for full victimization in a Jan. 6 post ridiculously headlined "Twitter Suspends Trump As He Calls for 'Peace'":
President Donald Trump's call for order was restricted by Twitter, as chaos erupted in the nation's capital.

Rioters stormed the capital on January 6 and Trump responded with a short video posted to Twitter that called for peace and an end to the protest. He assured his supporters, "I know your pain. I know your hurt," but told them "you have to go home now. We have to have peace." President Trump also assured his supporters that he agrees the election was "fraudulent," but warned "we can't play into the hands of these people." The tweet was promptly labeled with a warning: "This claim of election fraud is disputed, and this Tweet can't be replied to, Retweeted, or liked due to a risk of violence."

The "risk of violence" claim was especially bizarre since Trump made it clear he was calling for "peace" and urging the protesters go home.
Hall seems to have missed the part where Trump instigated the riot he was supposedly trying to defuse. He also censored the part of Trump's video where he encouraged the rioters by saying, "We love you. You're very special," and falsely claimed that "We had an election that was stolen from us." Instead, he whined that "Twitter has targeted Trump with more than a year of unprecedented restriction of his tweets. Trump and his campaign have been censored by Twitter 625 times, Twitter heavily restricted this post in kind" -- failing, as the MRC usually does, to explain why Twitter, a private company, has no right to enforce its terms of service on all of its customers.
As more social media outlets cracked down on Trump, Hall complained the next day, continuing to falsely frame the issue as Trump being "censored" for calling for peace:
Even as President Donald Trump called for peace, social media companies purged posts and his video and restricted his accounts, with at least two platforms removing his presence indefinitely.

Facebook founder and CEO Mark Zuckerberg declared in a Facebook post that the block on Trump's accounts on Facebook and Instagram would be extended indefinitely, as "We believe the risks of allowing the President to continue to use our service during this period are simply too great." Zuckerberg specified: "[W]e are extending the block we have placed on his Facebook and Instagram accounts indefinitely and for at least the next two weeks until the peaceful transition of power is complete."

This indefinite purge of Trump follows multiple Big Tech platforms cracking down on Trump's call for peace amid the D.C. chaos, which saw rioters storm the U.S. Capitol building.
Again, Hall refused to report the full content of Trump's video and history of incitement that came before the "peace" call.
Meanwhile, as the Trump-inspired riot was going down on Jan. 6, the MRC's Kayla Sargent was grumbling that "The left's hatred of President Donald Trump truly knows no bounds. Recode co-founder and New York Times contributor Kara Swisher is rejoicing in her assumption that Trump will be removed from Twitter."She grumbled further on Jan. 8:
The left is absolutely desperate for Twitter to ban President Donald Trump.

At least 120 leftists on Twitter have called for Trump to be permanently removed from the platform following the Jan. 6 unrest at the U.S. Capitol Building. The list includes figures in media, Big Tech and leftist nonprofits.
Sargent concluded, "Regardless of the violence that took place, restricting the speech of a sitting U.S. president certainly should not be the solution." Even if that sitting U.S. president inspired said violence? Sargent is silent on that question.
Posted by Terry K. at 2:36 PM EST