WND Bashes Mosque For Allegedly Violating Law It Wants Repealed (When Used Against Christians)
Topic: WorldNetDaily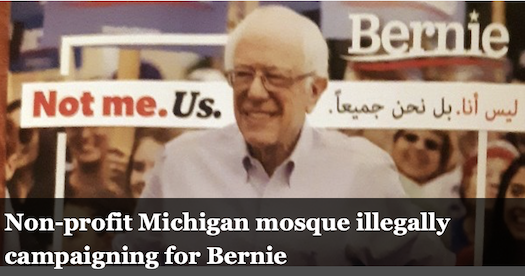 We've documented how WorldNetDaily has attacked mosques for making use of the same legal protections that it has cheered Christian religious organizations for using. WND took that to the next level in a March 9 article by Art Moore:
Ahead of Tuesday's crucial Democratic primary, a prominent Michigan mosque is distributing to worshipers campaign material for Sen. Bernie Sanders targeting Muslim voters, which is a violation of the non-profit mosque's tax-exempt status.

A campaign leaflet obtained by David Gaubatz, known for his investigation of mosques that promote terrorism, urges Muslims to vote for Sanders on Tuesday.

With text in both English and Arabic, it concludes with: "Yalla! Vote for Amo Bernie this Tuesday, March 10!"

[...]

The so-called Johnson Amendment passed by Congress in 1954 prohibits 501(c)(3) organizations, such as houses of worship, from engaging in any political campaign activity. The Sterling Heights mosque states at the bottom of the home page of its website that it is registered as a 501(c)(3).

[...]

The guidance publication, 1828, makes clear: "Under the Internal Revenue Code, all IRC Section 501(c)(3) organizations, including churches and religious organizations, are absolutely prohibited from directly or indirectly participating in, or intervening in, any political campaign on behalf of (or in opposition to) any candidate for elective public office."

Violation of the code "may result in denial or revocation of tax-exempt status and the imposition of excise tax."
Ah, the Johnson Amendment. The law that, um, WND has been demanding repeal of for years.
Editor Joseph Farah wrote a 2008 column insisting on its repeal, declaring that churches "have every right to take a position on who should be our next president without risking the church's tax status." In a 2017 column, Chuck Norris cheered President Trump's partial rollback of the Johnson Amendment, calling it an example of how "the American people are granted more freedoms and choices, and fewer restrictions, which is exactly what our founders had in mind for the great experiment of our republic."
The very same day Moore's article appeared, Scott Lively used his column to denounced the amendment, introduced by "the reprobate senator and soon-to-be President Lyndon Baines Johnson," because it "effectively neutralized the church as a political force. Today the majority of congregations totally avoid political and cultural involvement in fear of running afoul of the IRS."
WND -- in a further contrast with its current stance -- also cheered when churches deliberately flouted the amendment.
So, if the Johnson Amendment is a "cultural myth" that's designed to silence churches when it's applied to Christians, but it's suddenly a serious violation when Muslims are accused of doing it? Neither Gaubatz nor Moore explained -- but we're guessing that it has a lot to do with Muslims being held to a different standard and both of them disagreeing with the candidate allegedly being endorsed.
(Gaubatz, by the way, is an anti-Muslim activist best known for recruiting his son to work at the Council an American-Islamic Relations for the express purposes of stealing allegedly incriminating documents from the group. CAIR accused the younger Gaubatz of violating a confidentiality agreement; the Gaubatzes have apaprently never denied signing one, but planned to use the defense that CAIR doesn't legally exist. The lawsuit was still going on as of 2017.)
Posted by Terry K. at 2:13 AM EDT