CNS Lets Disgraced Rabbi Defend Christianity
Topic: CNSNews.com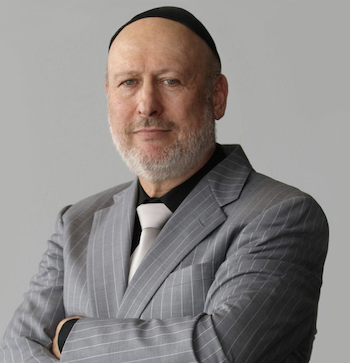 You might remember Rabbi Daniel Lapin as the willing tool of sleazy lobbyist and convicted felon Jack Abramoff -- as we've noted, Abramoff served as chairman of Lapin's organization Toward Tradition and used the group to funnel money around in his lobbying efforts. These days, Lapin runs something called the American Alliance of Jews and Christians, and he still insists that he's "America's Rabbi" (but his bio mentions nothing about Abramnoff and Toward Tradition).
Apparently, he has some bad arguments he wants to share with us, and CNSNews.com gave him a March 4 column to do it in. It's the old "Christianity is being attacked" argument, and he denies he's likening it to the way Hitler acted (and 9/11) even as he refers to it as a "blitzkrieg":
I am not going to argue that what is happening now is on the same scale as the examples I cite above, but a serious war is being waged against a group of Americans. I am certain that if we lose this war, the consequences for American civilization will be dire.

Phase one of this war I describe is a propaganda blitzkrieg that is eerily reminiscent of how effectively the Goebbels propaganda machine softened up the German people for what was to come.

There is no better term than propaganda blitzkrieg to describe what has been unleashed against Christian conservatives recently.

Consider the long list of anti-Christian books that have been published in the past few years.
Lapin then offers a list of book titles that, in fact, focus on "the Christian Right" and "Christian fundamentalism" -- not Christianity as a whole. Lapin can't be bothered to engage in the arguments in in any of those books; instead he goes Godwin (and whatever the Muslim equivalent of Godwin is) again:
What is truly alarming is that there are more of these books for sale at your local large book store warning against the perils of fervent Christianity than those warning against the perils of fervent Islam. Does anyone seriously think America is more seriously jeopardized by Christian conservatives than by Islamic zealots? I fear that many Americans believe just that in the same way that many pre-World War II Western intellectuals considered Churchill a bigger threat to peace than Hitler.
Lapin then served up another dishonest argument: "Second, major movements that changed the way Americans felt and acted came about through books, often only one book. Think of Rachel Carson's 1962 error-filled Silent Spring that resulted in the pointless banning of the insecticide DDT and many unnecessary deaths." Needless to say, Lapin never outlines thesupposed errors in Carson's book; as we documented, Carson didn't actually advocate for the banning of DDT in "Silent Spring" -- she criticized its overuse -- but the chemical does have a detrimental effect on the environment, and it has been so overused that many mosquitoes have become resistant to it, bearing out Carson's claims about it.
The rest of his column is little more than scare tactics, warning that if "they" succeed, "Christianity will be driven underground, and its benign influence on the character of America will be lost," resulting in "a long night of barbarism" in the West.
Posted by Terry K. at 12:11 PM EDT