MRC Wrongly Attacks Reporter Who Accurately Noted How Conservatives Downplayed Coronavirus
Topic: Media Research Center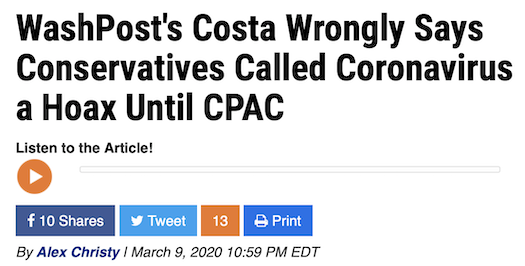 The Media Research Center's Alex Christy complained in a March 9 post:
Washington Post reporter (and PBS Washington Week host) Robert Costa joined MSNBC Live guest host Kasie Hunt on Monday to talk about the coronavirus. After mentioning that two Republican members of Congress, Sen. Ted Cruz and Rep. Paul Gosar are self-quarantining out of an abundance of caution after someone at CPAC tested positive for the virus. Costa claimed that only now are conservatives taking the threat of COVID-19 seriously.

[...]

Costa replied by first talking by repeating a claim that was debunked over a week ago, "It's a fluid situation because it was just a few weeks ago that at the CPAC conference you had many conservatives calling this entire coronavirus situation a hoax."

He claimed that only, "Now that has the virus has hit some attendees in terms of their -- them being affected by the person there who had it, you have conservatives and Republicans talking about this in a new way." The White House task force on the matter was created on January 29, back when MSNBC was still obsessed with impeachment. and a month before CPAC.
Despite Christy's headline assertion that Costa "wrongly" claimed conservatives discounted the coronavirus until someone at CPAC tested positive, he never actually proves Costa wrong; the creation of a White HOuse task force is not a reflection of conservatives as a whole.
For actual evidence of conservative downplaying coronavirus, we need go no further than the MRC's "news" division, CNSNews.com. Here are a few CNS items from late February and early March that aimed to downplay the effects of coronavirus:
Additionally, CNS downplayed its severity by accusing Democrats of wanting to "open the spending spigot" to fight it and gave space to right-wing radio host Mark Levin to rant that Democrats and the media just want to "attack, blame, and politicize."
Oh, and CNS never did a story on the CPAC participants who were exposed to coronavirus, even though the MRC had a presence there and, thus, had employees who were potentially exposed.
Looks a lot like downplaying to us.
Posted by Terry K. at 4:50 PM EDT