MRC Mad That GOP Congressman's Clown Move Was Called A 'Clown Move'
Topic: Media Research Center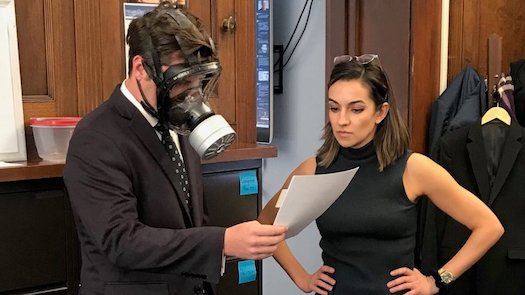 Kathleen Krumhansl comlained in a March 6 MRC Latino post that an CNN en Español anchor described Republican Rep. Matt Gaetz's stunt of wearing a gas mask on the House floor a "clown move":
As COVID-19 continues to spread, so do the insidious comments by the likes of CNN En Español anchor Juan Carlos Lopez, who turned a report on the correct preventive measures to take against the virus into an opportunity to call U.S. Rep Matt Gaetz a clown for wearing a gas mask to work.

Take a look at this video from Directo USA´s March 5, 2020 edition, featuring Surgeon General Jerome Adams as he addressed The Latino Coalition:

[...]

Two things stand: First, that instead of passing on the valuable information offered by the Surgeon General, CNN En Espanõl opted to mock a Republican congressman who evidently believed he was doing the right thing, that is preventing the spread of the virus hyped by the media trying to blame Trump for its spread.

Second, anchor Juan Carlos Lopez snarkily exemplifies the liberal media's pettiness. In this case, CNN En Español deliberately displays their political agenda- in direct conflict with the safety and wellbeing of the very public they serve.
Krumhansl is apparently giving Gaetz a pass for his gas-mask stunt because she thinks he "evidently believed he was doing the right thing" by mocking the media's purported overhype of coronavirus concerns. But subsequent events have made it clear that the media was correct in warning of the danger of coronavirus and that mocking it was, indeed, a clown move.
The clownish nature of Gaetz's stunt was further borne out by the fact that just a few days later, a person living in his congressional district died from coronavirus, and shortly after that Gaetz himself went into self-quarantine after possibly being exposed to coronavirus at CPAC, a prominent conservative gathering.
Don't expect Krumhansl to update her post or admit that events have shown that Gaetz really was a clown for doing this.
Posted by Terry K. at 3:51 PM EDT