Shocker: WND Attempts Balance On Vaccines
Topic: WorldNetDaily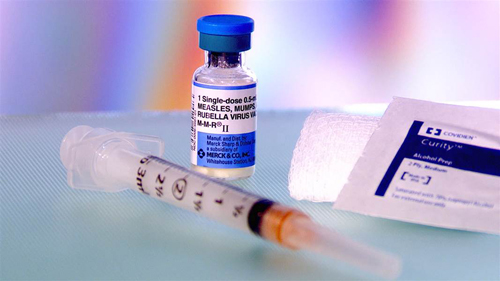 WorldNetDaily has been giving a lot of space lately to anti-vaxxers even as a measles epidemic fueled by lack of vaccination is raging. But WND suddenly has a surprise: a May 20 column that takes an unusually balanced (for WND) view of the vaccine.
There's a second surprise: the person who wrote this relatively balanced take is Rachel Alexander, who we last saw trying to portray criminal ex-congressman Steve Stockman as the victim of a "Deep State" conspiracy.
Alexander admitted that "Vaccines prevent hundreds of thousands of cases of a deadly disease – but it's true that they may come at the expense of a smaller number of side effects. The controversy arises over determining the degree and type of side effects caused by the vaccines." She alsodid something we've rarely seen at WND: point out that claims linking vaccines to autismhave been discredited, and that anti-vaxxers who refuse to vaccinate their children endanger the health of others:
One condition that has been blamed on vaccines is autism. A 1998 study in the prestigious British journal The Lancet linked the measles, mumps and rubella vaccine with autism. Investigations concluded the research was fraudulent 12 years later, and the lead author was stripped of his medical license. A legal review called the Omnibus Autism Proceeding found no causal relationship between the two. But partially as a result of the article, more than 5,000 cases were filed by 2010 claiming a link between vaccines and autism.

Charles Nelson, a professor of pediatrics at Harvard Medical School and a neuroscientist at Boston Children's Hospital, said progress is being made researching autism. Doctors are seeing signs of autism at three to six months of age, well before babies are vaccinated with the MMR vaccine at 1 year old.

Over 90 percent of kindergarteners in the U.S. are vaccinated for most types of immunizations. Some states have laws that allow exemptions. But if parents decide not to give their child the MMR vaccine, they risk not only infecting their child and their peers but also babies under 12 months and people with cancer or weakened immune systems.
Alexander wavered a bit at the end, claiming: "While it appears that the evidence weighs in favor of vaccines, it is best to be fully informed about the controversy before deciding either way." Still, for the anti-vaxxers at WND, it's a definite change of pace.
Lest you think that WND has taken our advice and examined its editorial policies, or that Alexander has suddenly become a reasonable columnist, you can rest easy: Alexander's column the following week was yet another defense of Stockman, insisting he was targeted by "corrupt, left-leaning prosecutors in the Department of Justice" and begging President Trump and Attorney General William Barr to "thoroughly clean out the DOJ from top to bottom."
Posted by Terry K. at 2:25 PM EDT