MRC Still Helping Far-Right Activist Play The Victim
Topic: Media Research Center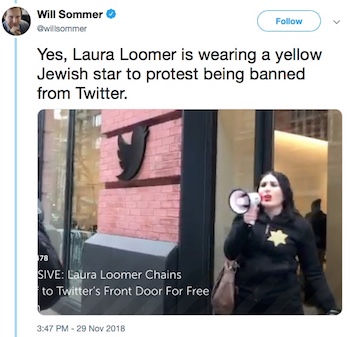 Last November, the Media Research Center was crying that far-right activist Laura Loomer became the victim of "Twitter's war on conservative thought," laughably calling her a "journalist" and hiding just how far-right and hateful and Islamophobic she is.
Well, the MRC isn't done trying to turn an extremist into a martyr. A Feb. 6 post by Alexander Hall complains that Loomer was banned from PayPal, including a quote from her that she was banned "for no reason whatsoever." Hall, to his credit, didn't call Loomer the "journalist" that she is not, and admitted she is a "right-wing provocateur" and "an activist and performance artist." Hall uncritically repeated the platforms from which Loomer has been removed and let her whine without challenge that "the left" is targeting her.
But as before, Hall doesn't want to give his readers the details of Loomer's extreme behavior. For instance, Hall let Loomer complain she's been banned from Uber and Lyft -- but didn't explain that it's because she went on an Islamophobic rant complaining that the ride-sharing services employ Muslim drivers. And handcuffing yourself to the door to Twitter's headquarters is a desperate cry for attention, not "performance art."
Nevertheless, Hall felt the need to lecture: "The question here is where the legal distinction lies between core values and political ideology. There is a difference between saying one cannot bake a gay wedding cake for religious reasons, but can offer other items versus denying all of one's services because you don't like a person's political ideology." But Hall presents no evidence Loomer has been de-platformed for "political ideology" alone. Indeed, the evidence shows -- if Hall had bothered to present it to the MRC's readers -- that Loomer engages in hateful, extremist and discriminatory behavior.
But Loomer's de-platforming fulfills the MRC's narrative of purported persecution of conservatives on social media, so Hall will continue to give her martyrdom she doesn't deserve.
Posted by Terry K. at 2:32 PM EST