The MRC Hate-Watches 'Supergirl' For Trans Character, Pro-Journalism Storyline
Topic: Media Research Center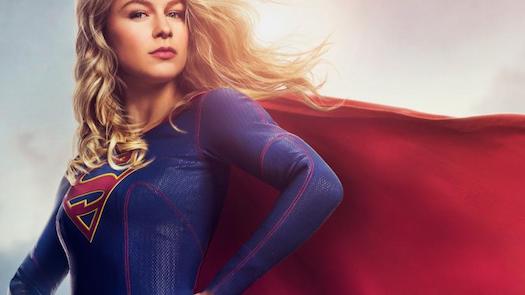 Lindsay Kornick has been stuck with the Media Research Center assignment of hate-watching the CW show "Supergirl." And as is her job, she found a lot to late.
At the top of that list is the fact that the show has a transgender character named Nia. We've already noted that Kornick ranted about it in February, insisting that "most children who go through gender dysphoria eventually outgrow it by the time they become adults." and that "transitioning Nia at a young age is probably the opposite of affirming her authentic self."
She wasn't done ranting, though. In an April 29 post, Kornick complained:
Let's face it, CW's Supergirl has always been preachy. But there's preachy, and then there's obnoxiously, sycophantically preachy. The superhero series flies towards the latter in yet another episode >proclaiming how being trans is being "strong" and "authentic" nowadays.

[...]

In the meantime, our transgender hero Nia Nal (Nicole Maines) has stepped up to protect the city as the superhero Dreamer - and, yes, that is what they're calling her with a straight face. Despite not having the mantle for long, she's apparently doing a decent job against crime. However, that doesn't stop all of the xenophobic attacks. The super friends then decide to come up with another idea to combat hate.

Supergirl, using her alter ego as reporter Kara Danvers, gives a public interview with "Dreamer" to promote a positive image of human and alien unity. After all, Nia is the product of a human father and an alien mother as well as a trans woman. That last detail really has nothing to do with the alien crisis, but the show just can't help but remind us in this pandering speech.

[...]

The other characters predictably hail her words as brave and inspiring instead of the preachy and cringey mess they really are. They act like we've never heard these words before in the media or even on th>The Children of Liberty then come to arrest Dreamer for "an illegal seditious broadcast," only to be stopped by CatCo Media editor James Olsen (Mechad Brooks). In full social justice warrior fashion, he defends the broadcast saying, "All I see are journalists exercising their right to freedom of speech and doing their duty to uphold freedom of press." Strangely, I doubt that these characters would say the same thing about people discussing how men cannot be women. Or how landing on Earth shouldn't automatically make you an American citizen. Then it would probably be considered a hate crime.

Supergirl continues to be one of the more hypocritical shows on the air, but now it's definitely one of the more obnoxious shows as well. If we never get another episode waxing about sharing "our authentic selves," it'll be too soon.
Meanwhile, nobody's stopping Kornick from being as preachy as she wants to be. But that's the only reason she hate-watches "Supergirl": She's also mad that ity says nice things about journalism that deviate from the MRC's anti-media narrative.
Kornick huffed in a March 10 post that the show gave "unmitigated praise towards journalism," which is apparently forbidden at the MRC. She lectured: "It's so annoying that Supergirl acts like its storyline and journalism are apparently single-handedly stopping bigotry. The only bigotry I see is assuming everyone on the opposite side are angry, hateful jerks. Maybe Supergirl isn't above this, but most of America should be."
And in a May 19 post, Kornick whined that the show's season finale was "honoring the real heroes of the show: journalists." She complains that Lex Luthor "is literally winning because of fake news and a stupid public" and was stopped only because Supergirl's alter ego "writes an expose on Luthor, detailing evidence that he committed treason, along with the President, to orchestrate his heroism. The article is so successful it leads to the Cabinet invoking the 25th Amendment. It's truly a liberal dream come true."
And since only liberals like journalists, gaying good things about journalists is clearly an evil liberal plot:
I'm honestly surprised anyone can brag how "the fourth estate saved the day" with a straight face anymore, but that's how delusional this show has become over the last four years. It somehow imagines a world where noble journalists can take out evil presidents and single-handedly stop all political tension. In the meantime, it never seems to discuss journalists causing harmful tension or spreading fake news or genuinely not saving the day. Maybe that's why they call it science "fiction."
Kornick's link on "spreading fake news" was to a NewsBusters post about one of the Covington kids suing CNN even though CNN eventually corrected the story. It did not link to any MRC post that heavily promoted a false Fox News story during the 2016 election that Hillary Clinton faced imminent indictment. The MRC never corrected the record, let alone apologized.
Posted by Terry K. at 10:07 AM EDT