MRC Still Defending Right-Wing Hate-Mongerers As 'Non-Violent' Conservatives
Topic: Media Research Center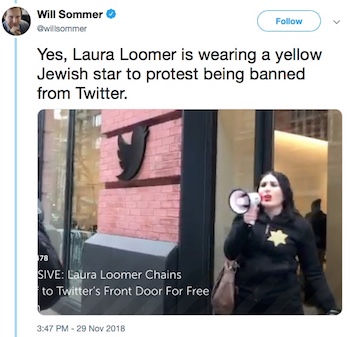 We've documented how the Media Research Center has stood by hate-spewing anti-Muslim writer Laura Loomer by painting her as a free-speech hero as gets deplatformed for her hate -- it can't admit she's anything more than a "controversial Jewish activist." The MRC has continued to promote her stunts as newsworthy and downplay her hate and extremism.
A May 2 article by Alexander Hall complained that PayPal as "deplatformed non-violent conservative activists like Laura Loomer. A May 7 post by Hall promoted how Loomer, ihn protest of her banning by Facebook, "showed up to Facebook's lobby on May 3, skewering the company for showing solidarity for everybody but Jewish and Christian people." Hall benignly described Loomer only as a "recently deplatformed activist," silent once again on her well-documented-elsewhere hate; instead, he huffed that "Facebook, like many other big tech companies, is famous for a left-wing political monoculture."
Hall used a May 14 post to give free publicity to a film about "five people who have been shut down and silenced on social media," including Loomer, whom he described only as a "Jewish-American activist/performance artist." Hall tried to whitewash other hatemongers featured in the film as well. Tommy Robinson is described only as a "British activist" when, in fact, he's the leader of the far-right anti-Muslim English Defence League; Gavin McInnes is described only as a "former CRTV host" when he's also the founder of the violent, misogynist Proud Boys (and, thus, a former employee of MRC buddy Mark Levin, though he was fired only after Levin's CRTV merged with Glenn Beck's The Blaze).
Hall didn't mention that one of the makers fo the film, George Llewelyn-John, is a colleague of Robinson's, and another, Caolyn Robertson, is Robinson's former cameraman and best known for a video rant following an incident in London in which six pedestrians were killed by a Muslim in a car, where Robertson asserted that "if you import a culture, you get a culture." In other words, this film is nowhere near as objective as Hall suggests it is.
A May 17 post by Corinne Weaver noted Loomer was only among the "individuals" banned by Facebook with no mention of why she was banned. On May 21, Hall had another benign description for Loomer -- "Jewish American activist" -- and complained that she and Infowars conspiracy theorist Paul Joseph Watson were among "controversial but ultimately non-violent YouTubers" who have been "purged."
Gabriel Hays contributed to the whitewashing in a May 23 post, complining that a vulgar song by a French rapper nobody's ever heard of remains on YouTube "while internet personalities like Laura Loomer and Paul Joseph Watson have been removed for 'far less violent content.'"
Hall again touted that dubious film in a May 24 post, and how it features "interviews multiple conservatives who have been targeted by Big Tech purges such as Laura Loomer and Tommy Robinson."
Posted by Terry K. at 8:03 PM EDT
Updated: Sunday, June 2, 2019 8:23 PM EDT