MRC Misrepresents Study To Push Right-Wing Victimization Narrative
Topic: Media Research Center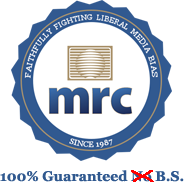 The Media Research Center's Corinne Weaver complains in a May 13 post:
Google's methods of curating news involves infusing a heavy dose of liberal ideology. That's not just the opinion of conservatives, it's the opinion of a top journalism publication.

A study done by the Columbia Journalism Review, released on May 10, stated that out of the top 20 search results in Google's "Top Stories," the search engine relied on CNN more than any other news site. Furthermore, the top 20 news sites that made it to Google's "Top Stories" had only one outlet that didn't lean left, Fox News.

Aside from Fox News, Google didn't feature prominently any other news site that doesn't lean left. "Our data shows that 62.4 percent of article impressions were from sources rated by that research as left-leaning, whereas 11.3 percent were from sources rated as right-leaning," explained CJR. That's more than a 5-to-1 ratio.
Weaver's shallow reading of the study is designed to support the MRC's dubious insistence that Google and social media discriminate against conservatives. But the truth is a bit different than that narrative.
As one of the researchers explained, the ideological labels on news sources were borrowed from another study published in Science magazine, and they "don't measure the slant of the media outlet per se, but rather reflect the self-reported political affiliation of Facebook users sharing content from those sources."
Weaver's claim that CNN and every other news outlet on CJR's list that isn't Fox News peddles "a heavy dose of liberal ideology" is ridiculous on its face, not to mention lazy, kneejerk right-wing ideology. She would never concede that there's such a thing as straight reporting, let alone that Fox News peddles "conservative ideology" -- heck, she never even straight-out admitted that Fox News is a "right-leaning" outlet.
Nevertheless, Weaver claimed this was bias because "on TV, vastly more people watch Fox News over CNN" -- apparently not understanding the difference between TV and online content. She further huffed that "CJR came to the laughable conclusion that "simply more news was produced on the left" than the right." She omitted the fact that CJR backed up that latter assertion, citing the GDELT database of news articles, where there are "2.2 times as many articles from left-leaning sources as right-leaning sources."
The fact that Weaver's claims are little more than an attempt to perpetuate a narrative is underscored by how how other ConWeb outlets pushed the exact same talking point. A WorldNetDaily article on the study carries the misleading headline "Google's 'Top Stories' shows obvious left-wing bias, audit reveals."
UPDATE: The narrative continued at Fox News, where the MRC's Dan Gainor -- who, weirdly, does not get published at the MRC's main content sites despite being an executive there -- ranted that the study demonstrated "how Google News is biased wildly toward liberal outlets." Gainor even repeated some of the same talking points as Weaver; for instance, he similarly didn't understdand the difference between TV and online: "CNN tallied 10.9 percent of the total. Fox mustered 3 percent, finishing far below its cable news competitor. You know, the outlet that Fox News regularly trounces in the ratings."
And the MRC's "news" division, CNSNews.com, which published a May 14 column by Jeff Charles claiming that the study proves that Google "favors progressive sites" and that "it is likely that the company will become more brazen in its campaign to magnify progressive views while minimizing conservative ideas."
Posted by Terry K. at 7:41 PM EDT
Updated: Thursday, May 30, 2019 12:22 AM EDT