MRC Can't Quite Admit That Far-Right Figures Are Far-Right
Topic: Media Research Center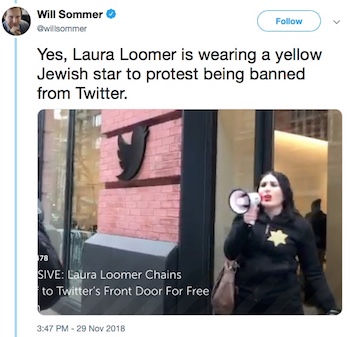 The Media Research Center's Alexander Hall wrote in a May 3 post:
Instagram and its parent company Facebook have purged several what it called "extremist" figures ranging from controversial Jewish activist Laura Loomer to anti-Semitic hate preacher Rev. Louis Farrakhan.

In the latest round of tech bans, Facebook and Instagram have deplatformed conspiracy theorist Alex Jones, Infowars, Milo Yiannopoulos, Paul Joseph Watson, Loomer and Farrakhan. According to The Atlantic, the ban on Infowars is the strictest, in that they will remove "any content containing Infowars videos, radio segments, or articles (unless the post is explicitly condemning the content)." In addition, any groups set up to share Infowars content on Facebook or Instagram will also be removed[.]
The headline of Hall's item reads "Facebook Purges 'Dangerous' Farrakhan, Controversial Activists." But as the item's URL indicates, it originally carried the headline "Facebook Purges 'Dangerous' Farrakhan, Far-Right Figures." The item otherwise applies no ideological labels on the non-Farrakhan figures, despite the fact they are indeed on the far right.
Hall goesa on to add that "Loomer was one of the early examples of big tech deplatforming and depersoning on multiple platforms." We've documented how the MRC has downplayed how extreme and rabidly Islamophobic Loomer is in order to portray her as a victim of social media "censorship" against conservatives. Hall goes on to repeat Loomer's lament that "I am banned by Uber an [sic] Lyft" without mentioning that it's because she went on an Islamophobic rant complaining that the ride-sharing services employ Muslim drivers.
Similarly, the MRC has tried to mainstream Jones' Infowars (of which Watson is a part) by ridiculously claiming it's no different than CNN -- all the better to shoehorn it into that victimhood narrative.
Posted by Terry K. at 9:20 AM EDT