Do As We Say, Not As We Do: MRC's Standards For 'Liberal Media' Don't Apply To Its Own 'News' Division
Topic: CNSNews.com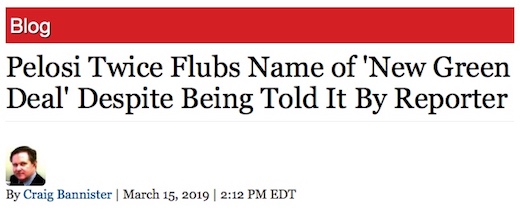 A while back, we noted how the Media Research Center complained that the media hyped President Trump misspeaking when ignoring what he had to say about "important topics" -- never mind that the MRC had no problem obsessing over President Obama when he misspoke and ignored his overall message. Well, the hypocrisy is even deeper than that: The MRC's "news" division, CNSNews.com, has similarly focused attention on the missteps of Democratic politicians.
In a March 7 post, Craig Bannister gleefully wrote:
Rep. Rashida Tlaib (D-Mich.) struggled to find the right words on Wednesday, when she tried to reassure supporters that she'll soon begin efforts to impeach President Donald Trump.

Tlaib gathered with fellow protesters outside of the office of House Speaker Rep. Nancy Pelosi (D-Calif.), where she blanked out while trying to remember how impeachment works:

"Later on this month, I will be joining folks and advocates across the country to file the impeachment, um, ah, um, oh, my God, what is the expression?

"The resolution – I'm sorry, I'm not in the Michigan legislature, ah, impeachment resolution to start the impeachment proceedings."
CNS then did this twice to House Speaker Nancy Pelosi. An anonymously written March 15 article stated:
At her weekly press briefing on Thursday, House Speaker Nancy Pelosi (D.-Calif.) mistakenly suggested that a reporter who was asking her a question had already asked her a question at that press briefing.

In fact, the reporter had not—although he said he had asked her two questions the week before.
CNS has apparently since deleted this article (though it still resides in Google Cache as of this writing.)
Another snide attack on Pelosi the same day, this time by Bannister, is still live:
House Speaker Rep. Nancy Pelosi (D-Calif.) twice misnamed Democrats' "Green New Deal" at her Thursday press briefing, despite being told the climate change proposal's correct name by the reporter questioning her.

Pelosi was asked to respond to Republicans "talking about the Green New Deal." Pelosi appeared to struggle to recall the name of the proposal – first calling it "the Green Deal," then the "New Green Deal," before continuing with her reaction to Republicans' criticism of the New Green Deal, without correctly titling the proposal[.]
It doesn't help the MRC's credibility when it can't be bothered to hold its own "news" division to the same standards it demands "liberal media" outlets adhere to.
Posted by Terry K. at 12:44 AM EDT