MRC's Philbin Is Mad Right-Wing Double Standard Called Out on Massacre Motivation
Topic: Media Research Center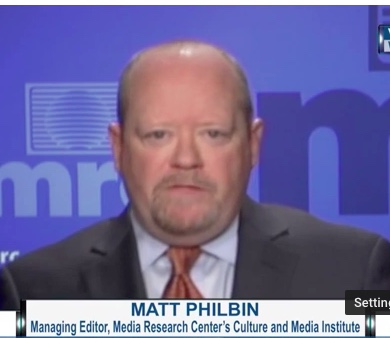 Matt Philbin -- apparently weary of complaining about coverage of massacred Muslims -- began his May 2 Media Research Center post complaining that "To be a Washington Post staffer is to simultaneously believe that a) when teenager shoots up a school, it's about guns; b) when a jihadi shoots up a church, it's not about religion; and c) when a Christian shoots up a synagogue it's ... about religion." The rest of his post is spent complaining that right-wing double standards on religiously motivated massacres got called out. He huffed:
John Earnst, the alleged murderer, posted a manifesto in which he "spewed not only invective against Jews and racial minorities but also cogent Christian theology he heard in the pews" of his Orthodox Presbyterian Church. In Zauzmer's summation, Earnst believed "Jewish people, guilty in his view of faults ranging from killing Jesus to controlling the media, deserved to die. That his intention to kill Jews would glorify God." He also explained something about his Calvinist beliefs in salvation.

Are the two related? [Post reporter Julie] Zauzmer and some liberal Christians want it to be.
Philbin then complained that one evangelical pastor interviewed by Zauzmar Christians should rush to condemn the synagogue shooter the way moderate Muslims are demanded to every time "somebody claiming they're motivated by their Islamic faith" commits an act of terror:
That's very brave of him. I bet he felt a thrill of defiance when he slapped the "COEXIST" sticker on his Prius and drove around Ft. Meyers. But white nationalists are like the Illinois Nazis; everybody hates them. Woolf is a virtue signaller, and the point of Zauzmer's piece is to slime the POC, which was "founded to counter liberalism in mainline Presbyterianism."

Zauzmer addressed some of the theological questions surrounding evangelical views of the Jews. (Unlike some other evangelicals, OPC believes in "replacement theology" so Jews and Israel aren't important to them. If it seems to you like a big leap from "The Jews are no longer God's chosen people" to "go gun 'em down," it is.) But they were at best window-dressing on a hit piece.

[...]

Earnst wouldn't be the first psychopath to twist religious beliefs into a justification for murder. Nor would he be the first to cynically hide behind them. We don't know which is the case. Could there be some dark corner of OPC theology that encourages Jew-hatred and other bigotry? Maybe. Maybe they have "Zap a Zionist" airgun game at the church picnic or an "Adopt an Aryan" ecumenical outreach program. But there's no evidence of it.

The fact is, OPC preachers don't exhort their flocks to kill Jews and infidels or drive Israelis into the sea. Until the OPC-related body count reaches 0.1% of militant Islam's, Zauzmer's article will remain a smear.
Of course, moderate Islam doesn't do that either, yet Philbin expects such adherents to denounce every single act of violence claimed to have been committed in the name of "militant Islam." Just like Philbin and his employer won't admit that militant anti-abortion rhetoric is not so far removed from the anti-abortion movement and occasionally inspires people to do things like murder abortion doctors.
Posted by Terry K. at 12:59 PM EDT