MRC Takes Time Away From Defending Thomas To Bash Anita Hill Again
Topic: Media Research Center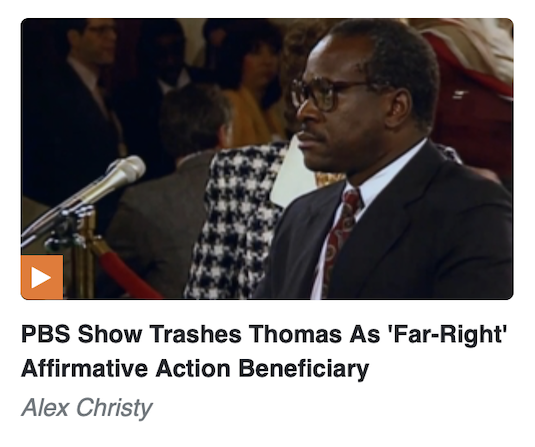 The Media Research Center hates Anita Hill for telling her story about her experiences working with Clarence Thomas -- and even though it's been more than 30 years since her testimony, it remains irrationally angry at her. So whwen the MRC had to defend Thomas over newly exposed financial scandals, it made sure to lash out yet again at Hill.
Hill got name-checked n a May 2 post by Alex Christy. In a May 5 post, Nicholas Fondacaro responded to a co-host of "The View" pointing out that "Anita Hill accused him of sexual harassment" by accusing Hill of having "leveled false allegations against him, without evidence and contradictory testimony from her colleagues." Fondacaro offered no evidence to prove anything Hill said was false, which you'd think he'd be able to do after 30 years.
Christy returned on May 10 to complain about a PBS "Frontline" documentary about Thomas that was insufficiently laudatory of the Supreme Court justice -- and that the documentary brought up Hill:
They rounded up backers of Anita Hill's claims in 1991. Gordon Davis, who was described as a Holy Cross classmate of Thomas, claimed "I heard him say that before. He said it before. We were in the Hogan Campus Center, and a group of us black students were walking by. And he says, "Oh, look. Is that pubic hair on a Coke can?" Those were the exact words he used then, and I heard it later on, when Anita Hill spoke it. So, I believe what she said. She was telling the truth."

Michael Fletcher, a co-author of the anti-Thomas book Supreme Discomfort, also took Hill's side, "He liked adult films. He made jokes. Thomas was inappropriate and things like that. That all stacked up on Anita Hill's side of the, of the ledger. So, you know, I think if I had to say who lied, it was Thomas."

Various people were shown recalling how they encouraged Thomas to persevere, but no explicit defense of Thomas from his EEOC colleagues was shown.
Christy linked to a 1991 article about people noting that Thomas' actions at the EEOC was harsh on those engaged in sexual harassment -- but that has little relevance to to his actual personal behavior. He also whined that the documentary showed how Thomas benefited from affirmative action though he has been eager to dismantle it for others.
Clay Waters whined in a May 14 post that NPR's Nina Totenberg covered Thomas scandals then and now: "Just as she tried to destroy Clarence Thomas during his confirmation hearings in 1991 with Anita Hill's unsubstantiated claims of sexual harassment, Totenberg is still implying Thomas is too unethical for the high court." Waters didn't cite any evidence that supported Thomas' denials.
Posted by Terry K. at 10:57 PM EDT