MRC Still Bummed About Carlson's Firing, But Excited For His Twitter Return
Topic: Media Research Center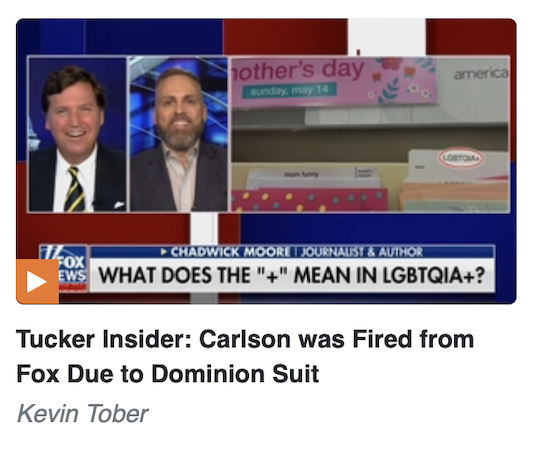 The Media Research Center's overall sad over Fox News firing Tucker Carlson continued for weeks after his firing. Nicholas Fondacaro was overjoyed in a May 9 post when Carlson announced he was starting a new show on Twitter:
After Tucker Carlson was unceremoniously fired from Fox News two weeks ago, speculation swirled about where he would land. Many on the right thought he would be snatched up by a competitor like Newsmax, while detractors on the left fantasized about him going to a Russian-state media outlet. But on Tuesday, Carlson announced that he struck a deal with Twitter owner Elon Musk to bring the show to the free speech platform. This all comes as Carlson alleged fraud and contract violation by Fox News.

Tucker began his video announcement by declaring what many know to be true: "the news is full of lies" and notation that "you are being manipulated" by the news media.
Unmentioned by both Carlson and Fondacaro was the fact that Fox News has been a major source of those lies. The Dominion defamation lawsuit revealed how Fox News staffers and on-air talent knew that Donald Trump was wrong about the election being stolen but deliberately hid that from its viewers.Fondacaro only obliquely referring to this in noting that "Carlson's lawyers delivered an 'aggressive letter' to Fox News alleging fraud and contract breaches stemming from their recent $787.5 million defamation settlement with Dominion Voting Systems."
Luis Cornelio spent a May 11 post noting that not everyone is as excited about Tucker's return as right-wingers like him are:
Twitter exploded with reactions over former Fox News host Tucker Carlson's decision to take his new show to the Elon Musk-owned platform.

Leftists are triggered by Carlson's announcement that he will continue his show amid his abrupt exit from Fox News. The news was, as expected, met with hilarious animosity from fringe Twitter keyboard-warrior leftists — including Occupy Democrats, the infamous Alex Vindman and anti-speech advocates — who apparently couldn't handle the fact that Tucker won't be silenced and now are railing at Musk for supposedly promoting racism and so-called "hate."
After conceding that Twitter chief Elon Musk has "clarified" there is no deal between Twitter and Carlson, Cornelio tried to portray Tucker on Twitter as some kind of threat to non-right-wingers:
Leftist talking heads understand how Carlson and Musk could threaten their monopoly over online information, which could explain Jack Posobiec. "Bring back Twitter streaming," Posobiec tweeted. "Launch Twitter Live apps for Roku, Fire, Apple TV, etc Become the greatest video platform in the universe."
A May 17 post by Tim Graham complained that former CBS anchor Katie Couric pointed out that Carlson "can't really be rehabilitated" due to his penchant to "lie to the public."Of course, he used whataboutism to deflect from all that:
Earlier in the show, Couric brought up the Dominion suit against Fox, suggesting Carlson may have been canceled due to some "pretty gross communiques" that were revealed in discovery. Couric said John Ellis, a former Fox News employee who's part of the extended Bush family -- and who she said officiated her 2014 wedding to John Molner -- told her the anchors at Fox had an "outsized influence," and she remarked "it sounds like the inmates are running the asylum."

She added "The audience is programming Fox News, not the other way around. They were so craven and desperate for ratings, and so desperate for holding on to viewers that they sold their souls."

That's a little rich, all the preaching about pandering to an ideological audience, as if she never did that at NBC or CBS. As for misinforming people, in 2016, Couric had to apologize for mangling video of her interview with gun-rights activists in Virginia.
Recall that Graham complained less about Fox News getting caught lying and more about those lies giving Fox News critics a legitimate argument against it, then ultimately declared that it didn't matter because Fox News viewers like him put right-wing narratives ahead of reporting facts.
Kevin Tober used a May 22 post to hype a "Tucker insider" making unsupported claims about why Carlson was fired:
On Monday, former Fox News host Tucker Carlson retweeted a video by author and Spectator contributor Chadwick Moore who revealed the title of his new biography on the former Fox News star. Within the two-minute video, Moore revealed that his sources told him that Carlson was fired due to the demands of voting machine software company Dominion as a condition of their settlement with Fox.

"I have spent the last researching and writing this book and during that time, I've gotten to know Tucker, his family, his friends, and his staff very well. In fact, I've gotten to know Tucker the person, not the character that his enemies try to portray. I was working closely with Tucker when he was taken off the air by Fox," Moore revealed when giving viewers details about his new book.

In addition, Moore also revealed he's "seen the monologue that Tucker planned to deliver on Monday, April 24 before his show was abruptly taken off the air."

"That monologue dealt with among other things, investigations around January 6 and particularly Ray Epps. The only person captured on video inciting people to violence at the capitol that day and allegedly an FBI informant who still hasn't been arrested or charged," Moore added.
Speculation from Carlson has previously given the MRC license to dabble in Ray Epps conspiracy theories. Tober did note that both Fox News and Dominion have denied that Carlson's firing was a condition of the Dominion settlement.
Posted by Terry K. at 10:48 PM EDT
Updated: Friday, June 23, 2023 2:42 AM EDT