MRC Still Spewing Hate At Dylan Mulvaney, Bud Light
Topic: Media Research Center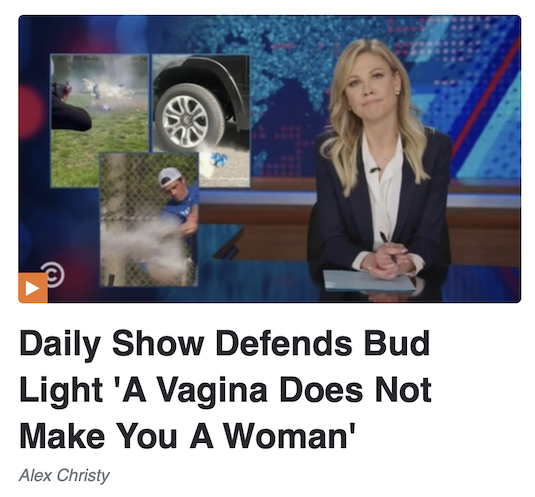 The Media Research Center has long hated transgender influencer Dylan Mulvaney for failing to be heterosexual, and it hates Bud Light for doing a promotion with her, joining other right-wing haters in irrationally trying to destroy the company for doing so.' An April 19 post by Matt Philbin -- his last before he mysteriously parted ways with the MRC, a departure neither he nor the MRC has discussed publicly -- was a total insult-fest complete with misgendering:
Dylan Mulvaney is "trying really hard to maintain a relationship with God." Admirable. Of course, it might be easier if Mulvaney didn't reject His handiwork.

If you didn't know (and if you didn't you're one of a happy few), Mulvaney is a 26 year-old actor and TikTok pest who publicly "transitioned" to being a "woman" and now runs around as a campy Audrey Hepburn look-alike.

For this, he's been celebrated by leftist elites and received lucrative endorsement partnerships with Bud Light and Nike. Apparently, actual women are hard to come by in giant corporations. You can buy swag from his website. Mocking God's Creation seems to be a good way to earn your daily bread.

According to Neil Munro at Breitbart, back in March somebody interviewed Mulvaney about faith and Relevant Magazine posted it because of the Bud Light brewhaha. "I don't think He made a mistake with me, and that maybe one day, I will actually be grateful for being trans, that this isn't some curse, but it's just a different path to the same destination," Mulvaney said.

Maybe, Aquinas. But self-obsession and acute narcissism are a tough place to start.
Philbin's apparent obsession with Mulvaney sure didn't keep him from losing his MRC job.
The next day, Tierin-Rose Mandelburg cheered the right-wing hysteria over Bud Light while mixing in a little vicious transphobia:
No matter how many times we say "get woke, go broke," it seems like it never really clicks for the left.

Amid the weeks-long controversy surrounding Bud Light's marketing choice to use a transgender person, essentially a biological man parading as a little girl, for a partnership, the company seems to face more and more backlash daily. As a matter of fact, a Rasmussen poll indicated that 50 percent of middle-income earners are less likely to buy Bud Light over it's new transgender face.

When Bud Light's Marketing VP suggested the use of Dylan Mulvaney, a man who makes his living from sponsorships with tampon brands, makeup companies and social media, its aim supposedly was to generate more "inclusivity." Well, if you know anything about Bud Light, its main demographic is men, typically middle-aged men who like cracking open a cold one with their buddies out fishing, by a fire, grilling hamburgers, etc. Men who like doing manly stuff, not men who like pretending they're Eloise at the Plaza.

Obviously the marketing move was a flop. Bud Light has lost more than six billion dollars since its partnership with Ms. Man and after "5,600 news articles were published about the controversy in two weeks," things aren't looking great for the future of the company.
Mandelburg didn't mention the right-wing bias of Rasmussen polls. And contrary to her assertion, the dip in valuation of Bud Light's parent company AB InBev, is making the stock a recommended buy. Still, she insisted that "it's kind of funny to watch the left squirm when their plans yet again fail." Finally, she forgot to mention that the company's facilities have been the target of violent threats, presumably from people who hate transgender people as much as she does.
Alex Christy devoted an April 25 post to complaining that "The Daily Show" defended both Mulvaney and Bud Light:
Each of Comedy Central's The Daily Show temp hosts have used their time to talk about issues they care about and Desi Lydic was no exception, using Monday's show to talk about the status of women in the workplace, but before she did that she undermined any point she would make when she defended Bud Light's Dylan Mulvaney marketing campaign, "I am so sick of this 'trans women are not real women.' Having a vagina does not make you a woman."

Lydic began the show by referencing the Bud Light-Mulvaney partnership, "and I just have to talk about it."

She then proceeded to declare, "Okay, so last month, Bud Light did a social media campaign with transgender influencer Dylan Mulvaney and conservatives absolutely lost their shit over it. They were filming themselves shooting cans, running over cans, hitting cans with a baseball bat. It was like a Saw movie but starring Bud Light, but now their meltdown has even its own merch."

Lydic then played a video from Arkansas Gov. Sarah Huckabee Sanders that parodied Bud Light's Real Men of Genius ads by focusing on "real women of politics" and fellow female GOP Govs. Kristi Noem, Kay Ivey, and Kim Reynolds.
Curtis Houck spent a May 5 post whining, as the MRC usually does, that that non-right-wing media didn't rush to parrot right-wing narratives, this time regarding Mulvaney and Bud Light:
After over a month of silence as corporate liberalism suffered a massive blow as ordinary Americans rose up against Anheuser-Busch InBev and dumped Bud Light (and the company's sales) for worshiping at the alter of transgenderism and Dylan Mulvaney, NBC's Today cracked one open Friday with the first story from a broadcast network morning or evening news show about the fallout.

Despite the controversy having started back on April 1 with Mulvaney's infamous video announcing Bud Light had sent a can with their face on it to commemorate "my day 365 of womanhood," NBC's Today acted like this had happened only recently.
Right-wing transphobes shouldn't be confused with "ordinary Americans." But Houck pushed that narrative anyway, claiming that "As the Daily Wire's Michael Knowles and others have explained, conservatives successfully had their morals make an imprint on business (as opposed to the church of wokeism)." Irrational hate is not "morals," and Houck forgot to mention that Knowles is the guy who demanded that "transgenderism must be eradicated," a form of extremism that typically turns into the eradication of actual transgender people.
Posted by Terry K. at 10:07 PM EDT
Updated: Thursday, June 8, 2023 10:11 AM EDT