In Contrast With Carlson, MRC Cheered Don Lemon's Firing
Topic: Media Research Center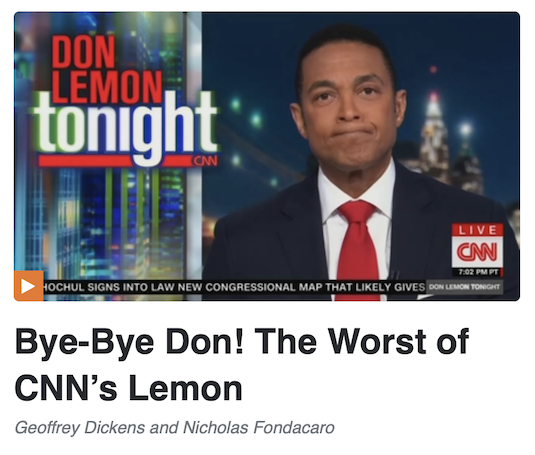 In contrast with the reverential fanboy treatment it gave to fellow right-wing ideologue Tucker Carlson, the Media Research Center has long despised Don Lemon -- it repeatedly attacked him after he came out as gay, spread bogus allegations of sexual assault even after the allegations were proven to be false, and baselessly insisted that Lemon moving from an evening newscast to CNN's morning show was a demotion. Here are some of the attacks the MRC launched on Lemon just since the start of this year:
Of course, Lemon did not help himself at times. The MRC hurled a lot of abuse at him for describing Republican presidential candidate Nikki Haley as "past her prime,:" and there were alleged conflicts with co-hosts, which the MRC eagerly ate up (for maximum mockery, of course, with one item regarding it carried the sneering headline "SAD TROMBONE" -- not that it actually cares about the women since they work for CNN and thus presumably deserve what they get).MRC writers lapped up gossip about whether Lemon's days at CNN were numbered, with one podcast asking, "Is It Time to Fire Don Lemon?"
The MRC's Kevin Tober cheered in one February post: "CNN's low-rated morning host Don Lemon has a history of on-air outbursts and privately berating his co-hosts for interrupting him. On Thursday night, Fox News host Tucker Carlson got in on the fun by mocking "diva Don Lemon" for his apparent fragile mental state."
Which made for an interesting bit of irony when both Carlson and Lemon lost their respective cable-news jobs the same day. And where Curtis Houck reported on Carlson's dismissal with sadness and reverence, in the same post he rehashed old attacks cheered Lemon's firing: "In contrast, Lemon's ouster had been in the works for months given his demotion to the morning from his primetime slot Don Lemon Tonight where he had spent eight years smearing conservatives, being a race hustler, and spouting off conspiracy theories."
Carlson smeared poeple and spouted conspiracy theories too, but he conformed to right-wing ideology and thus would not be criticized for doing so.
That was swiftly followed by more grave-dancing:
Don Lemon is gone! The longtime CNNer took to Twitter on Monday to announce he was fired. While Lemon claimed he was "stunned" by the move, the dismissal shouldn't have been too surprising ever since he was demoted to the mornings back in November.

At NewsBusters the longtime CNN anchor has left a large footprint of biased outbursts. In fact the ex-CNN anchor has won our "Quote of the Year" award for two-years running.

Lemon may have worn out his welcome at CNN but don't be surprised to see him picked up by another leftist outlet. Until then let's take a stroll down memory lane and look back at Lemon's heinous remarks that the network would prefer were memory-holed.

NewsBusters Media Editor Bill D'Agostino put together this brief montage of Lemon's blathering.
The MRC did publish a couple more articles related to Lemon's firing:
Tim Graham demonstrated his employer's tonal split on the firings in his April 24 podcast:
The Tucker news seemed shocking, considering how it's been a ratings juggernaut for Fox. Media reporters suggested that somewhere in the "treasure trove" of internal messages that Dominion Voting Systems forced into view in their lawsuit, the Murdochs were less than pleased with how they were discussed.

The Lemon firing just seems delayed. The demotion to morning-show duty never seemed like it would work. There was no "chemistry," just chilly exchanges that demonstrated Lemon's diva tendencies. Other than his race and sexual orientation, it would have seemed logical for him to catch the bus out of CNN with Brian Stelter, John Harwood, and Chris Cillizza.
The tonal split continued in an April 26 post rehashing media appearances by MRC staffers opining on the firings in right-wing safe spaces:
On Monday afternoon and Tuesday morning, the Media Research Center led the way in providing reaction to and instant analysis at NewsBusters, online, and on the radio about the bombshell firings of Tucker Carlson by Fox News and Don Lemon at CNN.

This included three spots from MRC Founder and President Brent Bozell, NewsBusters Executive Editor Tim Graham, and NewsBusters Managing Editor Curtis Houck on NewsTalk 105.9 WMAL in the Washington D.C. market, the leading conservative station in the nation's capital and an oasis for conservatives in the Swamp.

Bozell cropped up on Tuesday morning's O'Connor and Company and didn't hold back. After exclaiming "what a day" Monday was, he declared "the narrative" around Carlson's axing seems to be Fox executives "just wanted him out."

Bozell jokingly called out the alleged internal dismay over Carlson's personal messages: "What a crock that would be. A private email is a private email...If there is a single person who worked at the Media Research Center who has not sent an email criticizing me, I'm going to dismiss that person."

As for Lemon, Bozell cut to the chase: "What a trainwreck of a network this is...Licht was brought on to fix a sinking ship and he's just been poking more holes."
That was followed by Graham making a bizarre claim:
Earlier in the show, Graham noted the ideological diversity between Fox hosts:

It's really obvious this is Rupert Murdoch's Fox News...Things can change depending on that the Murdochs want...It is interesting that you had...dramatic changes or differences of opinion from hour to hour. You don't tend to see that on MSNBC. You don't tend to see that on CNN.

"I think you can look at this and say, yes, it seems like a big deal, but it's not something that's really a threat to Fox in the sense that they let go of Bill O'Reilly, Tucker moved into the space, and then people tend to forget," he said.
Huh? There's "ideological diversity between Fox hosts"? Needless to say, Graham offered no example of this purported "diversity," given that one must obviously be a committed right-winger to even be considered for a Fox News hosting spot.That was followed by the expected Lemon-bashing:
Graham then tied the two together:

With Don Lemon, everybody kind of gets the idea. He was a big diva. You know, everyone gets tired of him...I think, in this case, the tea leaves suggest that all of the internal e-mails and texts that came out in the Dominion case...probably angered them with his imperiousness or something.

As for Lemon, Graham quipped that something "we all wanted to hear" was Lemon "was past his prime" while, at CNN, "it's the same" from under Jeff Zucker and "has not changed."
That was followed by Houck serving up rote Lemon-bashing while similarly insisting there is ideological diversity on Fox News:
Houck said the longtime CNN host's firing arrived like "a snowball rolling down the hill, gaining steam — an incoming avalanche" to illustrate CNN boss Chris Licht's reign thus far as "an absolute failure."

On Carlson, Houck called it "a difficult story" for Fox with plenty of backlash, especially with subscriptions to its popular streaming site, Fox Nation.

"I don't think liberals or conservatives...don't do enough introspection and realize...that people tune into Fox News at 8:00 for Tucker Carlson. They tune in. A lot of young people...tune in...for Tucker Carlson," Houck said, noting how Fox created "a healthy media ecosystem" with differences of opinion between Carlson and even the host in the next hour, Sean Hannity.
Houck identified none of these purported "differences of opinion."
Posted by Terry K. at 9:31 PM EDT
Updated: Monday, June 5, 2023 11:23 PM EDT