MRC Continues Campaign Of Rage Against Abortion Pills
Topic: Media Research Center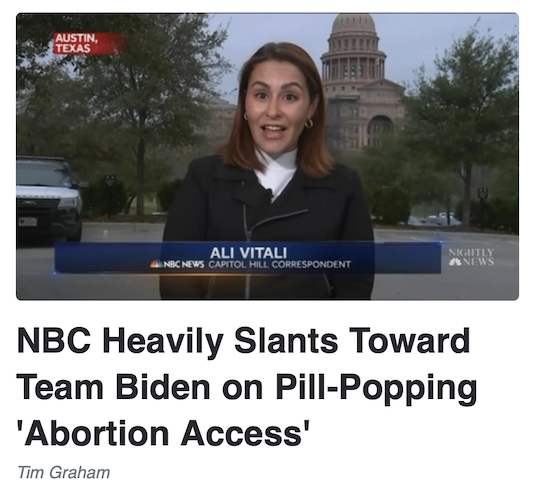 The anti-abortion extremists at the Media Research Center have long been hostile to the existence of abortion pills, exaggerating their alleged risks and denigrating them as "chemicals" designed to kill. Chief extremist Tieri-Rose Mandelburg ranted in a Feb. 24 post:
Isn't it great when the leaders of our country lie to us? Okay, this is about Kamala Harris so "leader" is too strong a word. Still, she's the vice president, so can't we expect a modicum of honesty from her?

Harris has yet again lied about not only a woman's "need" for an abortion but, more detrimentally, about how medication abortion pills should be considered a good option.

Numerous people have written and warned about these pills on countless occasions but still Harris and the Biden Administration only like to tout ideas that push their pro-abort narrative.

Harris made that abundantly clear in her talk on February 24 at the White House, where she came to the defense of the mifepristone abortion pill.

[...]

"That medication is called mifepristone, it is a drug that is used to perform medication abortion. It is FDA approved." Okay lady … so is the COVID-19 shot and we see how that turned out.

FDA approved is about as reliable as "organic" vegetables. Barely any requirements or checks are needed. Plus, these medication abortion drugs are NOT safe.

Taking a medication abortion pill results in a multi-day progression of bleeding, cramping, pain, and contracting to slowly end the life of an unborn child. The process can take 30 days to complete, is "four times more dangerous" than surgical abortions and has reportedly increased abortion-related ER visits by 500 percent from 2002-2015.

So no Mrs. Harris, it's not safe.
Tim Graham went on a tirade about the pill three days later: "For more of the pro-life case about the dangers of mifespristone abortions, see the Charlotte Lozier Institute report. But again, they're describing killing a baby as 'safe and effective.' It's not like taking a Tylenol. It's like taking rat poison that kills your somehow un-human baby."
In a March 6 post, Mandelburg defended anti-abortion activists threatening pharmacies into being afraid to dispense abortion pills even though they are still legal for now:
The SCOTUS Dobbs decision returned the question of abortion legality to the individual states. But now the White House is encouraging private companies to break state laws and sell abortion pills in states where they are illegal.

But After Walgreens stated it would not distribute abortion pills in states where GOP AG's opposed, White House press secretary said such a move was "dangerous and just unacceptable."

Right, because saving kids lives is somehow dangerous.

On Thursday, March 2, Walgreens released a statement that it would not dispense abortion pills by mail or in any of the store locations in states where state officials have threatened legal action over the pill distribution. This statement came after a letter from nearly two dozen Republican state attorneys general who threatened legal action.

Walgreens made the right decision. Republican leaders should get just as much a right to say they don't want babies killed as Democratic leaders have to say that they do want babies killed.
She then parroted right-wing rhetoric against the pills when White House press secretary Karine Jean-Pierre criticized the activism:
Interesting, then, why a group of doctors and medical groups are suing to overturn the FDA's approval of the drug. Why? Because it's incredibly dangerous. Not only does it end at least one child's life but the drug is also harmful to the mother. It facilitates an up to 30-day process of contracting, bleeding and cramping and is "four times more dangerous" than surgical abortions. As a matter of fact, the lette rto the FDA mentioned that these drugs increased abortion-related ER visits by 500x from 2002-2015. So no, KJP, the fact that these pills have been around for so long doesn't mean that they are safe.
That letter Mandelburg is talking about is not from unbiased medical professionals but from Repuiblican politicians, as she summarized in an earlier post.
The next day, Clay Waters complained about PBS and NPR offering factual information about how to obtain the pills:
Who says the liberal media is anti-business? Taxpayer-assisted PBS and National Public Radio are eager to promote at least one product: Companies that mail the pregnancy-terminating pill mifepristone across state lines to states where abortion is being made illegal, in the wake of the Supreme Court's Dobbs decision. And a pro-life group is suing claiming the FDA wrongly approved the pill. Now, tax-funded media outlets are giving out tips for getting abortion pills.

If the Second Amendment was endangered via state gun regulation, would PBS provide tips on how to get a gun anyway? It's hard to imagine.
A March 9 post by Nicholas Fondacaro complained that the pills were talked about on "The View":
With Walgreens announcing that they will stop selling certain brands of abortion pills in states that prohibit them, California Democratic Governor Gavin Newsom launched a campaign against them with what the pharmacy chain called "false and misleading information." Of course, the liberals of ABC's The View adhered to Newsom's marching orders and opened Thursday's show by parroting his talking points, later being forced to read a legal note with Walgreens' response to the lies.
Fondacaro didn't mention how he and his fellow MRCers were parroting right-wing talking points against the pills.
A March 17 column by Graham was filled with anti-abortion spin, starting with insisting on maliciously calling abortion pills "homicide pills":
In the same way, it sounds cruel to report that supporters of the pill "say it's safe and effective," when it's obviously not safe for the baby. MSNBC's Joy Reid touted "the extremely safe and effective medication is used to induce abortion and to manage miscarriage or early pregnancy loss, which can, by the way, be life-threatening." Mifepristone isn't "life-threatening"?

This inhumane approach to the unborn came crashing through a CNN.com article on drug safety: "Data analyzed by CNN shows mifepristone is even safer than some common, low-risk prescription drugs, including penicillin and Viagra....It is also a safer option than both procedural abortion or childbirth." They can't acknowledge how it's safe for only half of the humans in this equation.

MSNBC's Stephanie Ruhle warned this decision could have "major repercussions for abortion care," as if "abortion care" isn't a soulless term.
If Graham is going to insist on using the "homicide pill" line, he should also be demanding that every woman who has ever had an abortion be arrested and imprisoned -- maybe even executed -- for murder. But he's clearly afraid to take his rhetoric to its logical endpoint. Nevertheless, Graham repeated his incendiary logic in a March 26 post whining about fact-checkers who pointed out that abortion pills are, yes, safe and effective:
"Independent fact-checkers" sound like they're funded by Planned Parenthood. Have you ever noticed that leftists who want to ruin someone's career for "misgendering" someone who's in denial of their true gender endlessly demean unborn babies as "a pregnancy"? Why is that terminology not seen as ideological and dehumanizing?
He concluded by ranting that the fact-checkers "were all babies the size of a kidney bean once. Now they favor the side of crushing the unwanted babies into hummus."
Posted by Terry K. at 11:14 PM EDT