MRC Spread Falsehoods About Swalwell And Spy -- But Won't Correct The Record Now That He's Been Cleared
Topic: Media Research Center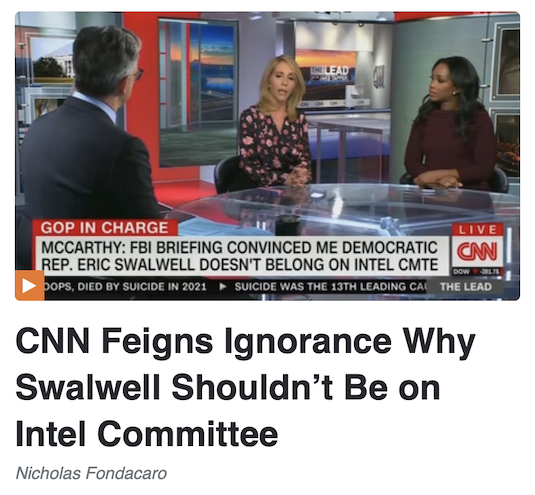 Last month, the House Ethics Committee closed its investigation into Democratic Rep. Eric Swalwell over allegations he had a relationship with a woman who turned out to be a Chinese spy, making no findings of wrongdoing. Swalwell had never been credibly accused of any wrongdoing, and he cut off all ties to her when he learned about her spy activity in 2015.
The Media Research Center won't tell you this, however, because it's been attacking Swalwell over the alleged relationship for years.
In a November column, for instance, Jeffrey Lord cheered that Swalwell might be removed from House committees by Republcians for what he described as "a decidedly ill-advised affair with an alleged Chinese spy," touting how incoming House speaker Kevin McCarthy "clearly thinks" he showed "appallingly bad judgement and cannot be allowed to sit on the Intelligence Committee."
Whe the GOP officially took over the House, the MRC cheered Republican attacks on Swalwell, just as it did over attacks on Rep. Ilhan Omar similarly designed to force her off House committees for not being a right-wing toady:
A Jan. 12 post by Bill D'Agostino complained that "CNN cut away from House Speaker Kevin McCarthy's press conference after he made a series of unflattering claims about Representatives Eric Swalwell (D-CA) and Adam Schiff (D-CA)."
A Jan. 18 post by Nicholas Fondacaro raged that when Swalwell appeared on "The View," the hosts "didn't even question Swalwell about his possible sexual relationship with Chinese Spy Fang Fang. Instead, she simply asked him to give his response to what Speaker McCarthy has said about him when he announced his intent to strip the compromised Congressman of his seat on the House Intelligence Committee."
Fondacaro ranted in another post the same day:
Not long after Speaker Kevin McCarthy (R-CA) warned on Tuesday that he received a classified intelligence briefing from the FBI about Congressman Eric Swalwell (D-CA) that concerned him enough to pull his Intelligence Committee assignment, some of CNN's purported journalists on The Lead – including host Jake Tapper – pretended not to know why the compromised Congressman shouldn't be allowed to serve on the committee. Essentially, gaslighting their viewers.

In December 2020, Axios reported that Swalwell's campaign was infiltrated by a Chinese spy that went by the name Fang Fang. They noted that Fang installed an intern in Swalwell's office and had sexual relationships "with at least two mayors of Midwestern cities." Swalwell has never been publicly grilled on whether his relationship with Fang was also sexual.
Fondacaro censored the fact that Axios also reported that Swalwell immediately dropped the relationship after being alerted to Fang's spy activity and no one has accused him of wrongdoing.
Tim Graham spent a Jan. 23 post whining that a fact-checker found McCarthy's attacks on Swalwell and others to be "specious" -- but rather than rebut any points in the fact-checker, he grumbled: "This is where liberal-media 'fact-checking' is annoying. They use their own partisan incuriosity against Republicans." Kevin Tober served up his own whining fit in a post the next day:
Apparently having sex with a Chinese spy as a member of Congress isn't enough for MSNBC. During Monday night's The 11th Hour on MSNBC, frequent guest Jason Johnson lashed out at House Speaker Kevin McCarthy for daring to express his desire to prevent Democrat Congressmen Adam Schiff and Eric Swalwell, the latter of which had reportedly had sex with a Chinese spy, from serving on the House Intelligence Committee.

[...]

Johnson then said with a straight face and without any hint of irony that "there's no legitimate reason to keep Schiff or Swalwell off the intelligence committee. In fact, if anything it's to lock out people who are primarily concerned with this country from knowing the dangers that perhaps other colleagues on the committee provide to this country."
Alex Christy complained that "As House Republicans prepare to kick Democratic Reps. Adam Schiff and Eric Swalwell off the Intelligence Committee, CNN Newsroom co-host Erica Hill condemned Speaker Kevin McCarthy on Tuesday for not following 'tradition.' Apparently, Hill forgot that history did not begin yesterday." Hethengroused that Hill did not say why Swalwell was a "target," but he refused to mention the fact that nobody has credibly accused Swalwell of wrongdoing.
Tober came back on Jan. 29 to cheer how Swalwell and other Democratic members of Congress targeted by the GOP were asked about those accusations on CNN, and he noted (relucantly, we presume) that Swalwell responded by noting that "three different times, [the FBI] came out and said two things. All I did was help them, and also, I was never under any suspicion of wrongdoing."
With the Republicans having ultimately done its partisan duty and kicking Swalwell off the intelligence committee, the MRC went silent about him for a while, though a March 11 post by Mark Finkelstein complained that Swalwell advocated blocking access to Fox News to military bases in the wake of revelations in the Dominion lawsuit shwoing that Fox News deliberatly lied to its viewers about election fraud in thte 2020 election. But when a defender popped up on TV, Tober was there to rant about it in an April 21 post:
On MSNBC's The ReidOut, host Joy Reid returned to one of her favorite Republican targets in the United States Congress: Marjorie Taylor Greene. The source of her rage this time was Greene's comments during a House Homeland Security Committee hearing where she pointed out that her colleague Eric Swalwell (D-CA) was reported to have slept with a Chinese spy. Despite the allegations being legitimate enough to have him booted off the House Intelligence Committee, Reid still insisted it was nothing more than a "right-wing conspiracy theory."
Republicans acting in a partisan manner against Swalwell does not equate to the allegations against him being "legitimate."
Tober, like the rest of his MRC co-workers, will not tell you that a Republican-led House ethics committee found no wrongdoing, just like every other authority who has looked into it. And it's even less likely that the MRC will apologize to Swalwell for spreading falsehoods about him and correct the record.
Posted by Terry K. at 9:50 PM EDT