WND Peddles 'Charlottesville Lie' Lie Again
Topic: WorldNetDaily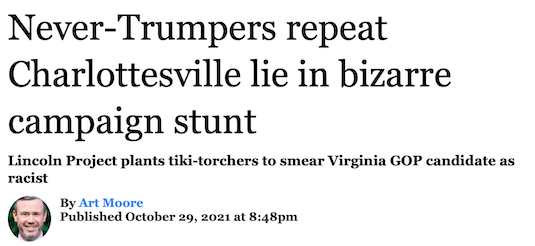 Art Moore clung to the "Charlottesville lie" lie in an Oct. 29 WorldNetDaily article:
The Republicans who formed the Lincoln Project based on their virulent opposition to Donald Trump repeated on Friday the false "very fine" people claim against the former president when the group took responsibility for a bizarre racial stunt at a campaign stop in Charlottesville, Virginia, by Republican gubernatorial candidate Glenn Youngkin.

After suspicion was raised that the campaign of Democratic opponent Terry McAuliffe was behind it, the Lincoln Project took credit for sending five people in white shirts to stand in front of Youngkin's campaign bus holding tiki torches in the style of the 2017 protest in Charlottesville.

In a statement, the Lincoln Project said the demonstration "was our way of reminding Virginians what happened in Charlottesville four years ago, the Republican Party's embrace of those values, and Glenn Youngkin's failure to condemn it."

The Lincoln Project pressed Youngkin to denounce Trump for a statement that he did not make.

"We will continue to hold Glenn Youngkin accountable. If he will denounce Trump's assertion that the Charlottesville rioters possessed 'very fine' qualities, we'll withdraw the tiki torches," the group said. "Until then, we'll be back."

In fact, during his remarks on Charlottesville four years ago, Trump immediately made it clear he was not referring to "the neo-Nazis and white nationalists" as "fine" people, explicitly declaring "they should be condemned totally."

His reference – as a CNN contributor pointed out in a rebuke to his network colleagues – was to the people on both sides of the issue of whether or not to maintain statues of Robert E. Lee and other Confederate figures.
But as we've documented, the group that organized the rally, American Warrior Revolution, considers itself a militia and later effectively blaming liberal counterprotester Heather Heyer for her own death in getting mowed down by a car driven by white supremacist James Fields Jr.
That continued embrace of a false narrative is the sort of thing that inspires confidence in WND's ability to report fairly and accurately.
Posted by Terry K. at 10:09 AM EST