MRC Complains That Right-Wing Anti-Trans Hate Is Being Called Out
Topic: Media Research Center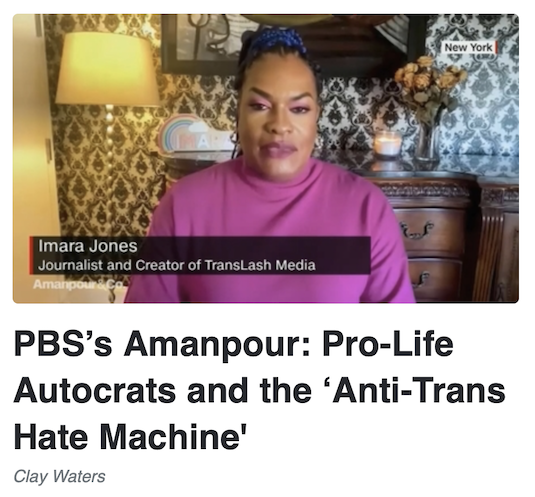 It's been a while since we last checked in on the rampant transphobia at the Media Research Center (outside of attacking Dylan Mulvaney, that is). Let's see how that's going, shall we? A Feb. 24 post by Brad Wilmouth complained that the hate behind anti-trans state laws was called out:
On Tuesday' The Lead show, CNN host Jake Tapper did his part to promote transgender surgery for underage teens as he devoted a segment to fretting over Idaho's push for a state ban. Republicans only stood for "cruelty" and "meanness" that is somehow against God.

Teenage transgender activist Eve Debitt and father Michael Debitt were given an extremely sympathetic forum to complain about the Idaho legislature's actions with no serious consideration of the view that such surgery causes irreversible harm through amputation.

The CNN host began the segment by playing a clip of the teenager giving testimony claiming that such surgery would be "my final step into the body that I should have been born into." The teen also employed the trope that if teens don't get what they want, they'll kill themselves:

Wilmouth didn't explain how criticizing transphobia equated to "promot[ing] transgender surgery."
Jay Maxson whined that a winning athlete did what athletes do in overcoming obstacles erected by haters like him(or her) in a March 15 post:
There's only one thing more appalling than a male robbing females of opportunities in the field of sports. It's when the transgender dude out-muscles the girls, then lords it over them and tells them to deal with the injustice. That's just what happened in Massachusetts when Chloe Barnes, a male ringer, helped the Brookline girls win the high school state championship in the 4x200-meter relay this season.

After doing the girls dirt, the haughty Barnes rubbed it in. "Deal with it. Just deal with it," the insensitive punk told them.
We doubt that Maxson has ever criticized any other athlete who engaged in this mild form of trash talk as "haughty" or an "insensitive punk." Instead, there was a haughy rant claiming that allowng transgender athletes to play was "the brainchild of some woke nitwits who thought it would be wonderful to hand LGBTABCD fascists a victory."
The MRC's chief trasnphobe, Tierin-Rose Mandelburg, spent a March 21 post cheering that a Christian high school inVermont quit a state girls basketball tournament rather than play a team with a transgender athlete:
I don't blame the Christian school. Men have a significant size and strength advantage over women, especially in something like basketball where those characteristics are imperative. This set LTS at a significantly altered and unfairly high position against MVCS.

Yet, Vermont and its leaders clearly care more about identity politics than the safety of their students.

[...]

What's funny was that in an attempt to say that the Christian students were discriminating against the transgender student, [State senator Regecca] White discriminated against the group of Christian girls.

It's not surprising, however, that THIS is the side that CNN decided to highlight.
Mandelburg didn't mention whether the team's players had any say in the matter.
Matt Philbin (who would be out of a job a month later) raged in a March 23 post that the Washington Post reported the inconvenient fact that (gasp!) most transgender people are happy with their lives, baselessly insisting that those who believe that are lying to themselves and the pollsters:
The Washington Post has released a survey of post-transition transgender adults. You'll be shocked to learn that most of the results bolster various assertions of the trans movement. I leave it to smarter people than me to critique the survey methodology. Suffice it to say this is The Post, where democracy dies in data.

The big headline for the main Post article announcing the results says "Most trans adults say transitioning made them more satisfied with their lives."

[...]

And maybe they are. But consider: You crossed the Rouge Rubicon. You've made a dramatic life decision to defy biology, theology, and the accumulated commonsense of 5 millennia in a way that probably can't be undone socially or, if applicable, medically. Now strangers want to know if you're happy with your decision. Choose your answer:

No, I can't believe how gullible and deluded I was. I've made a mess of my life and maybe my body and I still have the same neuroses I thought I was escaping.
Yeah, it's great. My fantastic new life is just super and I've really got it together now. No regrets. Goodbye.

Human nature (which is still there, despite your efforts to ditch it) dictates you put your smiley face on no matter how you're really feeling.
Philbin then manufactured a conspiracy about "Big Trans," whatever that is:
So if most of these people knew they had gender issues when they were young, and most didn't do anything medical about it, and today, they're happier and more satisfied, why the rush to sell kids expensive, dangerous drugs and drastic irreversible surgeries? The end – happy people living as their preferred gender/genders/combination thereof – can be attained without drastic and dangerous means?

Why are plastic surgeons lobbying government to allow more younger patients to get sex change operations? Why does the most powerful pro-trans medical figure in America talk about the "return on investment" for facilities that offer those surgeries?

Could it be that Big Trans is also big business?
We thought Philbin and the MRC supported big business and capitalism.
Clay Waters complained that anti-trans hate was again called out in a March 26 post:
Thursday's edition of Amanpour & Co., which appears on PBS, went wild in defense of radical transgenderism, comparing American anti-trans bills to truly insidious legislation in dictatorships.

Host Christiane Amanpour set the table with an ignorant international comparison of supposed female/LGBTQ repression:

[...]

[TransLash Media founder Imara] Jones laid out the grand "far right" conspiracy against transgenders, while sneakily boosting the numbers of actual transgenders in America (a UCLA study finds 0.5 percent of the population to be transgender, three times less than the 1.5 percent Jones slips in, calling it "a tiny group of people").
Waters didn't explain what "radical transgenderism" is -- unless he assumes that all transgenderism is "radical" -- and he didn't bnother to dispute that there is an "anti-trans hate machine," as Jones asserted. Instead he whined that "Jones smeared groups like Family Research Council and Focus on the Family, as if it was a conspiracy for social conservative groups to push social conservative policy."
Tim Graham had his own meltdown over anti-trans hate being called out in an April 2 post:
The Left's energetic attempt to take a mass shooting at a Christian school with a transgender murderer and turn this around on the Christian conservatives is a shameless exercise to behold. On MSNBC's The ReidOut on Wednesday night, host Joy Reid welcomed transgender activist Charlotte Clymer and Jim Wallis of the Center for Faith and Justice at Georgetown to spit nails at conservatives from Tucker Carlson to Michael Knowles.

Reid said she wanted to take down (well, take on) the Christian element of this. She began with a clip of "Fox's hate entertainment broadcaster Tucker Carlson" proclaiming the transgender ideologues are the mirror image of Christianity and "therefore, its natural enemy."

In reply, Wallis said "LGBTQ are initials that all stand for somebody who's beloved of God, made in the image of God. Let`s be clear about that."

The bad Christians are the gun-lovers, Wallis said. "There was an ancient God called Moloch. Leviticus talks about Moloch, who was a God that children were sacrificed to in flames. And the Bible is very tough on Moloch. Guns are our new Moloch. Guns are the Moloch. We`re sacrificing our children to Moloch, when we could do easy commonsense things about guns."

From there, Wallis proclaimed that "White Christian nationalism, which is behind all this, is literally a biblical heresy."

[...]

So Reid is hosting a segment on the warping of Christianity, as Clymer claims God is a "her" that "made me transgender." Call it the Church of MSNBC.
This name-calling was the closest Graham got to a rebuttal.
Posted by Terry K. at 9:15 PM EDT
Updated: Friday, June 9, 2023 9:17 PM EDT