The Tulsi Gabbard Fan Club At CNS
After trashing her during the 2020 presidential campaign, CNSNews.com now wants you to think that Gabbard is a real Democrat, even as it promotes her right-wing views and support for Russia in its war against Ukraine.
By Terry Krepel
Posted 7/17/2022
---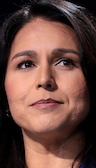 Tulsi Gabbard
It wasn't that long ago that CNSNews.com treated 2020 Democratic presidential candidate Tulsi Gabbard with the same right-wing disdain it has applied to all Democratic presidential candidates in that cycle. For instance, in 2019 stories, Craig Bannister highlighted how Gabbard "boasted that she has forsaken the values instilled in her by her parents," while Michael Morris gave a platform to its favorite right-wing radio host, Mark Levin, to bash her as a "clown," "crackpot" and "moron" whose "propaganda on behalf of Syria & Iran is disgraceful."

But supporting President Trump was Job 1 at CNS like it was at the rest of the Media Research Center, followed closely behind by Clinton derangement, and when Gabbard started sounded more like Trump -- then got into a spat with Hillary Clinton -- she suddenly stopped being a crackpot and clown and was treated as a sane and credible candidate.

A September 2019 blog post by Bannister promoted Gabbard's opposition to Democratic impeachment efforts against Trump, adding that "Gabbard then cautioned that impeachment may well backfire on Democrats."

When Gabbard echoed Trump's call to remove U.S. troops from Syria during a debate, an October 2019 article by Melanie Arter touted how Gabbard claimed "The New York Times and CNN smeared" her for wanting to end "regime change war" -- never mind that only a month earlier CNS was letting Levin declare her support for Syria as "disgraceful."

Shortly thereafter, Hillary Clinton suggested that the Russians were grooming Gabbard to make a third-party presidential run, CNS rushed to Gabbard's defense. Managing editor Michael W. Chapman touted Gabbard's response that Clinton is the "queen of warmongers" and the "personification of the rot that has sickened the Democratic Party for so long." This was followed by an item by Susan Jones about another Democratic presidential candidate being asked about Gabbard.

Chapman returned to boost Gabbard's "new video response to Hillary Clinton's charge that she is being groomed by the Russians to be a third-party candidate," in which she ranted that if you "stand up against Hillary" and the "war machine," they will try to "destroy you."

The same day, Chapman complained that "On the very day Democratic presidential contender Rep. Tulsi Gabbard (D-Hawaii) said that The New York Times and CNN were smearing veterans like herself because she opposes the 'regime change' war in Syria, CNN analyst Bakari Sellers told a panel of CNN reporters "there is no question that Tulsi Gabbard ... is a puppet for the Russian government." He added, "Clinton, like CNN and Bakari Sellers, presented no evidence to support her claim," then weirdly moved to suggest Clinton is discredited because of the Mueller report:
From late 2016 and through 2017, 2018, and part of 2019, Hillary Clinton and most of the liberal media either claimed or strongly suggested that President Donald Trump had colluded with Russia to win the presidential election.

The report by Special Counsel Robert Mueller concluded, "[T]he investigation did not establish that members of the Trump Campaign conspired or coordinated with the Russian government in its election interference activities."
That's just Chapman repeating the CNS/MRC pro-Trump corporate line.
Finally, Melanie Arter served up her usual stenography work by uncritically passing along Trump's mocking that Clinton "is accusing everyone of being a Russian asset, but her recent accusation against Rep. Tulsi Gabbard (D-Hawaii) probably helped the congresswoman like it ended up helping the Trump administration."
After the November 2019 Democratic debate, CNS granted Gabbard two articles by Arter despite her polling in the low single digits. In the first, Arter touted how Gabbard "criticized South Bend, Ind., Mayor Pete Buttigieg for comments he made about sending troops to Mexico to fight drug cartels, saying his comment speaks to the "inexperience" he has in national security and foreign policy"; in the second, Arter featured Gabbard's attack on Kamala Harris and accusing her of "trafficking 'in lies and smears and innuendos' after Harris took Gabbard to task for criticizing the Democratic Party."
Then, in a December 2019 article, Arter highlighted Gabbard's defense of "her decision to vote 'present' during the House's impeachment vote, saying she does not believe 'in good consciences' she could vote 'either yes or no,'" adding that "fhe congresswoman said Democrats have also not been impartial."
Columnist Allen West then gushed over Gabbard:
Then something happened on the road to [Kamala Harris] being christened. Her name was Tulsi Gabbard. Congresswoman Gabbard of Hawaii got to be on stage with Kamala Harris for the second Democrat debate and destroyed Senator Harris. And yes, it was a sin for which the left, the Democrat party, has not forgiven the now-described agent of Russia.

And how interesting, Gabbard is also a woman of color, US Army veteran, and articulate, but she was not the identity politic chosen one. What Tulsi Gabbard did was to expose the flaws and weaknesses of Kamala Harris, deficiencies she never overcame.
Arter also lavished an article on Gabbard voting "present" on Trump's first impeachment, claiming that while she believed that Trump was "absolutely guilty of wrongdoing," voting yes "was unacceptable to me, because impeachment should never come about as a culmination of a highly partisan process."
CNS largely ignored Gabbard after that, presumably because she continued to poll badly and never had an actual chance of winning the Democratic nomination. She didn't show up again until a December 2020 article by Arter praising how she co-sponsored a bill "banning transgender females -- people who were born male -- from taking part in women's sports. Arter didn't mention that this was little more than a publicity stunt by a politician would never see the light of day because not only was that session of Congress about to expire a few weeks later, Gabbard herself was leaving Congress at the same time.
When Gabbard started acting like the MRC's version of a Fox News Democrat again, CNS was happy to be her stenographer. Craig Bannister gushed over Gabbard in a Nov. 4 article:
Tulsi Gabbard, who campaigned against Joe Biden to become the Democrat Party's 2020 presidential candidate, cheered Republican Glenn Youngkin's upset win in Tuesday's Virginia gubernatorial election.

Gabbard, a veteran and former Hawaii Democrat congresswoman, did not run for election in 2020. She is currently serving as a lieutenant colonel in the U.S. Army Reserve.

In a Wednesday Twitter post, Gabbard described Youngkin's defeat of Virginia's incumbent Democrat Gov. Terry McAuliffe as a win for all Americans:
CNS loved Gabbard's tweet so much, it made its fall intern Megan Williams write a story about it a week later, under nearly the exact same headline as Bannister's article:
Former Democratic House Rep. Tulsi Gabbard (Hawaii) called Democrat Terry McAuliffe's Virginia gubernatorial loss a "win for all Americans."

"McAuliffe's loss is a victory for all Americans. Why? Because it was a resounding rejection of efforts to divide us by race, the stripping of parental rights, and arrogant, deaf leaders. This benefits us all," Gabbard tweeted on Nov. 3.
The rest of Williams' article detailed a Gabbard appearance on Fox News a few days later, which sound journalism dictates should have been the lead, not her week-old tweet. But CNS loves to devote multiple articles to pushing the exact same talking points.
Bannister returned on Nov. 29 to devote another article to Gabbard sounding like a Republican:
Americans are struggling to buy the things they need, due to rampant inflation, and Democrats' multi-trillion "Build Back Better" (BBB) bill will push costs even higher, Former Democrat Hawaii Congresswoman Tulsi Gabbard says.

What's more, the bill would fund "87,000 more IRS agents harassing regular folks," Gabbard warned Monday in a tweet introducing a video of her analysis:

[...]

While Americans are struggling to make ends meet, they're also frustrated that Democrats in Washington are ignoring their needs and, instead, are pushing a spending bill that would make products even more expensive, Gabbard says in her video:
To emphasize the point that Gabbard sounds like a Republican, Bannister linked to Republican talking points on Build Back Better. That sort of gives away the game, no?
A Jan. 13 article by Craig Bannister gave uncritical space to a Gabbard rant:
President Joe Biden's vile characterization of Americans who disagree with his agenda is worse than Hillary Clinton's infamous slur calling them "a basket of deplorables," Former Democrat [sic] presidential candidate Tulsi Gabbard said Wednesday.

While Cinton's insult was divisive and disgusting, Biden taken insults to a new low by suggesting that dissidents are terrorists, traitors and racists, Gabbard tweeted.
The next day, Bannister served up another anti-Biden rant from Gabbard:
President Joe Biden promised to unite all Americans, but he's actually tearing the nation apart by smearing and targeting anyone who disagrees with him, former Democrat [sic] presidential candidate Tulsi Gabbard says.

In a video posted on her Twitter page, Gabbard says she and millions of others supported Biden's campaign for president because he vowed to put an end to divisiveness – but, he's now doing the opposite by "fueling the fires" of discord and animosity:
Bannister was the servile stenographer for Gabbard again -- this time bashing Hillary Clinton -- in a Feb. 15 article:
The White House is dodging questions about allegations, stemming from Special Counsel John Durham's investigation, that a tech executive exploited access to the White House server to find incriminating evidence against former President Trump – but, former Democrat [sic] presidential candidate and Rep. Tulsi Gabbard (D-Hawaii) is speaking up.

"What is being revealed here, Jesse, is the truth: Hillary Clinton and the power elite in this country manufactured this Russian collusion lie actively undermining our democracy and stoking the fires moving us into this new Cold War with Russia," Gabbard said Monday in a Fox News Channel interview with Host Jesse Watters.
Actually, there was collusion between the Trump campaign and Russian operatives in 2016.
Gabbard the victim (and Russia supporter)
As Russia invaded Ukraine, CNS found a different way to use Gabbard and her longtime support for Russia -- to push the argument that CNS columnists like Pat Buchanan have pushed, that the U.S. should have capitulated to Russia's demand that Ukraine be blocked from being admitted to NATO. This appeared in a Feb. 24 article by Patrick Goodenough:
A different take came from Democrat Tulsi Gabbard, a former presidential candidate and member of Congress for Hawaii – and Iraq War veteran – who has been sharply critical of U.S. involvement in foreign wars.

"This war and suffering could have easily been avoided if Biden Admin/NATO had simply acknowledged Russia's legitimate security concerns regarding Ukraine's becoming a member of NATO, which would mean US/NATO forces right on Russia's border," she tweeted.
Goodenough highlighted Gabbard again in a March 4 article when a spokesman for China's foreign ministry brought her up in a anti-NATO argument:
He then cited the critical views of three Americans – the late diplomat George Kennan, political commentator and author Thomas Friedman, and Democratic former congresswoman Tulsi Gabbard – on the question of NATO expansion and the impact it would have on relations with Russia.

"Those who created the problem should be the ones to undo it," Wang said. "They should earnestly shoulder due responsibilities and take real actions to ease the situation and resolve the problem instead of shifting the blame to others."
It's not a good look when you're on the same side as China, but Goodenough didn't criticize her. Neither Bannister nor Goodenough mentioned Gabbard's previous fealty to Russia, or that even after the invasion she was blaming Biden for it and defended Russia's "legitimate security concerns"-- and that even Fox News' Sean Hannity was advising her to back off the Putin-love a bit.
Nevertheless, CNS published a March 11 article by Emily Robertson serving up more of her schtick:
"It's all about the Kamala Harris show," former Hawaii Democratic Rep. Tulsi Gabbard told Fox News Host Sean Hannity Thursday night. "This shows that the suffering of the Ukrainian people really are just – they're actors in her– in the Kamala Harris show."

Gabbard appeared as a guest on "Hannity," grading Harris' fulfilment of the roles of vice president. Harris would receive lower than an "F" if possible, according to Gabbard, due to what she characterized as a lack of effort on issues ranging from illegal immigration to inflation and the Russia-Ukraine war.
A March 25 article by Bannister let Gabbard play the victim by making the typical right-wing complaint that she was being "shadow banned: on social media:
"I've gotten some questions from people who are not familiar with the term 'shadow banning' and are asking exactly what it is. So, I want to take a minute to show you," former Democrat [sic] Congresswoman Tulsi Gabbard (D-HI) says in a video posted to social media Friday.

In the video, Gabbard shows screenshots of how her account didn't show up in an Instagram search, how attempting to "@" her account yielded a "misinformation" warning, and of how an attempt to tag her resulted in an error message saying the activity is restricted in order to protect the Instagram community.
But as Mediaite noted, her drop in Instagram traffic coincided with the banning of Instagram in Russia, where she had fans due to her anti-Ukraine rhetoric; "Gabbard has taken a hardline stance against assisting Ukraine as it fends off an invasion by war criminals. That might have turned off some of her followers." Neither Gabbard nor Bannister mentioned that relevant fact.
Bannister returned for an April 5 article that took refuge in her DINO status to let her repeat right-wing anti-LGBT arguments:
"Parental rights are under attack all across the country as the government tries to usurp parents' rights and responsibility to raise their own children," former Democrat [sic] presidential candidate Tulsi Gabbard warns in a video defending Florida's new Parental Rights in Education law.

Gabbard doesn't just defend Florida's new law, which her fellow Democrats have dubbed "Don't Say Gay," she says the law doesn't go far enough to protect children and the rights of their parents:

"We should all support the Parental Rights in Education bill that recently passed in Florida which very simply bans government and government schools from indoctrinating woke sexual values in our schools to a captive audience. A captive audience that is, by law, is required to attend.

"But, as I read the legislation, I've got to tell you, I was shocked to learn that it only protects kids from kindergarten to third grade. Third grade? What about twelfth grade? Or not at all?"
In none of these articles did Robertson or Bannister permit a dissenting voice to rebut what Gabbard said. So much for CNS' mission statement that it "endeavors to fairly present all legitimate sides of a story."
Bannister gave Gabbard yet another platform in a May 2 article:
Former Democrat [sic] presidential candidate Tulsi Gabbard says Democrats, and some Republicans, need to do their homework, so they'll remember what "freedom of speech" truly means.

Monday, in a video posted in her Twitter thread, Gabbard calls out Democrats who claim to oppose dictatorships, but don't speak out against the Department of Homeland Security's new "Misinformation and Disinformation Governance Board," which critics have dubbed the Biden Administration's "Ministry of Truth":


"To all the Democrats out there who say, over and over again, about how you stand strong against dictatorships: I'm wondering where your voice is now, condemning this creation of a Ministry of Truth in our own Department of Homeland Security.

What's even more troubling is that even some Republicans actually support the creation of such a government "propaganda board," Gabbard says:
Related articles on ConWebWatch:
Bannister also let Gabbard fearmonger about the board in a May 19 article that gave her second billing in the headline: "Former Democrat [sic] presidential candidate Tulsi Gabbard issued a similar warning on Thursday, tweeting that Americans need to beware that a new government "Ministry of Truth" might be created, using a different name."

Bannister graced Gabbard with yet another article on June 6:
The Biden Administration is claiming that it alone can determine truth in order to justify using the full power of government to punish dissent, former congresswoman and Democrat [sic] presidential contender Tulsi Gabbard warned on Saturday.

In her keynote speech at the Western Conservative Summit in Denver, Colorado, Gabbard warned of the Biden Administration's use of the Department of Homeland Security (DHS) and Department of Justice (DOJ) to declare what is "true," and not "misinformation" – and, then, enforce its decrees.

"One of the latest tactics that they are using, as you well know, is they claim they want to protect us from 'misinformation,' protect us from that which they claim is not true," Gabbard said.
Bannister went on to write that "'Even more dangerous than getting canceled is how they weaponize the government against the people,' Gabbard warned, noting how President Biden is using the DHS to target anti-authority views and DOJ to go after parents who disagree with school board policies." In fact, as we documented when CNS pushed this same lie, the DHS never targeted people for merely disagreeing with school board policies; the target was those parents who engaged in abusive and threatening behavior.
The fact that Gabbard spoke at a right-wing conference -- and that Bannister refuses to spell "Democratic" correctly -- should signal that Gabbard is no actual Democrat, but he has a narrative to push, not facts to report.
The latest from