CNS' Highly Selective Crime News Coverage
CNSNews.com only sporadically expresses concern about crime in Chicago and other big cities -- typically, when reporting on it advances CNS' right-wing editorial agenda.
By Terry Krepel
Posted 6/21/2021
---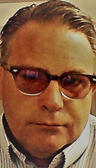 Michael W. Chapman
CNSNews.com managing editor Michael W. Chapman likes to report on crime in Chicago -- but only when it suits his right-wing agenda or to distract from other news events.

For instance, in 2016 he featured spotlight-loving Wisconsin sheriff David Clarke touting how "there have been 455 murders in Chicago so far this year, which is greater than the 270 coalition soldiers killed in Afghanistan since 2013." Given how Clarke has since abruptly resigned from his sheriff amid lawsuits and became so toxic and extreme that even the Trump administration wouldn't hire him and Fox News barred him from appearing on the channel, this one hasn't aged too well.

Chapman also wrote about violence in Chicago a few times in 2017 and 2018, and he hadn't written about it at all for the first seven months of 2019. But with the El Paso and Dayton massacres in early August of that year -- the former of which was clearly influenced by right-wing anti-immigration rhetoric that President Trump -- Chapman found a new reason to invoke Chicago: as a distraction.

In an article just a couple days after the massacres, Chapman claimed that "51 people were shot in Chicago and seven of the victims died" the same weekend of the massacres, huffily adding that "the liberal media did not express nationwide outrage over that gun violence and politicians did not blame President Donald Trump for the violence."

Chapman became mildly obsessed with Chicago violence for the next few weeks:
On Aug. 12, he wrote that "shootings in Chicago left 4 people dead and 43 wounded" over the previous weekend.
On Aug. 26, he detailed that "Over the weekend, six people were killed and 29 people were wounded by gunfire in Chicago" and that "1,800 people have been shot in Chicago since Jan. 1, 2019,"adding that "For comparison, there were 1,196 people killed in "mass shootings" -- four or more people killed by a lone shooter -- in the United States between Aug. 1, 1966 and August 19, 2019, according to The Washington Post."
On Sept. 9, he wrote: "Despite having some of the toughest gun control laws in the country, Chicago experienced another weekend of gun violence with 34 people shot, six of them fatally, reported the Chicago Sun-Times. That's on top of the 44 people shot, nine fatally over the Labor Day weekend, and the 282 Chicagoans killed by guns since the first of the year." He again compared the number to mass killings: "ABC News, using a definition of four (or more) people killed in a one-day incident, reported on Sept. 3 that at least 116 people had been killed in mass shootings."
Chapman apparently decided the massacre story has sufficiently faded, for he wrote only one more article on Chicago crime in the next few months, a piece in October touting how "at least 20 people were shot and wounded in Chicago and 8 people were shot and killed" over the previous weekend.
Chapman then went silent on the issue for months. But the following May, as the coronavirus pandemic toll surged past 100,000, he decided it was time to devote an article to the latest shootings in Chicago, even managing to work in a coronavirus angle:
In Chicago, at least 49 people were shot (10 fatally) over the Memorial Day weekend, according to ABC 7 Chicago. It was the worst Memorial Day weekend shooting since 2015.

"The violence throughout the city on Memorial Day weekend was nothing short of alarming," said Chicago Police Superintendent David Brown on Tuesday.

[...]

In addition to the weekend violence, ABC News reported that although the coronavirus "has kept so many people home and temporarily shuttered businesses, homicides in Chicago are on the rise this year. According to police crime statistics posted online, between Jan. 1 and May 24, the city had 200 homicides, compared with 176 during the same period last year. The number of shooting incidents climbed from 679 to 826."
Chapman didn't explain why he only occasionally considers shootings in Chicago to be newsworthy.
Then, with unrest over police brutality in the news, Chapman went for the same distraction but a different city in a June 10 article:
The Los Angeles Police Department Headquarters tweeted on Tuesday that during last week (May 31 - June 6), homicides went up 250% and the number of victims shot increased 56% when compared to the previous week.

"The week of 5/31 to 6/6, homicides went up 250% and victims shot went up 56% compared to the previous week," said the tweet from the LAPD HQ.

"The past 24 hrs has seen 4 shootings, one of those resulting in a homicide," the tweet added. "Detectives are following leads to ID & arrest the suspects -- but we're also asking for your help."
Chapman made sure to add that "Black Lives Matter, which has participated in many of the protests across the United States over the last two weeks, demands 'a national defunding of the police.'"
Craig Bannister joined the sudden, agenda-driven concern in a June 29 article invoking yet another city: "More than five hundred people have been shot in New York City so far this year, but the city is considering cutting the New York City Police Department's (NYPD) budget by as much as $1 billion."
Bannister apparently didn't consider the idea that the extra billion didn't keep those 500 people from being shot, so perhaps that money could be better used elsewhere.
Re-election reporting
As unrest continued through the summer of 2020, CNS faced another reality: President Trump had to be re-elected, and emphasizing such incidents to bolster Trump's law-and-order image was a key part of that. Thus, as a loyal Trump supporter, CNS simply ramped up what it was already doing.
In a June 29 article, Craig Bannister promoted a Chicago pastor who "called for a three-step response to the violence in his city that took the lives of 13 people, including a one year-old child, last weekend" in an appearance on Fox News.
John Jakubisin dutifully reported in a July 13 article: 'New York City and Chicago saw another weekend of violence with shooting victims totaling 64 in Chicago and 28 in New York City, including a 1-year-old boy, reported the local media Chicago Sun-Times and The New York Post." Jakubisin also repeated mostly conservative-friendly explanations of the violence: "The cause of the uptick in shootings remains unclear. Some have pointed to the economic downturn following COVID-19, while others have said the cuts to police budgets and presence have caused the increase. Officials with the NYC Police have indicated that prison releases and bail reform might be a significant factor as well."
Jakubisin did this again on July 20: "Violence continued in Chicago as 40 shootings left 58 people wounded and 9 dead over the weekend, according to WGN 9. New York City Mayor Bill de Blasio (D) and Police Commissioner Dermot Shea announced an "End Gun Violence" plan in reaction to the recent rise in shootings." He also highlighted "a $1 billion cut to the NYPD budget, supported by Mayor de Blasio." This continued over the following weeks:
July 27: "In Chicago over the weekend, 56 people were wounded and 3 others were killed by gun violence. The wounded included a 13-year-old girl, according to the Chicago Sun-Times." Jakubisin also called Chicago Mayor Lori Lightfoot a "left-wing Democrat."
Aug. 3: "Chicago saw another violent weekend in which 33 people were shot, 9 fatally, including a 9-year-old-boy, according to ABC 7 Eyewitness News. The weekend capped off the month of July which experienced a 139% increase in murders in comparison to July of 2019."
Aug. 10: "Over the weekend in Chicago, 40 people were shot, four fatally, and riots swept through the city Sunday night. In the District of Columbia, the nation's capital, 20 people were shot at a block party, including a 17-year-old who was killed."
This was joined by CNS featuring partisans invoking the violence for political reasons:
Arter was in stenography mode again in a July 23 article featuring Trump claiming that "Former President Barack Obama was at fault for the increase in homicides in Chicago in 2016, because he was invited in and could have solved the problem."
In an Aug. 11 article, Bannister touted how Fox News commentator Geraldo Rivera claimed that "his friends in Chicago tell him they're terrified by what's taking place in their city."
Jakubisin wrote in an Aug. 13 article on how "Chicago looters and rioters ruined the birthday celebration of 2-year-old Owen Buell, who lives with his family at the Chicago Ronald McDonald House while being treated for Stage 4 neuroblastoma, reported the Gateway Pundit." Jakubisin didn't mention that Gateway Pundit is a notoriously unreliable website that nobody should be quoting authoritatively.
Arter served up even more stenography on Aug. 17, featuring how "President Donald Trump posed the question to voters on Monday whether they want "the radical left policies" of Chicago, Minneapolis, and San Francisco imposed on the entire country" and invoking "the failed policies" of Lightfoot and other "left-wing Democrats."
An Aug. 24 post by Bannister touted another fearmongering complaint by Rivera, touting how he "tweeted out the tally of shootings in Chicago over the weekend, introducing video of his Sunday commentary on how Democrats are ignoring the violence when blacks shoot and kill other blacks."
But despite that emphasis over the summer, CNS didn't do much on Chicago crime as the election got closer. A Sept. 9 article by Susan Jones touted how an initiative launched under Trump-appointed Attorney General William Barr called Operation Legend that "dispatched more than one thousand skilled federal agents to Chicago and eight other cities to fight violent crime" was allegedly a success," with Jones uncritically writing:
"Operation Legend's success is perhaps most dramatic here in Chicago," Barr continued. "When the operation was announced on July 22, homicides in the city were up 51 percent over 2019. Over the previous weekend, more than 60 people had been shot in Chicago with over a dozen fatalities.

"Other violent crime, including looting and rioting, was increasing also. And the signs pointed to the problem getting even worse with the campaign to demonize and defund the police gaining traction, and criminals increasingly believing they could operate with impunity."

Barr said federal agents and grant money, working in partnership with local law enforcement, have now made more than 500 arrests in Chicago, and of those, 124 people face federal charges. "Many of those defendants are now detained pending trial rather than causing harm on the streets."

Barr said in the first five weeks of Operation Legend in Chicago, murders dropped by 50 percent over the previous five weeks. August saw a 45 percent decrease in murders compared to July and a 35 percent decrease compared to June.

"The bottom line is that Operation Legend has played a critical role in cutting Chicago's murder rate roughly in half since before the operation."
Chapman did only one more body-count article before the election, an Oct. 13 article stating that "Although the national media largely ignore the rampant gun violence in the Windy City, the local media in Chicago reported that 53 people were shot, five fatally, over this past weekend (Oct. 9-12)."Chapman did not mention Barr's Operation Legend, which supposedly cut crime in Chicago.
Make no mistake -- CNS was focusing on Chicago violence to help Trump get re-elected, not because it cares about reporting news.
After the election
Perhaps because that mission failed, Chicago crime wasn't mentioned again in a CNS "news" article for seven months. But with Joe Biden as president, Chapman could now implicitly blame him. Thus, Chicago crime made a comeback when Chapman wrote in an April 13 article:
According to the Chicago Tribune, which maintains an extensive database on homicide and death by gunfire, at least 585 blacks were killed in the last 365 days in the Windy City. These homicides far exceed the number of Hispanics killed (71), whites (43), and Asians (2) in the last 365 days.

In addition, The Tribune reports that 155 blacks have been killed so far in 2021, which is the highest number for the first three months of a year since 2017.

[...]

Also during the last 365 days, there were 203 homicides which involved death by shooting.

On top of that, 585 blacks were homicide victims during the last 365 days. The data show that most of the homicide victims are in their 20s and 30s.
Unsurprisingly, Chapman didn't mention the Trump administration's Operation Legend, which supposedly solved this issue. Also: Isn't the Tribune part of the evil "liberal media" that CNS and its parent, the Media Research Center, trash for a living? Chapman didn't explain why he considers this "liberal media" source to be credible.
Related articles on ConWebWatch:
Chapman served up more body counts in an April 21 article that began by noting that "Over the weekend in Chicago, at least 27 people were shot, three of whom died, including a 7-year-old girl who was sitting with her father in a car at a McDonald's drive-thru when she was killed." It was again based on Tribune reports. Chapman followed with an April 28 article: "4 people were killed and 21 wounded in shootings. The majority of the homicides in Chicago are the result of gun violence, according to the Chicago Tribune, and the "majority of the victims of homicide in Chicago are young, black men."

Chapman inexplicably took a week off -- perhaps there weren't enough shootings for him to write an article about -- but returned on May 11:
Chicago experienced another violent weekend with 26 shootings, 5 of which were fatal, according to the Chicago Sun-Times. As homicide data show, the majority of victims in Chicago are young, black men. In the last 365 days (through May 10), 590 black Chicagoans have been killed, reported the Chicago Tribune.
Isn't the Sun-Times also part of the "liberal media" too? Apparently, if the numbers are right -- and can be exploited for political purposes -- they're suddenly trustworthy too.
Chapman made an odd comparison in a May 18 article:
Since the violence erupted in Israel on May 10, a reported 232 Palestinians and 10 Israelis have been killed, a total of 242 victims. These people were killed primarily by airstrikes (bombing) and rocket attacks. It's essentially a war zone there.

For comparison, since Jan. 1 through May 10, at least 210 people have been killed in Chicago, most of them by gun violence. The majority of the victims are young black men, according to the Chicago Tribune.

[...]

In the year 2020, there were 774 murders in Chicago. Also, there were 3,237 shootings (which was up from 2,120 in 2019), reported The Sun-Times. (Emphasis added.)

For comparison, 27 Palestinians were killed by Israeli forces in 2020, according to Al Jazeera, and three Israelis were killed reportedly by Palestinians.
CNS went to an anonymous article credited only to "CNSNews.com Staff Writer" (but put into the system by Chapman, according to the CNS archive) for a May 24 article:
At least 55 people were shot, 12 fatally, over the weekend in Chicago, according to the local media in the Windy City. One of the fatalities was a 15-year-old boy who was shot in the head.

Nearly all of the shootings occurred in neighborhoods in the South and West sides of the city, areas that were identified by the city "last fall as 'priority community areas' where police and other resources were to be boosted," reported the Chicago Sun-Times.
And ... that was it. CNS has not devoted another article exclusively to Chicago crime since then. There were references in a couple other articles, though. A May 25 article by Melanie Arter hyped Fox News reporter Peter Doocy asking White House press secretary Jen Psaki about "the spike in violent crime in the past year" and was seemingly upset at Psaki pointing out that the spike began under the Trump administration. And a June 10 article touted Republican Sen. Lindsey Graham hounding Attorney General Merrick Garland over increases in violent crime (though, of course, no equal space was provided for questioning of Garland by Democratic senators).
It's quite clear that CNS cares about crime in Chicago and other big cities only when doing so helps its right-wing political agenda. Isn't that the kind of thing that CNS' parent, the Media Research Center, loves to attack the "liberal media" for doing?
The latest from