Morris Quiet After Red Wave Midterm Prediction Failed
Topic: Newsmax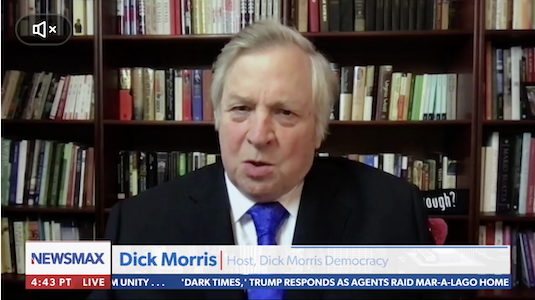 We've noted how Newsmax pundit Dick Morris confidently predicted a red wave in the midterm elections, with Republicans seizing both the House and the Senate and Democrats losing all 60 close congressional races. Well, that didn't happen, making this yet another failed Morris prognostication. Perhaps he saw this a bit on election day, when he played the election-fraud card in a Nov. 8 Newsmax TV appearances:
Former adviser to Presidents Bill Clinton and Donald Trump, Dick Morris, joined Newsmax on Election Day to weigh in with his take. Morris told Newsmax that it would be "horrific" if the election were to be "stolen" by election officials; alluding to Arizona's current secretary of state and Democratic candidate for governor, Katie Hobbs.

Speaking with "American Agenda" Tuesday, Morris said, "'It's deja-vu all over again,' as Yogi Berra said. Maricopa County, Philadelphia, that has a certain ring to it."

"It would be horrific if this election was lost or was stolen by election officials: particularly horrific when the democratic candidate for governor is the former secretary of state; to whatever extent anyone was at fault in 2020 in Arizona, it was Katie Hobbs, the democratic candidate for governor."
If Morris appeared on Newsmax TV elsewhere that night there's no record of it on the website; Newsmax didn't see to memorialize them with a stenography piece. But in a Nov. 9 appearance, Morris insisted there really was a red wave because Republicans didn't lose as badly as they could have:
The mainstream media is performing "ultimate acts of obfuscation" concerning Tuesday's midterm elections, but as the week moves on, it will be clear that there was a red wave, Dick Morris, the author of "The Return: Trump's Big 2024 Comeback" said on Newsmax Wednesday.

"This morning, they'll all tell you there was no red wave," Morris said on Newsmax's "John Bachman Now." "Wake them up tomorrow morning or the morning after, and they'll have to say maybe there was one because Republicans took the House and the Senate and came very close in a number of states and advanced their vote totals."

"I think this is like 'The Hunt for Red October,'" Morris added. "This is a red wave rising."

His comments come after Ric Grenell told Newsmax that same-day ballots will deliver wins in vital Arizona GOP races, including the one for the U.S. Senate pitting GOP contender Blake Masters against incumbent Democrat Sen. Mark Kelly, who as of Tuesday afternoon was holding a five-point lead in the race.
The next TV appearance Newsmax sought to document came on Nov. 12, when Morris talked a lot more about Trump than about the midterms:
Former President Donald Trump won't only officially announce his 2024 presidential race Tuesday, but he'll surround himself with his "success stories" from the 2022 midterm races, Dick Morris, author of the bestselling "The Return: Trump's Big 2024 Comeback" said on Newsmax Saturday.

"The Democrats are launching an anti-Trump disinformation campaign saying he lost everything, and he didn't," Morris said on Newsmax's "Saturday Report," adding that there are several GOP candidates who would not have won their senatorial races, including J.D. Vance in Ohio, Ted Budd in North Carolina, Markwayne Mullin in Oklahoma, Eric Schmitt in Missouri, and Sen. Ron Johnson in Wisconsin.

He also said Kari Lake will likely pull out her win for governor in Arizona, once the ballots are counted, and she'll be part of his announcement celebration Tuesday to kick off a "very good, very strong campaign that, as I predicted in my book, will result in his big 2024 comeback."
Morris also played the bogus election-fraud card again:
Fewer than 1,000 votes now separate Laxalt and incumbent Democrat Sen. Catherine Cortez Masto, and Morris pushed back at suggestions that the elections system in Nevada might simply be "dysfunctional.'

"It's dysfunctional in one direction, which is toward the Democrats," said Morris.
Morris continued the Trump suck-up work in a Nov. 14 appearance in which he insisted that Trump wasn't to blame for the red-wave failure due to his extremist candidates:
"Those who blame Trump for this, it's just wrong," Morris said during "American Agenda."

"Mitch McConnell, the [minority] leader of the senate, absolutely failed to fund the Republican Senate candidates who were backed by Trump. Anybody who won the primary, who is trump's endorsed candidate, was shut out of money from the Senate committee, or from McConnell's PAC. The Democrats spent an aggregated $360 million Republicans spent only $190 million in specific races," Morris added.

Morris said that Trump's endorsement picks won in nine of the 15 "tough" races, including Senator-elect JD Vance in Ohio, Sen. Ron Johnson in Wisconsin, and Rep. Ted Budd's GOP Senate win in North Carolina.
Morris apparently didn't reference his own failed midterm predictions.
That was followed by a Nov. 16 appearance in which Morris bragged that a GOP-controlled Senate will grind the Biden administration to a halt:
Dick Morris, author of "The Return: Trump's Big 2024 Comeback," told Newsmax that a GOP-controlled House could stop President Joe Biden's agenda and investigate his White House.

During a Tuesday interview with John Bachman, the political insider pointed out that Republicans still won last week's midterm elections after garnering 53 million votes and beating Democrats by five points in the generic ballot.

"We took the House back. Of the 15 tough Senate races, we won nine of the 15. So, explain to me how this is a defeat," Morris stated, adding that with the lower chamber, Republicans can accomplish a litany of tasks that they sought to do.

"Once we have the House, we can stop him from passing bills, and we can get a gavel and investigate this cesspool of corruption that Joe Biden calls an administration," he continued. "We can put Hunter [Biden] under oath. We can put his people under oath. We can really get somewhere."
Meanwhile, Morris wrote no Newsmax columns explaining how he predicted so badly yet again.
Posted by Terry K. at 3:37 PM EST