MRC Keeps Up The Performative (And Possibly Paid-For) Outrage Against TikTok
Topic: Media Research Center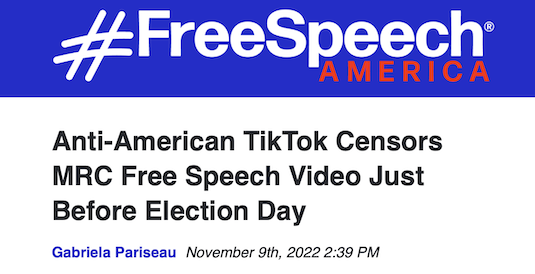 Since the last time we checked in, the Media Research Center has continued to throw hate at TikTok. One was a Sept. 1 post by Gabiela Pariseau:
The Chinese Communist Party-tied TikTok is muzzling conservatives and free thinkers by shutting down their accounts, typically with no explanation.

Using our exclusive CensorTrack database, MRC Free Speech America researchers found that TikTok canceled accounts associated with no fewer than 11 pro-free speech organizations since January 2019. Satire accounts, various pro-free speech groups and commentators, pro-life groups and even the MRC's own MRCTV account, are among those that TikTok shut down.

[...]

Censorship doesn't belong in America, but TikTok seems to think it does.

The platform has deep ties with the Chinese Communist Party (CCP). The CCP has a board seat at TikTok's parent company ByteDance, which also sold a 1-percent stake to WangTouZhongWen Technology, a Beijing company owned by three Chinese state entities, according to Reuters.
Pariseau's description of the groups being "banned" is inaccurate. All are right-wing groups and individuals, and few of them support "free speech" when it supports non-conservative causes, like the existence of LGBTQ people.
Unsurprisingly, Pariseau censored the fact that Facebook has paid a Republican PR firm to spread attacks against its competitor TikTok -- attacks the MRC has dutifully repeated. That paid shilling undercuts the MRC's anti-TikTok narrative, even if there might be some truth behind it.Finally, shre refused to explain how pulling the MRC's video makes TikTok inherently "anti-American." Afer all, it's not like the MRC is any sort of official ambassador for the country.
Also unsurprisingly, MRC executive Tim Graham used a Fox News appearance later that day to parrot the complaint, adding: "When they don't like freedom, when they don't like videos that attack communism, you might just guess it's a communist channel."
In a Nov. 9 post, Pariseau served up some performative outrage about yet another MRC video getting "censored" by TikTok:
Chinese Communist Party-tied TikTok censored the latest episode of MRC's free speech video series on Monday, the day before Election Day.

Paiten Iselin, host of MRC Free Speech America's CensorTrack with Paiten, reported on the leftist media's absolute meltdown after Elon Musk purchased Twitter and started restoring free speech on the platform.

MRC posted the episode to TikTok on Friday, and the anti-American app allowed the content to remain for three days before removing it just in time for Election Day.

The platform claimed that "This video violates our Community Guidelines," when it notified MRC of the removal. "We remove content and accounts that involve spam or fake engagement, impersonation, or misleading information that causes significant harm," the platform notification only vaguely attempted to explain.

It's unclear how exactly MRC's video exposing anti-free-speech leftists who complained about Twitter's free-speech makeover qualifies as "spam" or "impersonation." But the platform also forbids "misleading information that causes significant harm," which could refer to literally anything the platform does not approve of. It appears the leftist, CCP-tied TikTok disapproves of MRC Free Speech America's latest video.
Pariseau didn't explain why it has a TikTok account in the first place if its video repeatedly get "censored" -- unless it's done for the express purpose of writing about the videos getting pulled to push its anti-Big Tech narrative.She also censored the fact that Facebook funneled anti-TikTok attacksto it through a Republican PR firm.
Meanwhile, the presumably-paid-for attacks on TikTok continued, usually with emphasis on the company's alleged ties with the Chinese government -- a talking point pushed by the GOP PR firm hired by Facebook:
The MRC seems not to understand that it has tainted its brand by being fed anti-TikTok narratives by Facebook, if it hasn't accepted money directly itself --just like its attacks on Facebook whistleblower Frances Haugen were also fueled by Facebook, which similarly enlisted right-wing advocacy groups to slime her. It's clear that its performative outrage against TikTok is as phony as its complaints whenever TikTok pulls an MRC video (which is the whole point of posting them) -- and until the MRC can come clean and admit it was bought off by Facebook, there's no reason to believe its anger at TikTok is anything but bought and paid for.
Posted by Terry K. at 3:08 PM EST
Updated: Thursday, December 8, 2022 4:36 PM EST