MRC Plays Victim, Complains It's Being 'Censored' By TikTok
Topic: Media Research Center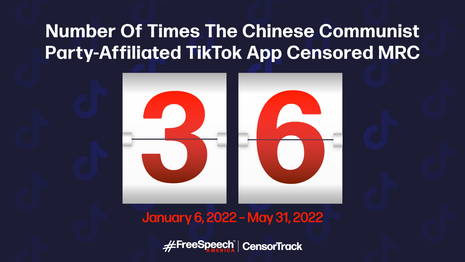 The Media Research Center is quite good at helping its fellow right-wingers pretend they're victims of "big tech" when they get caught violating the rules set by social-media services, and it's certainly not going to pass up the opportunity to play victim itself.
In January, Brian Bradley whined that "Chinese Communist Party (CCP)-affiliated TikTok censored the pro-free-speech Media Research Center for the third time in three months" because MRCTV's Brittany Hughes "opined on government response measures to the COVID-19 omicron variant." Actually, Hughes ranted against mask mandates, apparently falsely claimin g that COVID "basically gives people a cold." Bradley didn't mention that. We'd link to the video, but YouTube has removed it as well.
In a Feb. 23 podcast, Tierin-Rose Mandelburg grumbled that "the Chinese Communist Party-affiliated TikTok app has been on a censorship crusade against the Media Research Center," again citing the false Hughes video. Gabriela Pariseau had an updated tally for a Feb. 28 post: "TikTok has ramped up its censorship in 2022. The platform, affiliated with the Chinese Communist Party, censored the Media Research Center three times last year and 14 times in the last two months for a total of 17 times."
As you might have noticed, MRC writers are apparently under orders to try and link TikTok to the "Chinese Communist Party" -- but not to mention that TikTok, like any other private company, Chinese or otherwise, has the right to set and enforce terms of service for the usage of its site. It's also worth noting that the MRC has a history of parroting attacks on TikTok that, it turns out, were being secretly promoted by Facebook, which makes its complaints about the service more than a bit disingenuous.
By the time of a May 25 podcast by Mandelburg, it was up to 34 incidents, adding: "TikTok is a Chinese Communist Party-affiliated app where users post short videos about whatever they please — so long as it fits within the leftist narrative.: Mandelburg has no proof of that, of course; it's part of the victim narrative to claim that conservatives who get held accountable for their words are the victim orf political bias and "censorship."
Thus we have a June 1 post by Pariseau:
TikTok can't seem to get rid of MRCTV no matter how hard it tries. The platform permanently banned, and then restored, MRCTV after placing 36 restrictions on the account.

The Chinese Communist Party-affiliated app "permanently banned" MRCTV "due to multiple violations of [its] Community Guidelines," according to the notice TikTok sent MRCTV Thursday. The platform gave no specific reason for the ban, and when we attempted to "view details" of what happened, the app logged us out of our account. MRCTV appealed, and TikTok dropped the ban down to a seven-day restriction but only after it removed one more video.

TikTok's shenanigans are nothing new for MRCTV. The platform removed 30 videos, one of which it removed twice, and restricted the account five times, all in 2022.
More examples were provided, incluaind a podcast by Mandelburg in which she ranted that "abortion is murder." Curiously, there was no mention of whether Mandelburg endorses the logical extension of that argument by imprisoning and executing women who have abortions.
Again, Pariseau made no mention of the fact that TikTok, as a private business, has the right to enforce its terms of service, nor did she disclose the fact that the MRC was being fed anti-TikTok narratives by Facebook.
Posted by Terry K. at 9:28 AM EDT
Updated: Saturday, July 9, 2022 9:31 AM EDT