WND Does What It Does, Blames Election Fraud (And Global Warming) For GOP Midterm Losses
Topic: WorldNetDaily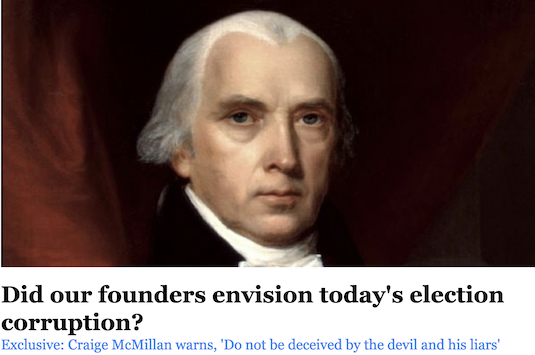 After briefly entertaining thte idea of serious analysis of why Republicans did so poorly in the midterm elections, WorldNetDaily quickly got back to doing what it usually does: invent conspiracy theories about purported election fraud. Editor Joseph Farah went full bore on this in his Nov. 11 column:
They're playing games again in Maricopa County, Arizona. In Clark County, Nevada, as well – indeed around the country.

The Democratic Party is proving once again that they are capable of stealing elections – even though, overall, Republicans outperformed them in the midterms.

In Arizona last night officials kicked out some of the free press covering the governor's race between Kari Lake and Katie Hobbs. This was a stark indication things are about to get real serious. A representative of Real America's News and the Gateway Pundit were blocked from the Maricopa County vote center. They were told officials are not interested in the First Amendment.

Expect to see, in the coming days, the blatant theft of the election from Kari Lake, U.S. Senate candidate Blake Masters, secretary of state candidate Mark Finchem and Attorney General candidate Abe Hamadeh. The steal is the Democrats' window dressing behind the heroic performance of the Republican team in 2022. The Democrats and the fake media will sell the idea that this is how the Republicans' Big Red Wave died an ugly death.

Over in Nevada, expect to see Adam Laxalt's victory for U.S. Senate potentially snuffed out as well.

This is a travesty – an apocalypse for America.
Yes, Farah would think that having the country run by anyone but far-right conspiracy theorists like himself is a "travesty." After ranting about mail-in ballots, Farah concluded:
Yes, Democrats have been experimenting with voter fraud for years. And it's happening right now – in far more nationally consequential races – like Lake's, Masters' and Laxalt's. Not to mention President Donald Trump's just two years ago.

This is a nightmare! Are we going to accept this?

Don't fall for the fake media's narrative. Once again, our election is being stolen, rigged, ripped off – in plain sight!
Brad Lyles pushed the same narrative in his own Nov. 11 column:
Democrats cheated in 2020, and they're cheating again right now – and why wouldn't they? It does not require a Ph.D in Skinnerian Behaviorism to understand that: a) given that Democrats were rewarded handsomely for their cheating in 2020, and b) given that they suffered no punishment for their treachery, it follows that c) they cheated more in 2022 than in 2020, but this time they were two years more practiced at it.

Moreover, given that the most accurate polling predicted a huge Republican win, Democrats were fully aware they were facing a decisive defeat up and down the ballot. In such a case, is it really so paranoid to suspect they did not simply wait to be overcome – that they would not hesitate to deploy their proven skills at winning ballots instead of votes? Really?

Logic dictates they did not hesitate for one millisecond. Unless one believes Democratic leadership were somehow transfixed by ethical constraints in the interim, then a) given that they knew they would be crushed in 2022, and b) given that they possessed the skills to thwart that ignominy, it follows that c) of course they would cheat again, but now would have become so adept at it they would be capable of stealing the more tedious down-ballot races, in contradistinction to the singular race for president in 2020.

And, while it is true the RNC deployed legal and logistical interventions as we approached Nov. 8, they were, per usual, late to the party.
Lyles then suggested taking extralegal and possibly violent action against those whom he has baselessly attacked: "Our only option, now, is to defeat them utterly – and in every possible manner – without mercy, and to punish them beyond their defeat."
Craige McMillan served up a more general rant against mail-in ballots as evidence of "election corruption":
Take Election Day. Go ahead – take it. They did. The U.S. Post Office was enshrined into the U.S. Constitution. What part did the Oost Office play in Election Day before the anathema of "mail-in voting"?

Well, um … ah … none, I guess. People were far more spread out during our early days than they are today, yet voting day mandated they travel sizable distances to cast their ballot at a fixed location on Election Day. Could it be than when the founders mandated that people travel to a fixed location to cast their ballot, they understood the moral failures of corrupt, career politicians who could have formed networks of corruption within our governing structure, from local to state to federal offices? Could they have been concerned about the possibility of the political party in power using corrupt processes to control the results of the elections in one or more states? Could they have feared one party rule?

Today entire states – Oregon, for instance – mandate mail-in ballots for everyone. Blank ballots mailed to wherever the voter says, then filled out, signed and returned by mail to government offices where the ballots are counted and winners and losers determined by employees loyal to the party in power. Is there room in that system for fraud? Yes, that is why mail-in ballots are used. It's almost as if the voter becomes irrelevant to the process – because we are.

And who is to say what voter turnout really was – when there is none? Impossible to judge sentiment for one candidate over another when we don't see the crowd and talk to one another. It's easy for the corrupt to win elections when their fellow corruptocrats control the entire electoral process.
A Nov. 14 column by Jonathon Moseley managed not to invoke purported election fraud but a different (but similarly wacky) excuse for Republicans losing -- too many Americans believe climate change is real and not enough Republicans are climate deniers:
Imagine if Republicans had picked up another 8% of votes, what the Republican "red wave" would have looked like in the Nov. 8 election. Exit polling showed that roughly 8% of voters ranked non-existent "climate change" as their No. 1 issue when going to vote last Tuesday in the midterm elections. (See: Karlyn Bowman, "The 2022 Exit Polls: A-Z," Forbes, Nov. 9, 2022.

Since 1974, Republican and business leaders have been too afraid to address the clearly false superstition that humans are changing or ever could change the temperature or climate of gigantic planet Earth. Because they thought it would just go away if they ignored it, we now have actual, real votes for Congress changed based upon a myth.

But now we see that real votes for real House members and U.S. senators are being affected by the climate cult. This is not just something we can shake our head at and go back to real things. This myth is actually harming our nation … and the world.
As proof that global warming doesn't exist, Moseley served up ... this:
The entire climate change hypothesis is that CO2 increased in the atmosphere. Then the planet's temperature increased. Therefore, more CO2 caused Earth's planet-wide, global temperature to increase.

But that's not science. A happened then B happened does not mean that A caused B. There is no evidence that CO2 causes higher planet-wide temperatures. It's never been tested. Note that opinions are not experiments. Papers are not experiments. Studies are not experiments. Published articles are not experiments. Experiments are experiments. Science runs on experiments, not on conjecture and speculation.
Here is science that explains how this works. Maybe Moseley should read it sometime.
Andy Schlafly returned to the prevailing conspiracy theory in his Nov. 15 column:
The midterm election confirmed rampant ballot manipulation by Democrats to overcome their deficit in the polls. RealClearPolitics, the premier forecaster, predicted a 53-47 Republican majority in the Senate based on its careful analysis of all the polling and historical data.

States that maintain some election integrity, such as New York, Ohio, Texas and Florida, reported outcomes consistent with polling. In Florida the top vote-getter was the Trump-supporting Republican Attorney General Ashley Moody, at 61%, who sided with Trump in challenging the 2020 election.

But in states lacking election integrity, such as permitting dumps into drop-boxes totaling hundreds of thousands of ballots that are not verified in any meaningful way, the outcomes changed, and Democrats claimed pivotal victories in Pennsylvania, Arizona and Nevada. "Drop-box Dems," they might be called, stuff the ballot box without monitoring.
Schlafly has no credible evidence to support any of those claims. Instead, he concluded:
Donald Trump is the leader in calling for election integrity, and this recent election shows how much our nation needs him. "We will restore the vital civic tradition of in-person voting on Election Day," he pledged at the Jan. 6 Capitol rally.
Looks like someone forgot what else happened that day.
Posted by Terry K. at 2:14 PM EST
Updated: Sunday, December 18, 2022 4:10 PM EST