MRC Flip-Flops On Rigging Polls
Topic: Media Research Center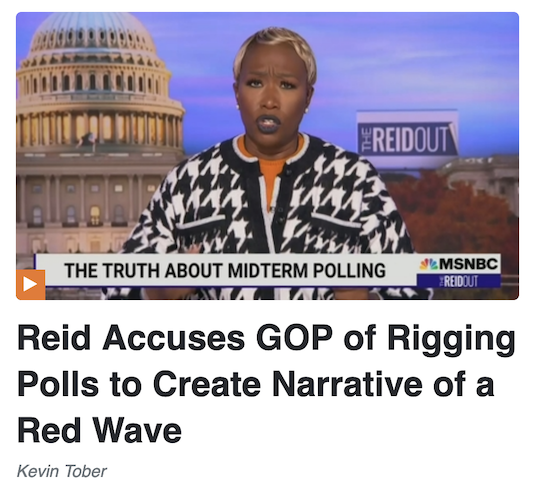 The Media Research Center's Kevin Tober ranted in an Oct. 31 post:
On Monday night, MSNBC's Joy Reid went full-blown conspiracy kook during her show The ReidOut. She was apparently wearing her tin foil hat so tight that it was cutting off her circulation because she claimed with a straight face that over half of the midterm election polls published over the last few weeks are Republican polls that are skewed to create a media narrative that a red wave is coming.

Discussing recent media coverage of polls that are trending in the GOP's direction, Reid snarked that "if you believe the recent headlines, you would think that MAGA fascism is ascendant."

According to Reid, it's all an illusion because "if you get past those headlines and dig a little deeper, you uncover an insidious and seemingly intentional campaign by Republican-backed polling firms to flood the zone and tip the balance of polling averages in favor of their candidates."
Funny, the MRC didn't think this was a "conspiracy kook" claim two years ago, when it put on its tinfoil hat to make a very similar accusation, if not worse. As we documented, after the 2020 election, MRC chief Brent Bozell accused pollsters of being "deliberately wildly wrong" in their polling before the election -- that is, they were making up polls -- because they purportedly wanted to "suppress the vote" for Trump. The MRC then commissioned its own rigged poll -- from McLaughlin & Associates, the pollster for Trump's campaign -- suggesting that Biden would have lost the election had (then-unverified) reports about Hunter Biden's laptop not been "censored" bvy the media.
Tober censored how Reid's complaint mirrored that of his employer. Instead, he ranted some more about Reid:
Despite claiming that you can't trust partisan pollsters because they spin for their side, Reid quoted from Democrat pollster Simon Rosenberg who she described as "sounding the alarm, and saying "of the roughly 40 polls taken in key battleground states" over half are "from Republican firms or groups."

To back up her conspiracy theory, Reid pointed to the left-wing rag The New York Times whose polls showed "Democrats either in the lead or tied with their opponent."

Continuing to quote from the Times, Reid claimed that "most of the polling over the last few weeks is coming from partisan outfits, usually Republican, or auto dial firms. These polls are cheap enough to flood the zone."
Tober didn't disprove any of that, of course; his goal was to smear Reid as a crackpot because he knew he couldn't. He concluded with onemore attack he didn't back up:
She ended her delusional and conspiratorial rant by falsely claiming that "Real Clear Politics, has become more openly pro-Trump," because during the 2020 presidential election, "their polling averages seemed skewed in Trump's favor."
In fact, Real Clear Politics' rightward bias is quite clear, and Rosenberg noted that "A polling aggregator of only independent polls has the election 3.3 pts more Dem than Real Clear."
Tober concluded by huffing: "Make sure to check out NewsBusters on election night and in the days after to see Reid's reaction when she's proven wrong." How'd that work out for you, Kev?
Posted by Terry K. at 10:19 PM EST