WND's Midterm Coverage As Biased As You'd Expect
Topic: WorldNetDaily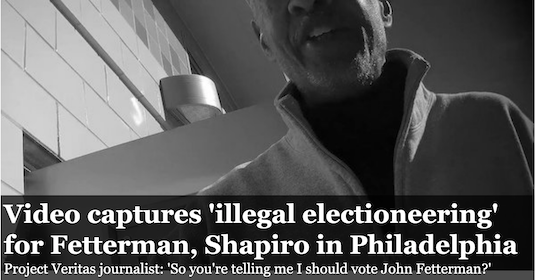 WorldNetDaily -- as you'd expect from a bunch of election deniers -- embraced the never-proven narrative that Democrats were going to steal the midterm elections even before the polls closed. Bob Unruh promoted a Federalist article making that argument on the early evening of that day (based on the inescapable fact that some election results will not be completely tabulated on election night) while rehashing old denier grievances:
Democrats, reacting to President Trump's claims of a stolen 2020 presidential election, launched into a campaign against "election deniers" that they still pursue, despite the fact members of their own party are outspoken "election deniers" after any election won by a Republican.

Of course, after the fact, we learned that in the 2020 race the FBI lobbied Big Tech to suppress damaging information about the Biden family's business dealings, and Mark Zuckerberg handed out, through foundations, $400 million plus, and the evidence shows either one of those factors likely changed the election winner from President Trump to Joe Biden.

ut they still claimed that Trump was doing anything to hold onto power.

Now THEY will, charges John Daniel Davidson, senior editor at The Federalist.

In a column at that publication, he pointed out that Democrats and corporate media on their side "have been pushing hard the message that we won't know the results of key races for days, maybe weeks."

"It's not just about counting absentee ballots, it's about getting the rigging in place, either to claim victory or deny the legitimacy of the vote. Whatever Democrats say they fear Republican 'election deniers' might do, they themselves are preparing to do the same or worse," he wrote.

He pointed out Democrats have built their power by aligning "with elite interests and woke morality," and now control the White House and the administrative bureaucracy and are supported by corporate media and Big Tech.
WND's main article by Art Moore on the midterm results -- which has been updated since its original publication, something Moore didn't disclose even though the article still carries a Nov. 8 publication date while containing developments from the following day -- ultimately framed the Georgia Senate race as determining control of that body while also complaining that Democrats in Pennsylvania want all the votes counted:
Control of the Senate could once again be decided by a Georgia runoff, with neither incumbent Democratic Sen. Rafael Warnock nor Republican challenger Herschel Walker garnering 50% of the vote.

Earlier Wednesday, Dr. Mehmet Oz conceded the Pennsylvania race to Democrat John Fetterman, meaning the GOP has lost a seat in its bid to regain the majority. In the final days before the election, Fetterman, who suffered a serious stroke in May, signaled that the outcome of his race might not be known for days as all the votes are counted. On Monday, after hiring controversial Hillary Clinton lawyer Marc Elias, he filed a federal lawsuit contending mail-in ballots with an incorrect or missing date should be counted.
In his (also stealth-updated) summary on House races, Bob Unruh seemed happy that Republicans will take control of that body and gleefully hyped the obstruction they plan to implement, though he insisted on hyping early numbers that were later superceded by reality:
Republicans, as had been predicted, likely will be the House majority in the new Congress after the first of the year, and should that happen there will be a lot of changes in Washington.

The party held the lead in House seats throughout Election Night, taking the lead immediately and being up by as many as 60 seats before the last few dozen seats were heading for decisions. At about 2 a.m. Eastern, Republicans were up 189 seats to 154 for Democrats.

If they are the majority, Nancy Pelosi no longer would be speaker, losing her privileges, special status and extra pay.

"When you wake up, we will be in the majority, and Nancy Pelosi will be in the minority," Republican Minority Leader Kevin McCarthy said.

Pelosi's partisan Jan. 6 investigation commission? Likely on the scrap heap.

Instead, investigations of Anthony Fauci and COVID. And Hunter Biden and his laptop. Possibly even Joe Biden and those payments to the Biden family empire that appear to have come from unusual sources in China and Russia.

Further, Joe Biden's spending will be tempered by the GOP agenda and its priorities. Unless, of course, Biden jumps off into the ocean of random executive orders more.

And don't forget impeachments. Some GOP members already have discussed using it as a political tool against Biden, as Democrats did against President Trump. A simple majority in the House could leave Biden, as Pelosi charged against Trump, "impeached forever," even though involuntary removal from office would be unlikely.
Another article by Moore cheered the denial of reality from Republican candidates in Arizona:
On Tuesday night, amid voting machine breakdowns and other irregularities, Arizona gubernatorial candidate Kari Lake trailed Democratic rival Katie Hobbs by 100,000 votes. But Wednesday morning the margin had narrowed to 10,000, with only 62% of expected votes counted.

And by Wednesday afternoon, Hobbs' lead was narrowed to about 4,000 votes with 67% reporting, 50.1 to Lake's 49.9, with 72% of votes reported.

The popular Trump-backed candidate – who had a substantial lead in opinion polling – condemned the state government's handling of the election in an address to supporters late Tuesday night but said she expects to win after all the votes are counted. Lake said that in the latest vote drops, she was winning more than 70% of the vote.

The Arizona elections are under the leadership of Lake's opponent, Hobbs, the secretary of state.

Lake called the voting machine problems in Maricopa County "another stark reminder that we have incompetent people running the show in Arizona," promising her "first line of action is to restore honesty to Arizona elections."
The next day, Moore hyped a sting by the discredited activists at Project Veritas:
Project Veritas journalists at a Philadelphia polling station Tuesday captured hidden-camera footage described by the group's founder as evidence of illegal electioneering for Democratic candidates John Fetterman and Josh Shapiro.

Fetterman narrowly defeated Republican Mehmet Oz, and Shapiro won by double-digits over Republican Doug Mastriano.
Needless to say, Moore didn't do what a reputable news organization did and point out Project Veritas' reputation for dishonesty:
The videos are edited, and O'Keefe and Project Veritas have a history of selectively — and at times misleadingly — editing their videos. While they have previously posted raw footage, they have not done so with these latest stings.

Another political operative who appears in the video says this is a case of misleading editing. Immigration reform activist Caesar Vargas wrote on Facebook that "they just edited the video to distort the story."
Instead, Moore played stenographer by repeating what was in the video witout alerting his reader to the fact that it was likely edited to promote a conservative agenda.
Posted by Terry K. at 3:44 PM EST