CNS Kept Pushing False Right-Wing Narrative About School Board Threats
Topic: CNSNews.com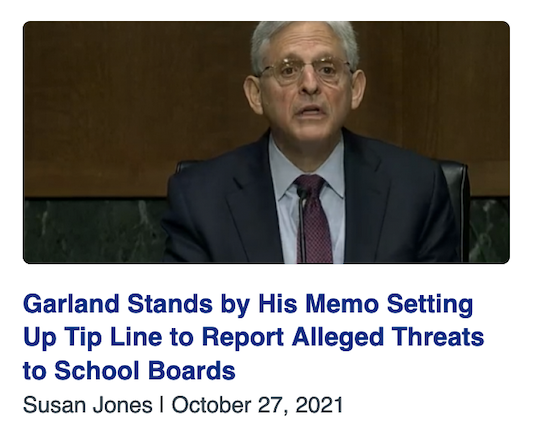 We've documented how CNSNews.com followed in the footsteps of its Media Research Center parent and embraced the false right-wing narrative that school boards and the Department of Justice are seeking to brand as "domestic terrorists" all parents who speak out at school board meetings about right-wing hot-button issues as critical race theory and LGBT rights. Since this was largely done for the purpose of getting Republican Glenn Youngkin elected as Virginia governor, CNS continued plugging that storyline through the Nov. 2 election.
An Oct. 11 article by Megan Williams hyped a right-wing senator pushing the false narrative on the show of CNS' favorite right-wing media presence:
Sen. Josh Hawley (R-MO) slammed the Biden Administration for ignoring the "violent crime surge across our country," and instead working "to shut down parents from speaking" out about critical race theory on Sunday's "Life, Liberty & Levin."

"This is about using federal law enforcement to try and intimidate parents because these parents are daring to stand up and criticize critical race theory," Hawley said, referencing a letter sent by Attorney General Merrick Garland to the FBI on Monday, Oct. 4.
Melanie Arter gave right-wing drama over the issue prominence in an Oct. 21 article about Attorney General Merrick Garland testifying before Congress:
Attorney General Merrick Garland said Thursday that the DOJ "supports and defends the 1st Amendment rights of parents to complain as vociferously as they wish about the education of their children, about the curriculum taught in their schools."

During a House Judiciary Committee oversight hearing of the Justice Department, Rep. Steve Chabot (R-Ohio) questioned the attorney general about an Oct. 4 press release addressing "violent threats against school officials and teachers."

Chabot began by asking Judiciary Chairman Jerrold Nadler (D-N.Y.) for "unanimous consent" to enter into the record "an op-ed that appeared in last week's Wall Street Journal by the author of the Patriot Act, Mr. Sensensbrenner, former chairman of this committee, entitled 'The Patriot Act Wasn't Meant to Target Parents.'"
Another Arter article the same day on that hearing pushed a related distraction in order to attack Garland: "Rep. Mike Johnson (R-La.) grilled Attorney General Merrick Garland on Thursday about whether he sought ethics counsel before issuing a memo responding to the National School Board Association's request for the DOJ to address threats and violence from parents upset about critical race theory being added to school curriculum. During a House Judiciary Committee oversight hearing, Johnson pointed out that Garland's son-in-law co-founded a company that publishes and sells critical race theory to schools nationwide."
An Oct. 27 article by Susan Jones featured more testimony from Garland at a different hearing, while also making sure to give the false narrative prominence:
Critics of the memo -- including many parents, Republican politicians, and even some local school boards -- say the memo is intended to chill the speech of furious parents who may fear a knock on the door from the FBI after speaking at a school board meeting.

Garland said that his memo makes clear in the first paragraph that "spirited debate on policy matters is protected under our Constitution." That includes criticism of school boards, he said.

Garland refused several times to say whether he considered the "chilling effect" his memorandum would have.

The National School Boards Association has now apologized for some of the language used in its letter to the Biden administration, including characterizing upset parents as potential domestic terrorists.
Jones provided no evidence that these "critics" were correct in assuming that all parents were being targeted simply for speaking out. Nor did she orthe other CNS writers explain why law enforcement is not allowed to be proactive and must wait until violence against a school member acually occurs before taking action against violent threats.
An article that same day by managing editror Michael W. Chapman pushed the false narrative in hyping criticism of the school board that originally sought help from Garland:
Although the National School Boards Association (NSBA) apologized for labeling parents concerned about left-wing curricula as potential domestic terrorists, the Ohio School Boards Association (OSBA) has dropped its membership in the NSBA, asserting that it rejects "the labeling of parents as domestic terrorists."

In an Oct. 25 letter to the executive director and the president of the NSBA, the Ohio association wrote that its "decision to terminate membership and affiliation with the NSBA Association is a direct result of the letter sent by you to President Joe Biden late last month."

[...]

Many parents nationwide have attended local school board meetings over the last year to complain -- often loudly -- about COVID restrictions, such as mask wearing, as well as the introduction of sexually explicit books and other materials in the classroom, including the teaching of Critical Race Theory, which posits that the United States is inherently racist and white people (or Europeans) are the enemy.
In fact, an MRC fact-check admitted that the HSBA letter never actually calls all parents "domestic terrorists" merely for speaking out. But because right-wing activists decided that a link was "suggested" -- again, never explicitly stated -- it's a talking point to nitpick the letter and Garland's response. Which is the rationale documented in an Oct. 28 article by Jones:
Attorney General Merrick Garland's Oct. 4 memo states, "There has been a disturbing spike in harassment, intimidation, and threats of violence against school administrators, board members, teachers, and staff." Yet neither Garland nor his Justice Department looked into the alleged parental threats raised by the National School Boards Association.

Under sharp questioning from Sen. Ted Cruz (R-Texas) on Wednesday, Attorney General Merrick Garland said he didn't know how many incidents were cited in equating angry parents with domestic terrorists.

Nor did he know how many of those incidents might qualify as violent.
Again, neither Jones nor Cruz explained that the narrative is a lie or why law enforcement is not allowed to be proactive.
Ellie Wittman of the right-wing Alliance Defending Freedom repeated the false narrative in an Oct. 29 commentary: "On top of all that, the Department of Justice is essentially treating parents as 'domestic terrorists' by directing the FBI to investigate them in what seems an attempt to intimidate them into silence."
Jones used a Nov. 2 article to uncritically quote Sen. Mitch McConnell claiming that Garland "just wrote an entire memo singling out concerned parents who speak up at their local school board meetings. Arter similarly uncritically quoted Republican Rep. Rob Wittman advancing the false narrative:
"And when they see a letter from the National School Board Association that asks the attorney general of the United States to go after parents who speak out at school board meetings under the Patriot Act and to be treated as terrorists, let me tell you folks, they are deeply concerned about that, and then when the attorney general follows suit and goes to the federal law enforcement agencies and says, by the way, look at these parents and what they're doing at these school board meetings, what they are practicing their 1st Amendment rights to speak out and to demand that their school systems reflect what's best for their children," he said.
Craig Bannister served up his own version of the false narrative in a Dec. 8 article:
Since the National School Board Association (NSBA) sent a letter asking the Justice Department, FBI and Secret Service to treat parents protesting radical school policies as domestic terrorists, 17 state school board associations have left – and stopped funding – the NSBA.

[...]

To combat parents' objections to its policies at school board meetings, the NSBA sent a letter to the DOJ, DHS, FBI and Secret Service asking them to treat parents' protests "as a form of domestic terrorism and hate crimes."
That portrayal is a lie, and Bannister knows it -- which is why he selectively quoted the letter (and why he did not directly link to a copy of the letter but to an Axios article about the NSBA's loss of funding). In fact, as documented in another Axios article, the letter itself (removed from the NSBA website) listed numerous examples of violence, harassment and intimidation, adding that the "classification of these heinous actions could be the equivalent to a form of domestic terrorism and hate crimes."
That sums up the dishonesty with which CNS has treated this issue.
Posted by Terry K. at 11:44 AM EST
Updated: Sunday, December 12, 2021 11:59 AM EST