Media Research Fail! MRC Touted Dubious, Biased Polls To Bash Biden
Topic: Media Research Center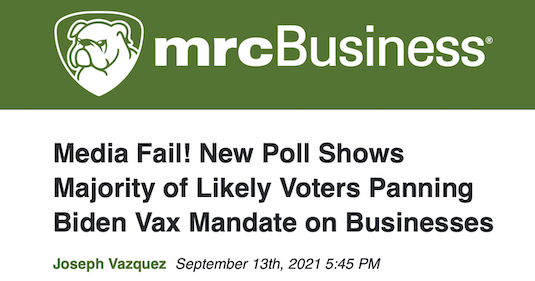 The Media Research Center, as a partisan organization, prefers to highlight polls that advance its right-wing narratives. But MRC writer Joseph Vazquez took that to an extreme earlier this year -- ironically, under the headline "Media Fail!" The first came in an Aug. 18 post:
A new poll revealed that American voters are rejecting the false narrative that the spending-obsessed President Joe Biden's $1.2 trillion infrastructure package has much to do with infrastructure.

Rasmussen Reports released a new survey showing that "[a] majority of voters agree with a Republican senator's denunciation of the $1.2 trillion infrastructure package" that was passed August 10. The survey of 1,000 U.S. likely voters found that "51% of Likely U.S. Voters agree with Louisiana Sen. John Kennedy's [R] statement" that the so-called infrastructure bill is not a "real infrastructure" bill. Kennedy's statement, which the majority of voters surveyed by Rasmussen resonated with, ripped apart the bill as an eco-extremist and leftist wish list: "'They told us it was a real infrastructure bill. It's not. Only 23% of the bill is real infrastructure. The rest is Green New Deal and welfare. They told us the bill was paid for. It isn't. We're going to have to borrow maybe up to $400 billion to pay for it.'"

Rasmussen's findings fly right in the face of the liberal media's ongoing attempts to champion Biden's infrastructure bill as an economic success story in the making. A majority of Americans aren't buying it.
It's unclear what Rasmussen defined as "real infrastructure" -- the poll results are hidden behind a paywall -- and Vazquez didn't offer Kennedy's definition of the term. But using Donald Trump's definition of the term, more than 40 percent of the bill is "real infrastructure"; if one adds expanded broadband and electrical grid improvements, the number as high as 80 percent.
The bigger problem, however, is Rasmussen's bias and inaccuracy. Its polls heavily skew Republican, and it has a history of inaccurate results.
Vazquez managed to find another dubious pollster to embrace in an Aug. 27 post:
The liberal media have made it a mission to convince people that businesses need to mandate a COVID-19 vaccination on employees and infringe on freedom. Voters are rejecting the idea.

A newly released poll of 1,080 likely voters revealed that a 42.7 percent plurality of respondents were "more likely" (10%) or "much more likely" (32.7%) to do business with companies "NOT requiring employees [to] be vaccinated." Even more revealing in the poll by The Trafalgar Group — in partnership with Convention of States Action — was that the percentage of voters who were "much more likely" (32.7%) to do business with companies not requiring a COVID-19 vaccine dominated all other categories. Only 34.3 percent of voters in the poll said they were "less likely" (11.8%) or "much less likely" (22.5%) to do business with companies not requiring a COVID-19 vaccine.

The poll also found that a 43.2 percent plurality of independent voters were "more likely" (8.6%) or "much more likely" (34.6%) to do business with companies that don't have vaccine mandates.

The results of the poll flew right in the face of the media, many of whom have been playing the part of COVID-19 vaccination tyrants shaming businesses into forcing their employees to get the jab.
As we documented, the MRC's "news" division, CNSNews.com, heavily hyped Trafalgar polling before the 2020 presidential election because they showed Trump winning, and it quoted Trafalgar's chief pollster Robert Cahaly, claiming that Trump would win the 2020 race with an electoral total in the "high 270s." Further, Trafalgar's poll results were purchased by Convention of States Action, a right-wing effort to call for a convention of states to rewrite the Constitution to "limit the power and jurisdiction of the federal government, impose fiscal restraints, and place term limits on federal officials."And it wouldn't be releasing poll results that contradicted with its agenda.
Vazquez touted another poll from that same biased combine in a Sept. 13 article:
American voters are panning the media's attempts to propagate President Joe Biden's Orwellian vaccine mandate on businesses across the country.

A new poll of 1,098 likely voters found that a majority (58.6%) "do not believe President Biden has the constitutional authority to force private businesses to require vaccine mandates for employees." The numbers were reinforced by a majority of Independent voters (68.2%) who rejected Biden's mandate as constitutionally dubious. The poll by The Trafalgar Group — in partnership with Convention of States Action — revealed that a majority (55.5%) also see the mandate as setting a dangerous precedent that could be abused by future presidents, which included 58 percent of Independent voters surveyed.

In addition, 56.1 percent of respondents support efforts by governors to oppose the nationwide vaccination mandate on private businesses. The results of this poll show that the media's ongoing barrage of public relations campaigning for Biden's tyranny is falling flat on its face.

[...]

The media should stop barking from their echo-chambers and recognize that the American people aren't buying their vaccine virtue signaling. Convention of States Action President Mark Meckler was quoted in the press release, saying, "'The numbers are clear, the American people passionately oppose Biden's vaccine mandate, and will not tolerate a President elected by the people acting like a dictator or king.'" He continued: "'They know full well that this precedent will quickly lead to an end to our Republic and the beginning of an oppressive new tyranny.'"
The only echo chamber -- and the only "media fail" -- we're seeing is the one that Vazquez and the MRC are engaged in. Remember, the MRC bought biased polls from Trump's election pollster to try to make its conspiratorial case that the election was stolen from Trump.
Posted by Terry K. at 8:48 PM EST