CNS Commentaries Push False School Board Attack
Topic: CNSNews.com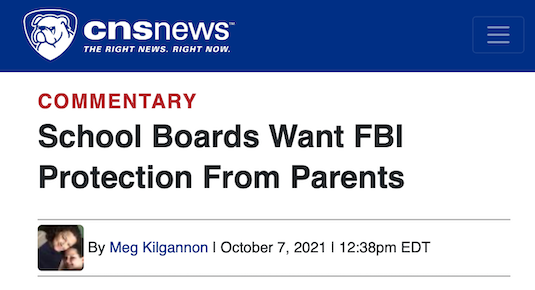 We've documented how CNSNews.com latched on to the false right-wing narrative that school boards are seeking to criminalize all parents who merely speak out at meeting about right-wing-fueled controversies. That bogus narrative spread to its commentary section as well.
An Oct. 6 commentary by the Heritage Foundation's GianCarlo Canaparo and Mike Howell didits best to mislead readers:
Attrorney General Merrick Garland issued a memo on Monday directing the Department of Justice and the FBI to "launch a series of additional efforts in the coming days designed to address the rise in criminal conduct directed toward school personnel."

The Garland memo looks like an effort to use the FBI to threaten and silence parents who are outspoken opponents of critical race theory in schools. That alone would be a stunning partisan abuse of power. What Garland has done, however, is even more disgraceful.

Maybe Garland doesn't actually intend to use the FBI to go after parents—maybe he knows that he doesn't have that power. In that case, he's trying to trick parents into thinking that he does. This tactic, he hopes, will suppress parents' free speech, and throw a bone to a powerful ally of his political party.

Even a few FBI agents questioning parents may be enough to convince others that standing up for their values is not worth the risk.
Canaparo and Howell complained that Garland provided no incidents of "criminal conduct" against school boards and that the "powerful leftist group" National School Boards Association memo that inspired Garland's involvement referenced "vague claims" and "only one example of violence against a school official (likely a security guard), which was handled by local law enforcement." (The writers offered no evidence that the NSBA is a"leftist" group.)
Why should anyone wait until a school board member gets injured or killed before action is taken here? Shouldn't law enforcement be proactive in a volatile environment where things can easily escalate to viloence? Interestingly, neither Canaparo explicitly denounce violence or the threat of violence against school boards; infeed, they praise parents for being "justifiably angry," and that "The tactics thus far employed certainly are nothing compared to the riots of the summer of 2020 that destroyed over a billion dollars in property and resulted in multiple deaths" -- thus, it seems, implicitly endorsing violence against school board members.
The right-wing Family Research Council's Meg Kilgannon contributed an Oct. 7 column to false fearmongering as well (though she, unlike the Heritage writers, did denounce violence):
Family Research Council condemns violence. Parents who have tried in good faith to work with elected officials to remove pornographic books from school libraries or to expose injustices in programs for children with disabilities are often harassed and demeaned, banned from meetings, or silenced. This latest insult from the DOJ, at the behest of the National School Boards Association (NSBA), is dangerous and authoritarian.

In a ridiculous complaint to President Joe Biden, NSBA executives invoked the Patriot Act as they effectively charged parents and citizens who are advocating on behalf of children with "domestic terrorism." They asked for federal law enforcement protection from parents and citizens -- their own voters.
If the NSBA's complaint was so "ridiculous," why did Kilgannon feel the need to remind readers that the FRC "condemns violence"? Because it knows that things could easily escalate to that level, given how it and other right-wing activists have whipped up the frenzy over critical race theory and other hot-button issues.
KIlgannon went on to tout the FRC's resources for parents, which include a "School Board Boot Camp," which certainly doesn't sound very benign.
FRC leader Tony Perkins tried to manufacture a conspiracy theory in an Oct. 14 column:
The federal government isn't exactly a bastion of efficiency. In fact, entire late-night comedy routines have been written about the glacial pace of Washington. So how is it that Joe Biden's Justice Department managed to snap to attention and mobilize against parents within hours of the National School Board Association's complaint? That's simple, one legal group says, if it was the president's idea to begin with.

How much did the White House know about the NSBA's campaign against local parents -- and when did it know it? That's the question on everyone's minds as more people debate the attorney general's unusually rapid and over-reaching response.
Like the other writers, Perkins doesn't explain why officials should wait for injury or death of a school board member before getting involved. He also doesn't mention the fact that the Jan. 6 Capitol riot has demonstrated that right-wingers will resort to violence. Indeed, threats against public officials have surged, making it even more important to be proactive.
Posted by Terry K. at 5:11 PM EST
Updated: Sunday, December 12, 2021 12:28 PM EST