MRC's Weird Takes On Clinton Impeachment Miniseries
Topic: Media Research Center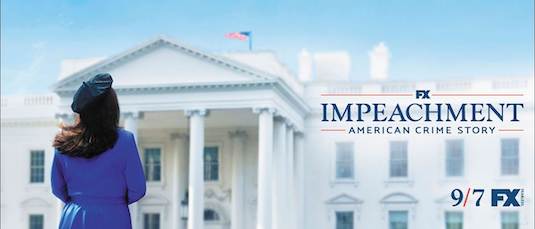 The Media Research Center apparently wasn't too happy with FX's recent miniseries about President Clinton's impeachment and the events that led up to it -- perhaps because it was a little too evenhanded and called out people it didn't want called out. Kyle Drennen complained in a Sept. 7 post:
On Tuesday, NBC's Today show promoted the upcoming FX series on Bill Clinton's impeachment following his affair with Monica Lewinsky by painting one of his sexual harassment victims, the late Linda Tripp, as a "treacherous" villain who was guilty of "betrayal." In addition, the broadcast featured a live exclusive interview with Lewinsky, who was a producer for the mini-series set to premiere that evening.

"Monica Lewinsky is back in the spotlight this morning with a highly anticipated new series premiering on FX tonight, Impeachment: American Crime Story," co-host Savannah Guthrie announced as the segment began. Before talking to Lewinsky, a brief taped report ran reminding viewers of the scandal that swirled around President Clinton in 1998.

"An affair...And a betrayal," Guthrie narrated as clips from the dramatized series played on screen with actress Beanie Feldstein depicting Lewinsky and actress Sarah Paulson depicting Tripp. Moments later, Guthrie made it clear the "betrayal" she referred to was an attack on Tripp, not Clinton:

[...]

During her lengthy chat with Lewinsky, Guthrie noted: "It's not a documentary. It's a dramatic series." The anchor then eagerly asked: The host even chuckled as mentioned the insult of Tripp.

Chuckling as well, Lewinsky responded: "Yes....People will understand when they see the series why."

The treatment of Tripp by Clinton defenders in the liberal media was similarly atrocious at the time.
Drennen concluded by huffing: "Even after two decades and the #MeToo movement, the media are still eager to blame others like Tripp – one of his victims – for the scandal that Clinton caused through his own sleazy behavior."
But Tripp did, in fact, betray Lewinsky. Tripp pretended to be her confidant regarding her affair with Clinton, then worked with book agent Lucianne Goldberg to expose the affair. Drennen doesn't even bother to argue that she wasn't, only desperately trying to reframe her somehow as a "victim" of Clinton.This desire to defend Tripp over Lewinsky (who, again, served as a producer on the miniseries so "the media" is not the one laying blame here) shows us that the anti-Clinton right cared nothing for Lewinsky as a person (and still don't), only as a tool to destroy Clinton by any means possible.
It took both Karen Townsend and Alexa Moutevelis to write an Oct. 6 post about a later episode in the miniseries because it "appeared to work in a hit against Supreme Court Justice Brett Kavanaugh," who was working for independent counsel Kenneth Starr at the time:
Perhaps as a nod to liberal obsessions with sexual assault allegations at Kavanaugh's Supreme Court confirmation hearings, the script has Kavanaugh (Alan Starzinski) saying, "I never like to take 'no' for an answer..." It was an odd turn of phrase that stuck out like a sore thumb.

[...]

Were the writers hoping the audience thought of the smear campaign against Kavanaugh and the attempt made by liberals to paint him as a serial rapist by using that line?

[...]

That is a lame attempt to keep the false narrative alive that Kavanaugh is a sexual predator. The unproven allegations against Kavanaugh during his confirmation hearings paled in comparison to those that were proven against Bill Clinton.
The MRC does know how to defend its ideological cronies.
Posted by Terry K. at 9:56 AM EST
Updated: Saturday, November 20, 2021 9:57 AM EST