Fake News: WND Hypes Yet Another Bogus Voter Fraud Claim
Topic: WorldNetDaily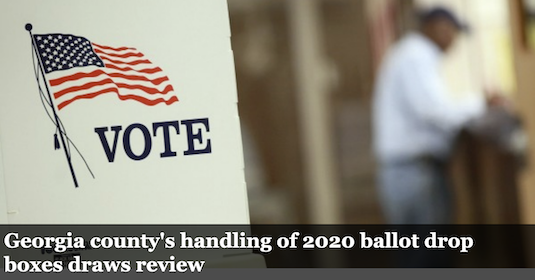 WorldNetDaily's hyping of bogus election fraud claims just never stops. Bob Unruh huffed in a Sept. 28 article:
The state of Georgia has opened a review of the ballot drop boxes used in a Democratic stronghold during the 2020 presidential election because of suspicions raised by a media report about problems with them.

Weeks ago, an elections official in Georgia admitted that "a few" legally required forms documenting the chain of custody for ballots during the 2020 presidential election are missing, blaming the significant problem on the fact some "core personnel" were quarantined due to positive COVID-19 tests at the time.

It was the Georgia Star News that now has revealed "43,907 of the 61,731 absentee ballots deposited in drop boxes in the November 2020 presidential election in DeKalb County, Georgia – 72 percent – were counted in official tallies certified by the county and the state, despite violating chain of custody requirements set forward in Georgia Emergency Rule 183-1-14-1.8-.14 promulgated by the Georgia State Election Board at its July 1, 2020, meeting."

The state outlines requirements for ballots placed in drop boxes, including that they be "immediately" transported to the county registrar by specified security procedures.

"Of the 61,731 absentee ballots DeKalb County recorded as being deposited into drop boxes during the November 2020 election, 46% - or 28,194 of the absentee ballots - were not documented as being received by the elections registrar or the director's designee until the day after they were collected from the drop box," the report said.

The report said another 26%, representing 15,713 absentee ballots collected from drop boxes during the November 2020 election, there was no receipt time recorded at all by the elections office, as is required by the July 2020 emergency election code rule.
But as an actual news organization that cares about facts reported when Donald Trump pushed this same claim:
This is a good example of the ways in which the complicated process of running elections opens up all sorts of opportunity to inject procedural complaints. The story does not suggest that any votes were altered in any way, if such a thing were possible without detection. It does not indicate that anyone had talked to the county about why the forms might have been incomplete (in some cases) or indicated gaps between collection and being logged. There's nothing to suggest that this was anything other than, say, a team collecting ballots at the end of the day and finishing the job the following morning. There's obviously good reason for ballots to be transmitted as quickly as possible, but there's nothing to suggest this was anything more nefarious than campaign workers doing their jobs a bit less assiduously than one might hope.

But Trump doesn't even actually claim there was fraud, since there's no evidence there was. He just says the equivalent of Hey, you seeing all this fraud? and then asking Raffensperger to throw out the whole election somehow because of the gaps on those forms. It's not even a Hail Mary. It's like showing up on the field the day after the Super Bowl and loudly complaining that your opponent was offsides.

It's useful to point out, too, that there's no evidence anything weird happened in DeKalb County anyway. Overall, Georgia voted about five points more Democratic last year than it did in 2016, about the same shift as seen in Kansas (where Trump has spent no energy accusing people of fraud). In DeKalb County, Trump went from losing by 63.5 points then to 67.4 points last year, a shift of 3.9 points away from Trump — less than in the state overall. If you assume that all 43,000 of those votes were for Biden, itself not a fair assumption, DeKalb County would have become more supportive of Trump than it was in 2016. This is … unlikely.
It further went on to note of the dubious website that first reported the claim Unruh is parroting, the Georgia Star News: "It's part of a group of sites established to mimic local news coverage but largely promoting stories friendly to the right. The author of the DeKalb County story, for example, writes for 'The Georgia Star News, The Tennessee Star, The Ohio Star and The Arizona Sun Times,' which must yield her a ton of mileage reimbursements."
In other words, it's more fake news from WND. And they wonder why Google no longer wants to do business with them.
Posted by Terry K. at 4:45 PM EST
Updated: Thursday, November 18, 2021 4:46 PM EST