MRC Backs Bongino's Fight Against Vaccine Mandate -- But Is Bongino Just Virtue-Signaling?
Topic: Media Research Center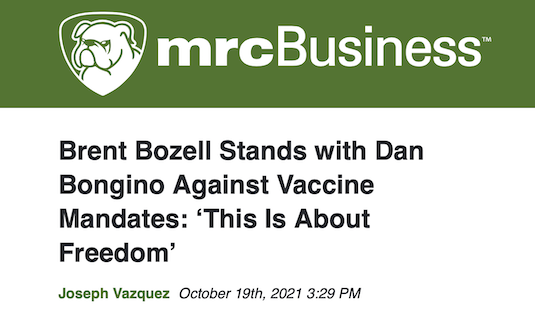 Right-wing radio host Dan Bongino has been a favorite of the Media Research Center for a while, particularly when he claimed to be an investor in right-wing social media site Parler. Of course, the MRC still hasn't told its readers that Parler is controlled by a major MRC donor, Rebekah Mercer, or that Mercer has reportedly screwed Bongino out of his share of the company (or that Parler founder John Matze reportedly got the same treatment). Nevertheless, the MRC wants you to think Bongino is a free-speech champion; in July, Alexander Hall gushed that Bongino co-founded "a payment processor so Americans won't have to worry about PayPal or other woke corporations blacklisting them," and in August, Christian Toto touted a Bongino-hosted series that "highlights the lives impacted by Cancel Culture as well as the microscopic offenses that sparked those cancellations."
So when Bongino got into a tussle over vaccine mandates with the company that syndicates his radio show, MRC chief Brent Bozell was eager to defend him, as detailed in an Oct. 19 post by Joseph Vazquez:
Bongino hammered Cumulus Media — his show's partner — during the Oct. 18 edition of The Dan Bongino Show on Fox Nation. The company had recently instituted a draconian vaccine mandate against its workers. The mandate reportedly led to firings at Cumulus. Bongino called the move by Cumulus "stupid" and leveled an ultimatum against the media company. "You can have me, or you can have the [vaccine] mandate. But you can't have both of us," Bongino said. Bozell took to Twitter to express his solidarity within Bongino: "I'm vaccinated, but I stand with anyone with a moral or medical objection to the vaccine. This is about freedom. We should be free to take the vaccine or not. #StandWithDan."

The popular radio host had a sharp response for the actions by Cumulus: "I'm not playing along with that. And I'll invite, by the way, any of those hosts who — according to an article I read today in Inside Radio who had been let go because of it — you're welcome to come on the show."

[...]

Bongino didn't let up, and said that vaccination mandates were "antithetical to everything I believe in, my company believes in, I believe in myself, my wife believes in and anyone associated with my company."

He then declared, "I'm not going to let this go," and went right at his partnership with Cumulus media: "You have a choice. I work with you. I do not work for you. I never will. You may have had other people in a corner, but you don't have me. And it's my obligation — given everything I've been through health-wise — it's my obligation to stand up for them."

Bongino had Hodgkin's Lymphoma earlier this year before announcing a clean bill of health in March.
Vazquez didn't mention that Bongino is a bit hypocritical on the subject -- he is fully vaccinated, as well he should be since he is immunocompromised from his Hodgkin's treatment. He also didn't mention that Fox News, whose Fox Nation division also airs his radio show, also has a vaccine mandate that requires non-vaccinated employees to tested every day.
Over at the MRC's "news" division, CNSNews.com, Rob Shimshock dutifully repeated Bozell's expression of support while also censoring the full story. It got repeated at MRCTV as well.
Bongino went off the air on the radio after that, and Cululus had been airing reruns even as there was an off-year election that his right-wing audience needed to be riled up over. But some conservatives are starting to suspect taht Bongino is just virtue-signaling, and that his theatrical rage against Cumulus is just an attempt to break his radio contract. As Mediaite reported:
The Cumulus vaccine policy was announced in the summer, with pretty clear deadlines: first shot in September and a second by October 8. Anyone who did not follow the policy was let go by the company by that date.

A source with direct knowledge of the company's policy revealed to Mediaite that anyone on the chopping block for refusing to get the vaccine was already fired. So the notion that Bongino is taking a principled stand against mandates as a means of protecting the freedom of his colleagues doesn't make much sense.

It has raised eyebrows among industry insiders who suspect that Bongino's protest has a different motivation than a principled stand against vaccine mandates.

Take, for example, North Alabama-based conservative talk radio host Dale Jackson, who called out Bongino for "virtue signaling" his opposition to the mandate. "The reason why I called it virtue signaling is very simple: the mandate went into place a week after he said he wouldn't work for a company that had a vaccine mandate."

Jackson is not alone in his criticism of Bongino. The self-imposed exile, sources say, is more about Bongino's flagging commitment to continuing his three-hour daily show. There is a lot of rumbling within Cumulus — and stations that syndicate his show — that Bongino's stand against mandates is actually a naked attempt to break a contract he does not like. His colleagues are not happy about it.
Bongino has since posted a video to Facebook denying he's trying to get out of his Cumulus contract.
This development is nowhee to be found at any MRC online platform, nor has been mentioned on Bozell's Twitter account.
Posted by Terry K. at 10:04 PM EST