WND Trots Out Its Favorite Right-Wing Prophet To Bash Biden
Topic: WorldNetDaily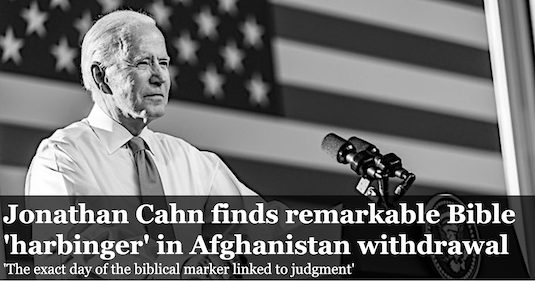 Remember Jonathan Cahn? He's the far-right messianic Jew who has been an obsession (and attempted cash cow) of WorldNetDaily for years. He was also cool with the Islamic extremists of ISIS destroying a 2,000-year-old archeological relic because it was reportedly once the site of a temple to Baal (though it was later a Chrstian church). Cahn and WND editor Joseph Farah led a publicity stunt by preaching during a WND=sponsored Holy Land tour at the site of Jerusalem's Temple Mount despite an official prohibition on such activities by the Israeli government.
Cahn gave his blessing to Donald Trump's presidency, so you know he's not afraid to use his purported prophecy skills for partisan reasons. Unsurprisingly, Cahn played politics with religion again -- this time to attack President Biden -- and WND's Art Moore was eager to serve as his stenographer in an Oct. 11 article:
Is there a "prophetic sign" in the disastrous U.S. withdrawl from Afghanistan? Is there an ancient mystery, from 9/11 to the Taliban takeover, that presents a warning to America?

Those are questions messianic rabbi and author Jonathan Cahn asks in a new video message.

He points to a chapter in his bestselling book "The Harbinger" called "The Isaiah 9:10 Effect," which shows how the events of 9/11 repeated a pattern seen in ancient Israel with astonishing precision. One of nine "harbingers," he found, was that a nation's attempt to undo judgment apart from returning to God will be reversed and bring calamity.

"So, for years I've watched to see if America's victory against the terrorists in Afghanistan would be undone – if the Taliban would come back – and with them al-Qaida and the agents of terror," Cahn says.

He begins his explanation of "the mystery" he found in the Afghanistan withdrawl by recounting his belief prior to the COVID-19 pandemic that 2020 would be a year of "great shaking." He based that on the pattern he found in God's judgment of Israel, in which the nation received a warning strike in 605 B.C. that was followed by "greater shakings" 19 years later.

Remarkably, the event that put in motion the "the undoing of America's war" and "the return of the terrorist" began when then-Secretary of State Mike Pompeo arrived in Qatar to begin talks with the Taliban on Sept. 11, 2020, exactly 19 years after 9/11.

Then President Biden, he notes, "vowed to complete the retreat of America from Afghanistan" by Sept. 11, 2021, "the end of the time period that marked the 19 years."

"When you see this happen, you are a witnessing a harbinger of coming judgment, a coming judgment that threatens to be much greater than the first," Cahn says.
Moore uncritically repeated more of Cahn's politically charged "prophetic" statements:
In May, Cahn released a video message in which he showed a "prophetic template" behind the Jan. 6 riot at the Capitol, relating it to the Temple of Baal in the Bible.

In January, Cahn delivered a video message for President Biden, recalling the first inaugural address 232 years ago when President George Washington gave the nation "a prophetic warning."
In that May message -- as Moore dutifilly repeated in a May 4 article -- Cahn effectively endorsed the Capitol riot because two days earlier there was a Hindu prayer in Congress and Democrats were "presenting arguably the most radical agenda in American history":
"An agenda, that as with the Temple of Baal, contained sexual immorality being enshrined, the oppression of God's people, the encroaching of religious liberty in the form of the Equality Act and other legislation, and the killing of the unborn as it had never been championed before," he says.

On Jan. 6, the Democratic Party sealed its power in Congress, when the two Senate races in Georgia were called. And later that day, the election of Democratic presidential candidate Joe Biden was certified.

That's when the next mystery of the paradigm, occurred, he says.

Cahn, who sees Trump as a prototype of King Jehu, cites 2 Kings 10, in which Jehu calls for a solemn assembly, calling people from all over the nation to gather in the capital city.

On Jan. 6, he says, the template manifests in two gatherings.

"One is that gathering called for by the president," Cahn says. "The other is going to take place inside America's temple, in the gathering convened, by law, of leaders."
Moore mentioned nothing in either article about Cahn cheering ISIS' destruction of priceless historic artifacts.
Posted by Terry K. at 2:11 AM EST