MRC Attacks Political Donations Of Murdoch's Son For Not Being Right-Wing Enough
Topic: Media Research Center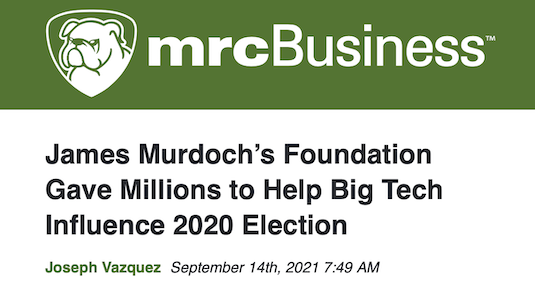 The Media Research Center's Joseph Vazquez has been branching out from attacking George Soros to bashing other rich non-conservatives who donate money to cause that Vazquez disapproves of. His latest target is a slightly surprising one: James Murdoch, son of Fox News mogul Rupert Murdoch.
The MRC has been Heathering James Murdoch for a while because he became uncomfortable with with the family business. An April 2019 post by Clay Waters, for instance, complained that a New York Times article portrayed James as "the good son, an aggrieved centrist who wants nothing to do with Fox News' nasty far-right nationalism," and a September 2019 post by Tim Graham groused about a Times profile of James' wife purportedly designed to helpher "dissent from the Fox News line on climate," further grousing that she gave political donations to non-conservatives. Graham went on to make a point of insisting in a January 2020 post it was "not new" information that "James Murdoch (and his wife) publicly split with his family on climate issues years ago, and now James has no role in the Fox News business. His brother Lachlan's in charge."
Then it was time for Vazquez to target Murdoch and is donations (even though the MRC loudly complains whenever corporate donations to Republicans are called out).A March 30 post noted that "Kathryn Murdoch, the climate activist wife of former Fox News heir and fellow eco-activist James Murdoch" donated to a "commission led by radical liberals to fight "mis- and disinformation." A Sept. 14 post by Vazquez started attacking James directly:
News Corporation Executive Chairman Rupert Murdoch's estranged son and avowed climate activist James Murdoch used his Quadrivium Foundation to fund a leftist organization behind Google and Facebook's notorious 2020 election strategy.

The Media Research Center was informed by Facebook last year that it would be partnering with the radical left-wing organization Democracy Works to help formulate the online platform's 2020 election strategy. However, Big Tech giant Google was also working with "Democracy Works to make sure it's surfacing only true information — and not, Google engineering VP Cathy Edwards said, things like false claims of victory," according to Protocol.

[...]

Murdoch apparently had no problem throwing his political weight behind such an extremist organization with an explicit anti-American agenda.
The only "anti-American agenda" of Democracy Works cited by Vazquez was the the organization (accurately) noted that the country was "built on Black enslavement" and its desire to reckon with "the racism embedded in our way of life." He did not explain why any of this is "anti-American." Vazquez went on to complain:
Murdoch's involvement with a leftist group aiming to manipulate the 2020 election is revealing given his recent pontificating about disinformation. In a joint statement with his climate activist wife Kathryn, James decried "[s]preading disinformation — whether about the election, public health or climate change — has real world consequences." It now looks as though the Murdochs had no problem with a leftist organization controlling the flow of information on Facebook and Google.
Vazquez apparently has no problem with disinformation as long as it advances right-wing narratives and agendas.And he presumably has no problem with right-wingers like the folks who run Fox News -- and the MRC -- using their millions to influence the 2020 election.Does he not realize that's the kind of thing the MRC is paying him to do?
In a Sept. 22 post, Vazquez complained that "Climate activist James Murdoch gave at least $1 million to a group fighting to undermine state oversight of elections. That same group also backed Big Tech censorship against former President Donald Trump," adding:
Murdoch may have had political reasons for funding a group that was openly advocating for the ability of Big Tech to censor Trump. James and his wife Kathryn ;gave "$20 million to Biden's campaign, groups supporting him and opposing Trump, and organizations dedicated to disrupting online threats and extremism." An MRC study published in December found that Twitter in particular had censored Trump and his campaign 543 times since May 31, 2018. Biden and his campaign weren't censored at all.
The accurate way to report that statistic is that Trump and his campaign had violated Twitter rules and policies -- which Twitter, as a private business, is allowed to have -- 543 times while the Biden campaign didn't violate them at all. And a good part of that "censorship" was Twitter merely labeling Trump's false information as such while still retaining access to the false tweet itself.
On Sept. 29, Vazquez raged that "Murdoch has used his foundation to funnel more than $14 million to a leftist group that crusaded against America's so-called 'environmental racism,'" while taking another partisan shot at him and his wife: "The couple also represents the epitome of climate hypocrisy. James has shown particular interest in taking carbon-emitting flights on a corporate jet and the couple finances a climate fund run by the world's biggest investor in fossil fuels." That was followed by more shots:
It gets worse. The Australian Financial Review reported in July 2021 that the Murdochs were the "most prominent investors in a US$250 million ($335 million) fundraising round for BlackRock's new 'climate finance fund' targeting 'carbon-free infrastructure projects' in the developing world." Here's the glaring hypocrisy as reported by AFR: BlackRock has been tagged as "the world's largest investor in fossil fuels."

So the climate-obsessed Murdochs seem to have no problem being investors in "the world's largest investor in fossil fuels."
Is that hypocrisy on a par with whining about corporate political donations to Republicans being exposed while targeting donations from wealthy liberals? How about cheering a news report's release of tax information about George Soros while later attacking that same report for releasing the tax info of non-liberals? Vazquez didn't offer an answer to that.
Posted by Terry K. at 8:07 PM EST