MRC Complains That Protesters Use Tactics Against Sinema, Manchin That Anti-Abortion Protesters Use
Topic: Media Research Center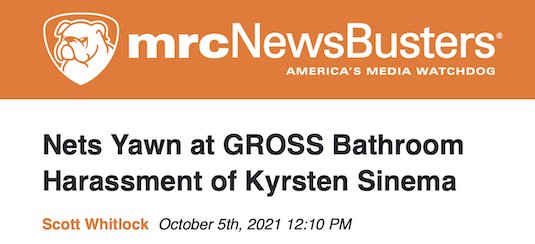 As we learned with Tulsi Gabbard, pretty much the only the the Media Research Center would dare defend a liberal or Democrat is if he or she is doing something that advances right-wing narratives and agendas. It has done that again for Democratic Arizona Rep. Kyrsten Sinema because she has faced protesters opposed to her foot-dragging on supporting Democratic infrastructure and funding bills. Scott Whitlock was in high dudgeon in an Oct. 5 post:
It's pretty safe to say that network media outlets would howl with outrage if far-left favorites like Nancy Pelosi or Alexandria Ocasio-Cortez were harassed and intimidated in a bathroom.

But when the same thing happened to moderate Democratic Senator Kyrsten Sinema of Arizona, the shocking incident resulted in a collective shrug. The October 3 intimidation — and similar acts directed at fellow moderate Joe Manchin — garnered just 188 seconds from the network morning and evening newscasts beginning on Sunday night.

ABC, so far, has ignored the Democratic activists harassing Manchin and Sinema. CBS allowed 54 seconds and NBC offered the most, a still scant 134 seconds. All of this is despite the startling follow-up of the President of the United States telling reporters the harassment of two Democrats holding up his agenda is "part of the process."
Kathleen Krumhansl complained the next day:
The same network that depends on a continued uncontrolled stream of migrants has now granted celebrity status to a stalker and harasser that filmed herself confronting senator Kyrsten Sinema (D-Ariz.) at her seat on flight to D.C., regarding Sinema's reluctance to support President Biden's Build Back Better Act.

While Univision made an effort to portray the confrontation as an opportune chance for Deferred Action for Childhood Arrivals (DACA) recipient Karina Ruiz, introducing her as an "activist" didn´t help. Neither did the fact that Ruiz´ entrapment was one of three performative acts held by pro-immigration activists against Senator Sinema in a 24-hour period. More telling, the airplane "selfie" was promptly shared to Twitter – not by Ruiz herself, but by the Arizona Dream Act Coalition.

[...]

Makes one wonder if the Biden administration, and especially the DOJ, will label such threats, bullying and harassing as domestic terrorism.
Whitlock returned to grouse in an Oct. 29 article:
Progressive haters stepped up their harassment of Kyrsten Sinema over the last week, sinking to the disgusting level of destroying the wedding of a couple who invited the moderate Democratic Senator to officiate. The wedding took place on Saturday and the morning and evening shows on the networks ignored the cruel attack.

[...]

The growing and alarming pattern of harassment against Sinema has resulted in a collective shrug by the networks. In early October, when progressive thugs invaded a bathroom to yell at Sinema, there was just a scant 188 seconds of coverage from the network morning and evening shows. ABC skipped it entirely. On October 26, MSNBC's Brian Williams touted liberal trashing of Sienma and "dickhead" Joe Manchin.

Just imagine if these insults were aimed at progressive darlings Alexandria Ocasio-Cortez and Ilhan Omar.
What Whitlock and Krumhansl aren't going to tell you, however, is that such protest tactics are really no different from those used by anti-abortion protesters against their targets of doctors and other employees at abortoin clinics. As the Feminist Majority Foundation reported about one group of protesters:
Created Equal's Killers Among Us Campaign (#KillersAmongUs) specializes in harassing and intimidating clinics and physicians. Created Equal creates and distributes WANTED-style flyers and posters with the photographs, names, and home addresses of physicians and the group has terrorized doctors at their homes in Ohio, New Mexico, California, and other states. Created Equal and Operation Rescue have joined together to sponsor demonstrations against abortion providers.
There is a long history of anti-abortion protesters harassing abortion clinic doctors and employees at home and even at the churches they attend, and we don't recall the MRC ever complaining about that. Further, abortion doctor George Tiller was murdered not at his clinic but inside a church by an anti-abortion protester. (The MRC and the ConWeb wanted to pretend that Roeder wasn't a "mainstream" protester, caring more about how bad the murder made the anti-abortion movement look than about the tactic of harassing Tiller in church.)
Nevertheless, the MRC persisted with its narrative, roping in another Democratic congressman who was also boosting right-wing narratives by foot-dragging on the spending bills. Whitlock wrote in a Nov. 5 post:
The networks on Thursday night and Friday morning buried the harassment and bullying of one of the two moderate Democratic senators standing in way of Joe Biden's liberal agenda. Climate extremists on Thursday morning followed, screamed at, and then swarmed the car of Joe Manchin as he was trying to leave his D.C. houseboat on Thursday.

Yet, ABC and CBS censored the story completely, allowing no coverage on the evening newscasts and morning shows. NBC skipped it on Thursday night and allowed just a scant 14 seconds on Friday's Today< as Kristen Welker briefly noted, "Manchin confronted by climate activists yesterday over his opposition to the spending bill. That group surrounding and blocking the senator from driving out of a garage."

The 14 seconds on NBC was out of a possible seven and a half hours of available air time on Thursday night and Friday morning. Clearly, journalists don't care about the safety of moderate Democrats.
The anti-abortion movement (of which the MRC is part) has no problem disrupting people's lives when their target is abortion clinic employees -- one might even call it a "collective shrug" -- but is mad about it when those same tactics are used against a Democratic lawmaker whose actions are useful to its partisan narratives. Go figure.
Posted by Terry K. at 6:59 PM EST
Updated: Friday, November 12, 2021 1:15 AM EST