MRC Hypocritically Attacks Candidiate For Deleting Tweets
Topic: Media Research Center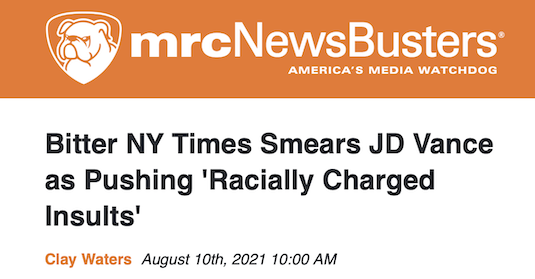 The Media Research Center's Brad Wilmouth wrote in an Oct. 4
post
:
On Monday's New Day, frequent CNN and MSNBC guest-turned Democratic candidate for lieutenant governor of Texas, Matthew Dowd received more of a challenge from co-host Brianna Keilar than he usually gets on the liberal news network.

After spending the first few minutes cueing up Dowd to make his typical attacks on his home state's Republican leaders as he runs for lieutenant governor, Keilar then turned to question him on why he deleted about 270,000 tweets before launching his campaign, pressing him with several followups.

She also hit Dowd from the left by hinting that he was being hypocritical in running for office after he previously argued that white men should step aside and let minorities acquire more power.
By contrast, the MRC gave one of its favorite right-wingers a pass when he deletedold tweets prior to launching a politial campaign.
J.D. Vance is a venture capitalist who got attention in right-wing circles for writing a book called "Hillbilly Elegy," a memoir in which he largely blamed liberal welfare culture for creating a lack of work ethic among the poor Appialachian white culture he came from. The MRC cheered Vance' move further right touting, for example, his investment in the right-wing video platform Rumble (where, as it so happens, the MRC has a space). He even got to be a player in the MRC's bogus "big tech" victimhood narrative when Twitter briefly suspended the Twitter account for Vance's campaign for the Repuvblican nomination for a Ohio Senate seat.
Vance has been saying all the right things as far as the MRC is concerned. In July, Alexander Hall promoted how Vance "accused Google of 'conspiring' with China" and "suggested that the conservative movement needs to get out of its own way" and embrace using power. In August, Clay Waters defended Vance from a New York Times profile of him that pointed how Trumpy Vance has become.
But the MRC wants to bury the fact that Vance, like Dowd, deleted tweets befor declaring for political office -- in this case, tweets from 2016 that criticized Trump, whose supporters Vance is now trying to court for his Senate bid, and proclaimed that he would be voting for Evan McMullin instead. Vance even went on an apology tour of sorts, delcaring that "I regret being wrong" about Trump.
You'll read none of that at the MRC. Instead, the only reference to it is in passing in Waters' piece defending Vance, copying an excerpt from the Times article noting that Vance "has deleted inconvenient tweets" but calling no additional attention to it.
Selective, partisan-driven criticism is not "media research." The MRC has not figured that out yet.
Posted by Terry K. at 12:29 PM EST
Updated: Friday, November 19, 2021 12:34 PM EST