MRC Promotes More Right-Wing Meltdowns From Washed-Up Musicians
Topic: Media Research Center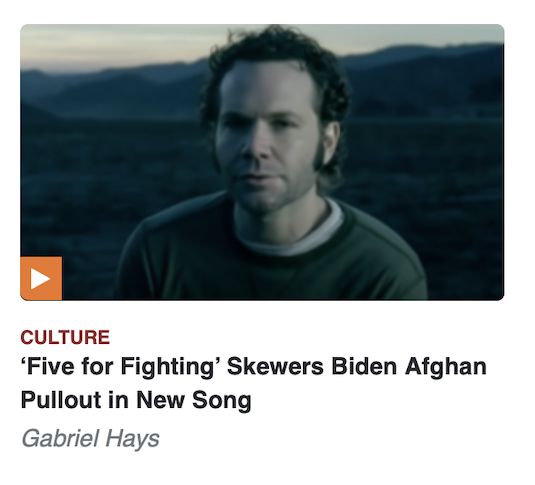 The Media Research Center has a bit of a thing for washed-up rock stars who go all right-wing and/or anti-vaxxer, despite the fact that they no longer have much of an audience that anyone cares about. Nevertheless, Gabriel Hays promoted one in a Sept. 15 post:
Biden's blunder in Afghanistan was so disastrous that it has already inspired musicians to write songs about it.

One artist moved to create out of anger and disappointment in the 46th president's braindead pullout of Afghanistan was lead singer/songwriter of the group "Five For Fighting," John Ondrasik.

Ondrasik, who wrote the unofficial 9/11 anthem "Superman (It's Not Easy)" composed the new 2021 track "Blood On My Hands" after the suicide blast which killed 13 U.S. service members outside Karzai International Airport in Kabul, Afghanistan less than three weeks ago.

Talking to conservative outlet On Balance, Ondrasik remarked, "I was angry and frustrated. And did what songwriters do. I went to my piano and banged out some chords."
Hays even helped Ondrasik -- who is essentially a one-hit wonder and hasn't had a major hit in close to 20 years -- play victim by hyping his claim that his Facebook ads promoting the song were flagged for divisve political content: "Yep, so now you can't post songs slamming dumb*ss politicians on Facebook. Sounds like a convenient ploy to keep the heat off of heads of state who totally deserve it from mainstream artists."
Two days later, Hays found another largely irrelevant oldster to gush over:
The lead singer and guitarist from Megadeth, and one of the founding members of Metallica, Dave Mustaine is actually embracing the spirit of metal and sticking it straight to the freaking man. During a recent concert in New Jersey, Mustaine gave a speech about how Americans are living in "tyranny" right now.

Mustaine has been writing songs about government tyranny, the military industrial complex, and the new world order for more than thirty years, so this not a big stretch.

In a set on September 15, a show featuring blistering metal classics and some new tracks, Mustaine made a point to share a moment with the crowd and bask in the unity that we've all been missing since the outbreak of the Wuhan virus.

He remarked about the power of being in a raucous crowd of like-minded people away from the bureaucratic nags who demand that we stop the fun because it risks spreading Coronavirus.

Mustaine began by asking, "is there anybody here besides me who's having a great fucking time?!" The crowd roared back affirmatively, flashing devil horns signs and cheering him on. For both the metalhead and crowd, it's clear it had been too long without a show.

"But I just wanna tell you how great it is. Look around you guys. Look to your right, look to your left and look how wonderful it is," he said. "We're all here together, we're not in fucking bags, you know? We're not freaking out and we're not yelling at people, 'Where's your fucking mask?'" he added.
Funny how the MRC is suddenly cool with obscene language and flashing of devil's horns when it's done in service of right-wing narratives.H ays continued to gush:
It became more clear that the Megadeth frontman was speaking to the political moment we are facing with the leftist authoritarians in our society, especially when he dropped that big "T" word. "See the thing right now -- what's going on is tyranny. This is called tyranny. Look it up when you get home," he urged his fans.

"And tyranny isn't only in government. Tyranny right now is in the schools and tyranny is in the medical business," he explained. He's correct. As Americans, seeing critical race theory and enforced mandates burdening our kids in public school, and seeing any semblance of open debate about vaccinations being absolutely crushed in the public square, we recognize the tyranny.

Mustaine continued: "We have the power, especially us … heavy metal fans, we have the power to change things." Well as long as Mustaine and others like him are sticking out their middle fingers to the ambitious authoritarians in office, there's plenty of hope.
But as Rolling Stone noted, the state in which Mustaine made his rant has seen 27,000 people die from COVID, and Mustaine himself is a survivor of throat cancer, a pre-existing condition that makes him more susceptible to catching COVID. That "tyranny" he's raging against just might keep him alive -- not that Hays cares about Mustaine's health.
Further, by contrast, the lead singer of the band co-eadlining with Megadeth on this tour, Lamb of God, urged concertgoers to get vaccinated and "wear a fucking mask." Hays somehow forgot to mention that.
So, which singer cares more about the health and safety of himself and his audience? Who's more likely to be alive at the end of this tour? Care to speculate, Gabe?
By contrast, Hays was much, much harsher to an old musician who failed to spout right-wing talking points. He sneered in a July 28 post:
Musician and peace and love enthusiast David Crosby is currently moonlighting as a bloodthirsty fascist who thinks about shooting people who promote politics he doesn't believe in. Yeah sure, the first member of Crosby, Stills, Nash and Young embodies that hippy lifestyle, though today it seems in a way less reminiscent of John Lennon and more akin to Charles Manson.

In a recent interview with The Daily Beast, the songwriter who inflicted "Almost Cut My Hair" on the world had some brutal words for the creator of Fox News, Rupert Murdoch, saying that he should be " taken out and shot" because of all the fake news being pushed out of his network. Oh he also went on about how evil Trump is.

Geez, Another has-been with a negative opinion of right-wingers? Ooooooh, Daily Beast., talk about exclusive scoop!

But yes, how's that for partisan journalism? Begin your interview with the mustachioed musician talking about his music and then switch right into talking about Trump. Readers could see that Crosby knew that this was going into cheap political clickbait, when he responded to the Trump pivot, with a simple, exhausted, "Ah, jeez."

Yeah we hear you, Croz. No one wants to do this.
Yet Hays did it anyway. Go figure.
Hays' headline called Crosby a "cranky old hippie," even though he's no more cranky than Ondrasik or Mustaine. Also note that Hays didn't describe the right-wing rants from Ondrasik and Mustaine as "cheap political clickbait" the way he did Crosby's, even though it is by virtue of the fact that Hays fell for it and ate it up.
Posted by Terry K. at 8:51 PM EDT