CNS Unemployment Coverage Distortion Watch
Topic: CNSNews.com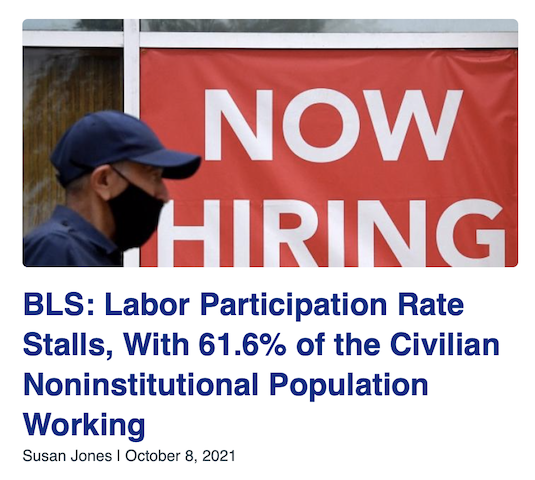 CNSNews.con went back to an old Obama-era tactic in reporting on Septembner's employment statistics: downplay the decline in the unemployment rate by focusing on the labor force participation rate. Susan Jones pushed that in the headline of her main article on the numbers, "BLS: Labor Participation Rate Stalls, With 61.6% of the Civilian Noninstitutional Population Working":
September was a month of slow job growth, with a measly 194,000 nonfarm payroll jobs added -- the worst number of the year.

It was well below analysts' expectations of 500,000, and it follows the disappointing (revised) 366,000 payroll jobs added in August, the Labor Department's Bureau of Labor Statistics reported on Friday.

The unemployment rate fell, but so did the important labor force participation rate, which has remained within a narrow range of 61.4 percent to 61.7 percent since June 2020. And the number of people who are not in the labor force -- have no job and are not looking for one -- is the highest it's been since March.
Jones suggested that "pandemic-related unemployment benefits have ended," which should have pushed employment higher, but did note that "Labor Secretary Marty Walsh put some of the blame on the delta variant." Still, she also included a Republican congressman ranting that President Biden "has lost the confidence of the American people to lead the economy."
CNS didn't offer its usual sidebars on goverment employment or the jobless rates for Black or Hispanic workers. But it did publish a couple of follow-up articles that pushed its anti-Biden editorial agenda. An Oct. 11 article by Melanie Arter uncriticaly repeated Republican Rep. Steve Scalise insisting that "President Joe Biden's policies are to blame for last month's disappointing job numbers." Arter did add that "Biden blamed the Delta variant" for those numbers, but did not quote Scalise making mention of that. She did note that Fox News host Chris Wallace said the numbers were disappointing even though extra unemployment benefits ended at the beginning of September, but quoting Scalise blathering about "other welfare programs."
That was followed by an Oct. 12 commentary by Nick Stehle of the right-wing Foundation for Government Accountability weirdly cheering over the end of the "job-killing federal unemployment bonus." Stehle was silent on the disappointing numbers, which in his theory should have been better due to the end of those extra benefits.
Posted by Terry K. at 12:33 AM EDT