The MRC's War on Jen Psaki (And Man-Crush On Peter Doocy), Part 3
In April, the Media Research Center's Curtis Houck crushed harder (on Fox News' Doocy) and raged more viciously (against Psaki) than ever in his writeups of Psaki's White House press briefings.
By Terry Krepel
Posted 8/5/2021
---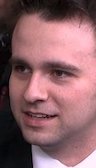 Curtis Houck
Professional Jen Psaki-hater Curtis Houck knows what his job is -- to obsessively hate everything the White House press secretary does, and to man-crush over everything that hostile Fox News reporter Peter Doocy does to Psaki. And that's exactly how he spent the month of April.

Houck's April 1 post was his usual rage/man-crush mashup:
For White House Press Secretary Jen Psaki, it must be quite a life knowing you're never going to be sternly fact-checked (or fact-checked at all) by the liberal media. Thursday's briefing displayed her refusal to live in world of facts and straightforward answers as she deflected questions from Fox News's Peter Doocy about the Biden team's infrastructure plan and border policies and repeatedly lied to Fox Business's Edward Lawrence about Georgia's voter law.
By contrast, Kayleigh McEnany had quite a life knowing that right-wing sycophants like Houck would give her only the highest praise and never have to worry about being fact-checked, even though she aggressively refused to live in world of facts and straightforward answers. The rest of Houck's post once again displayed his man-crush on Fox News' Peter Doocy and other right-wing reporters lobbing hostile questions at Psaki.
The next day, Houck found a different right-wing reporter to crush on for hostile questioning and using to White House briefing room to push conservative talking points:
Capping off another week of repeated non-answers and outright lies, White House Press Secretary Jen Psaki was caught in another liberal double standard. Thanks to Real Clear Politics's Philip Wegmann, Psaki made clear the administration was opposed to the MLB All Star Game being in Atlanta, Georgia due to the state's voting law (which the MLB has since said it will comply) but will refuse to offer support for a boycott of the 2022 Winter Olympics in Beijing, China due to the country's putrid human rights record.
Weird, we don't recall Houck ever getting mad at McEnany for spouting "repeated non-answers and outright lies."
Houck was in full Doocy man-crush mode on April 5:
Monday's White House press briefing picked up on many of Friday's themes, including the Biden administration's lies about Georgia's voter law and their pressuring of MLB to move the All-Star Game out of Atlanta. Fox News's Peter Doocy repeatedly hammered Press Secretary Jen Psaki with questions about Georgia, Biden's falsehoods, and The Masters plus the separate issue of illegal immigration.

[...]

In round two, Doocy led off with the latest moving of the goal posts by teachers unions, citing demands in Los Angeles for free childcare for teachers. Of course, Psaki said it's a state matter and didn't comment.

The Washington Post fact-check of Biden's lies about voting hours in the Peach State to ask whether Biden will "change the way that he talks about" it.
Houck concluded by huffing that "Psaki cowardly ended the briefing so she could bring in the White House Easter bunny and say that reporters should be receiving a commemorative Easter egg to share with their families." Yes, Houck is mad that the White House secretary celebrated Easter. He would be cheering if his beloved McEnany had done it.

Houck was still man-crushing the next day:
Marking another day in the White House Briefing Room rotation, Fox News's Peter Doocy had quite a Tuesday as he was able to both question Press Secretary Jen Psaki on the federal government's border crisis and their voting disinformation campaign and President Joe Biden on China's culpability in the coronavirus pandemic and Georgia's voting law.

Doocy experienced a once-in-a-blue-moon moment when Biden acknowledged him after a speech about the coronavirus, so Doocy asked him about this week's golf major in August, Georgia: "Mr. President, do you think The Master's golf tournament should be moved out of Georgia?"

[...]

A few hours earlier, Doocy was the second reporter called on during the briefing and began with immigration. He used his first two questions to press Psaki on the dangerous reality that terrorists could take advantage of our porous southern border and the other on the administration resuming construction of former President Trump's border wall.
Proving that he's all about obsessively trashing Psaki at every opportunity, Houck cheered another right-wing reporter who pushed those hostile questions he so loves on April 7:
Without Peter Doocy and Kristin Fisher in the White House Briefing Room rotation, it fell to other reporters to offer tough questions to Press Secretary Jen Psaki and the New York Post's Steven Nelson delivered by getting under Psaki's skin over Vice President Harris's travel schedule in light of her supposed role in helping to tame the border crisis.

Nelson noted that she's "been put in charge of addressing the root causes of the border crisis" and spoke last week with the Guatemalan president, "but she hasn't visited the border or Central America or spoken to the leaders of El Salvador or Honduras."

Instead, Nelson pointed out that she's earlier this week, so he wanted to know if she's "still working on this and can you address the perception that she's kind of quietly backing off while the Secretary Mayorkas is pursuing some Trump-era policies, such as potentially building new border barriers and potentially prosecuting people who illegally cross multiple times."

To put a finer point on Harris's schedule, we would add the fact that she spent last weekend in Brentwood, California which, as Tiana Lowe noted, was a short drive from a convention center where migrant children are being housed.
Of course, Houck is just repeating a right-wing narrative that's nothing but a lame gotcha; if Harris actually went to the border as right-wingers demanded, they would still attack her for merely being a photo-op even though that visual is what they demand of her. When Psaki pointed out that Harris can do more than one thing at a time, Houck dismissed as her making a "personal jab." Again, McEnany did a lot of those and Houck never complained once.
Houck went back to gushing over Wegmann for the April 8 briefing:
Moments after President Joe Biden gave a lie-filled speech about gun control, White House Press Secretary Jen Psaki held Thursday's briefing with a room dominated by journalists supportive of the administration's desire to harm millions of law-abiding gun owners.

In contrast, Real Clear Politics's Philip Wegmann repeatedly pressed Psaki on one of Biden's key claims, the reasoning beyond Thursday's orders, and whether they considered the impact a limit on stabilizing braces would affect those that already own them.
We don't recall Houck ever objecting to the "lie-filled briefings" that Donald Trump issued.
Houck closed out that week with even more man-crushing over Doocy on April 9:
Fox News White House correspondent Peter Doocy joined the Briefing Room rotation on Friday to cap off another whirlwind week and, as the fourth reporter called on during Press Secretary Jen Psaki's Q&A, he brought up President Biden's past opposition to court-packing (as he seems to be moving toward doing just that) and the latest headlines from the Biden border crisis.

And on the courts, Doocy got a key assist from none other than CNN chief White House correspondent Kaitlan Collins.

Doocy started with the Supreme Court and brought up comments Biden made in 1983 in light of Biden's appointing of a commission to study court reform (which should be read as nothing more than a leftist power grab).

When he brought up 1983 before his question, Psaki interjected with a weak dad joke about how she was impressed with Doocy's trip aboard the "time back machine."
Weird how Houck believed that Kayleigh McEnany could be as snarky as she wanted to be, while Psaki gets shut down for allegedly making a "weak dad joke." It's almost as if his severe right-wing bias influences these posts of his.
On April 12, Houck didn't have to man-crush on Doocy because "New York Magazine correspondent Olivia Nuzzi put Press Secretary Jen Psaki on the defensive as she asked about whether the Biden administration's continued mask usage despite having been vaccinated and discouragement of social interaction has contributed to vaccine hesitancy." Houck failed to mention that one of the groups with the largest rate of vaccine hesitancy is Republican men, who likely aren't taking their cues from Biden.
Houck whined of the April 15 briefing that "Thursday's White House press briefing quickly devolved into a predictable pattern of near emptiness in terms of answers from Press Secretary Jen Psaki, who ducked questions on issues such as the debunked Russian bounties story, the Johnson & Johnson coronavirus vaccine, and her party's attempt to pack the Supreme Court." Of course, Houck loved when that "emptiness" from the podium emanated from McEnany.
Houck grew outraged that pressers from both Biden and Psaki on April 16 didn't entertain hostile right-wing reporters -- and, because he's incapable of seeing anything in other than black-and-white terms, he pushed the MRC narrative that if you're not a hostile right-wing reporter like Doocy, you must be a far-left pro-Biden sycophant:
The White House press corps has never been a fan of guns or the Second Amendment, so it was no surprise on Friday when multiple reporters hammered President Joe Biden and Press Secretary Jen Psaki from their left flank on gun control. In one instance, a reporter compared gun violence to the coronavirus pandemic and demanded their responses be of equal vigor.

Capping off his first foreign head-of-state visitor to the White House in Japanese Prime Minister Yoshihide Suga, Biden wrapped up his week with a brief, joint press conference with Suga (which followed the traditional two-and-two model of two reporters from each country's press corps being called on).

[...]

ABC's Maryalice Parks likewise sounded like someone from Everytown or the Giffords Center, expressing frustration with hearing Psaki<"talk over and over again about the President's support of the House bills, but right now it just doesn't seem like they're — you guys have those votes in the Senate."
Houck had a different hostile Fox News reporter to cheer on -- and even more sneering hatred of Psaki -- for the April 19 briefing:
White House Press Secretary Jen Psaki began her week with a briefing so bad that there's no way to go but up. On Monday's episode, Psaki arrived with a short fuse and clashed with multiple reporters over basic immigration questions, and blew a gasket at the Fox News Channel's Kristin Fisher over the administration's mixed messaging on the refugee cap.

Fisher started with an admission of confusion and an open invitation to clear things up on the White House's flip-flopping on what number of foreign refugees could be allowed entry into the U.S.: "I'm still just a little bit confused about what changed between 1:00 pm. on Friday and around 4:30p.m. on Friday to go from, 'We're not raising the refugee cap to, we are raising it by May 15th.' What – what changed in those three and a half hours?"

By then, Psaki had fielded numerous questions on it, but Fisher merely wanted the record corrected. Instead, Psaki claimed "we never said we're not raising the refugee cap" and the administration had always been clear.

Fisher tried to interject, but Psaki demanded she be allowed to in order to reassert that there was never a doubt that they would maintain Trump immigration levels (though that's exactly what they had said they would do).
Remember: In Houck's world, Fox News reporters are always right and Psaki is always wrong. That's because narratives are more important at the MRC than the truth is.
Even when Houck doesn't have Doocy to man-crush over, he can still indulge in the ol' MRC tradition of trying to play cancel culture on public broadcasting. For Psaki's April 20 briefing, Houck declared his outrage at PBS' Yamiche Alcindor refusing to play along with right-wing narrative by screeching "DEFUND PBS" in the headline:
Hours before the guilty verdict in the Derek Chauvin trial, White House reporters stepped up Tuesday afternoon and did their due diligence in a briefing filled with harsh questioning. At least six reporters went toe-to-toe in slamming Press Secretary Jen Psaki over President Biden's earlier comments demanding a guilty verdict and the White House's refusal to call out Congresswoman Maxine Waters (D-CA) for comments threatening the jury.

However, PBS's Yamiche Alcindor was still a holdout in defending Waters. After a serious questions seeking clarification on Biden's comments, she asked if she "could speak to Americans who feel on edge" and "anxious," but "especially African Americans who have seen so many verdicts, so many trials happen."

Alcindor's subsequent question was the epitome of liberal partisanship and why PBS shouldn't be able to engage in partisan activity using our tax dollars as she went to bat for Waters against "an onslaught of attacks" from Republicans:
Houck found another right-wing reporter to fawn over for the April 21 briefing:
Near the end of Wednesday's White House press briefing, the New York Post's Steven Nelson irked Press Secretary Jen Psaki with a basic question about whether President Biden "acknowledge[s] his own role" in major crime legislation that leftists argue contributed to the "systemic racism" his administration has claimed they will work to eradicate[.]

Nelson used most of his time to continue his pattern of pressing Psaki on matters concerning federal marijuana policy and its affect on administrative staffing.

After four questions about marijuana, Nelson pivoted to Biden's comments following the verdict in the Derek Chauvin trial in which he said the murder of George Floyd "ripped the blinders off for the whole world to see the systemic racism in the United States."

Nelson argued Biden said that despite the fact that "he's an architect of multiple federal laws in the 1980s and '90s that disproportionately jailed black people and contributed to what many people see as systemic racism."

Citing Cornell West as having called Biden one of the core "architects of mass incarceration" that needs to atone for, Nelson wondered: "To what extent does President Biden acknowledge his own role in systemic racism? And how does that inform his current policy positions?"
Houck put Nelson in his hostile right-wing reporter pantheon: "Like Fox's Peter Doocy and Kristin Fisher and Real Clear Politics's Philip Wegmann, Nelson has established quite the track record of asking probing questions aimed at soliciting answers from Psaki, but have instead left her both perturbed and stumped."

Houck never described his other crush, Kayleigh McEnany, as having been "perturbed and stumped" by "probing questions" from reporters -- he was too busy attacking the reporters who asked them.

Houck then skipped a few days of briefings because they were "uneventful" -- meaning that

Doocy and Co. weren't there to ask hostile questions. But for the April 27 briefing in which Doocy made his first appearance back from his honeymoon, Houck excitedly squealed, "He's Back!":
After a few uneventful White House press briefings, Monday's episode drew a number of interesting exchanges on the border crisis, the coronavirus pandemic, masking, schools, and President Biden's Wednesday address to a Joint Session of Congress.

And after having been off to get married, Fox News's Peter Doocy returned with a bang in an exchange on the administration's continued masking despite having long been vaccinated.
This was the briefing writeup that Houck later stealth-edited to obscure the fact that Doocy pushed fake news by repeating a false claim that federal officials were giving copies of a book written by Vice President Kamala Harris to immigrants. And Houck hates Psaki so much that he refused to even acknowledge that Psaki congratulated Doocy on his marriage (or that Psaki blew up Doocy's mask questions).
This was followed the next day by Houck pushing (through another right-wing reporter, Wegmann) another bogus story, about "former Secretary of State John Kerry reportedly selling out Israel to his friends in the terrorist-loving Iran." In doing so, Houck joined his MRC buddies in choosing to trust an enemy of the United States over a Democrat.
So predictable. So ridiculously biased and hateful.
The latest from