CNS Touts McCarthy Noting That Confederates Were Dems, Hides That 120 Republicans Voted Against Removing Confederate Statues
Topic: CNSNews.com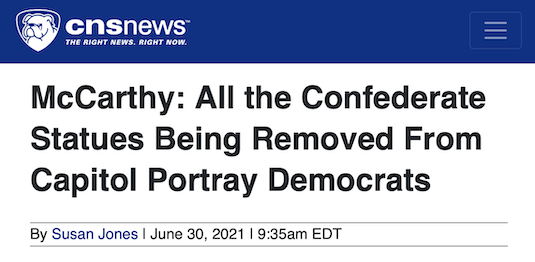 Susan Jones wrote in a June 30 CNSNews.com article:
The U.S. House of Representatives voted 285-120 on Tuesday to remove more statues of Confederates from the U.S. Capitol.

Sixty-seven Republicans voted with 218 Democrats in support of the bill, and one of those voting for removal was House Minority Leader Kevin McCarthy (R-Calif.), who seized the occasion to note past Democrat racism, even as he condemned present Democrat attempts to stoke racial division in the United States.

"The bill we're voting on today we voted (on) before," McCarthy said in a floor speech. "And I supported it. I support it now. But let me state a simple fact: All the statues being removed by this bill are statues of Democrats," McCarthy said.

(The House resolution removes statues of John C. Calhoun, Charles Aycock, and James P. Clarke, all of whom defended slavery and fought for the Confederacy. And it replaces a bust of the late Chief Justice Roger B. Taney, author of the Dred Scott decision, with one of Thurgood Marshall, the first African American Supreme Court justice.)

McCarthy noted that the Confederate portraits removed from the Capitol one year ago were all of Democrats as well. And he noted that the statues identified in the House resolution were sent to the House of Representatives by states controlled by Democrats.
What Jones was careful not to mention: All Democrats voted for the statues' removal, and that all 120 "no" votes on this removal were cast by Republicans, which would seem to drive home the point that Democrats have repudiated its history or racism, while Republicans have picked up that mantle. While Jones gave McCarthy space to declare that "I'll vote for this bill today, just as I voted for it before," she gave no explanation for why 120 Republicans voted against it (and the leader of their caucus).
Jones went on to uncritically quote McCarthy making the case for Democrats changing the name of their party despite it not being germane to the issue of removing Confederate statues:
Just a few years ago, then-Vice President Joe Biden praised Democrat Senator Robert Byrd [D-W.Va.]. He was the exalted cyclops of the Ku Klux Klan. In his eulogy for Byrd, he said, for a lot of us, he was a friends, a mentor, and a guide.

Another leading Democrat who praised Byrd at the time was Speaker Pelosi. She called Byrd a friend, a great person, and a great American patriot.
Jones censored the fact that Byrd repeatedly apologized for his KKK involvement, and even the NAACP acknowledged upon his death in 2010 that he"went from being an active member of the KKK to a being a stalwart supporter of the Civil Rights Act, the Voting Rights Act and many other pieces of seminal legislation that advanced the civil rights and liberties of our country."
Posted by Terry K. at 5:51 PM EDT