MRC's Double Standard on Rooting Against America
Topic: Media Research Center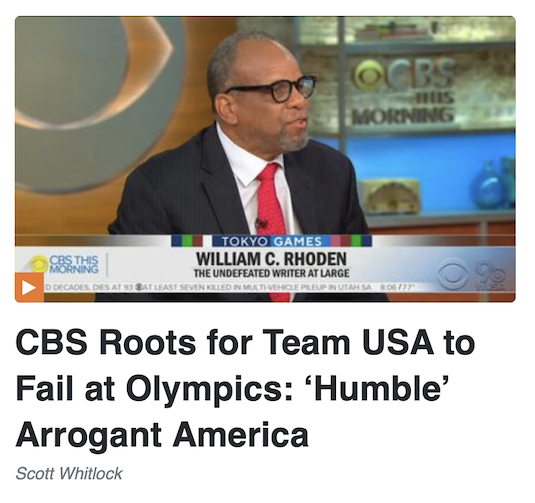 Under the headline "CBS Roots for Team USA to Fail at Olympics," Scott Whitlock complained in a July 26 post: "According to CBS guest William Rhoden, arrogant Team USA need to be "humbled," and maybe losing several medals at the Olympics was the way to do it. Appearing on CBS This Morning, Monday, the liberal sports journalist derided the opening ceremonies as too nationalistic, saying they reminded him of 'white nationalism.'" He added that "Seeming to root against the U.S., the former New York Times columnist took pleasure in the American basketball team's struggles," going on to criticize the "trashing of American athletes."
You know who else has been trashing American athletes and rooting against America at the Olympics? The MRC.
We've already documented the seething hatred the MRC has for any athlete -- particularly American ones -- who aren't heterosexual, and one got the sense they were rooting for the failure of these athletes at the Olympics solely because of this.
Jay Maxson explicitly did in a July 11 post exactly what Whitlock accued Rhoden of doing -- taking pleasure in the American basketball team's struggles:
How the mighty – and the woke – have fallen! The dominant international men's basketball powerhouse forever, Team USA, suffered a shocking, embarrassing pre-Olympic exhibition game loss to lowly Nigeria on Sunday. The NBA's wokeness sure doesn't fly on the world hoops stage.

Ranked 22nd in world, Nigeria downed the Americans 90-87. It was the USA's first-ever loss to an African team. The USA is now 54-3 since NBA players took over U.S. Olympic basketball, and the team had won its last 39 games. In two previous games against Nigeria, the USA had won by a whopping 127 points combined.

Greg Popovich (at right in photo), the most woke and politically outspoken coach in the NBA, coached the U.S. to this disaster. It's certainly a red alert for him and all the American NBA players who have been disgracefully carrying on about social justice, Black Lives Matter and Donald Trump in recent years.

[...]

Once again, we see that all the money and wokeness in the world - and the complacency that can come with it - doesn't always beat heart, hunger and desire.
This was followed by a July 21 post in which Matt Philbin took immense pleasure in the U.S. women's soccer team losing its Olympic opener:
The U.S. Women's National soccer team lost 3-0 to Sweden in their Olympic opener on Tuesday. That probably hurts the team's chances for the gold. But let's not forget that this was a victory of sorts too. The U.S. ladies proved they could maintain a busy schedule of politicized grousing, kvetching and posturing, and still find time to lose a soccer game. You really can have it all, gals!

Just in case sports fans forgot how deeply the team feels the world's every injustice, they and their opponents knelt before the game to strike a blow against racism or something. Then they got down to the business of being trounced.

[...]

Oh sure, they missed the net and maybe the ball sometimes. But the Angry Amazons for Equity have other targets dead in their sights: " racist infrastructures," sexism, and reality based economics. And attractive women's lingerie is toast.
The same day, Tim Graham used his podcast to ask: "How do we feel about kneeling American Olympians? Should Americans root for them anyway....or root for them to lose?" He admitted that MRC staff members "tend to root for these Americans to lose, even though they're Americans," but he didn't name any MRC staff members who believe that "Americans should always root for Americans." Graham then declared his "swishy Susan Collins-type centrist" position that "I root for the Americans, but I'm not going to be too upset if Megan Rapinoe loses."
So, yeah, the MRC is utterly hypocritical about this.
Posted by Terry K. at 8:49 PM EDT