MRC Is Angry Olympics Aren't Heterosexual Enough
Topic: Media Research Center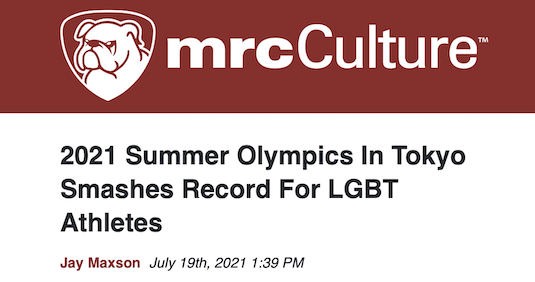 In the runup to the Olympics in Tokyo, the Media Reserach Center -- led by the mysterious and virulently transphobic sports blogger Jay Maxson -- was increasingly angry that they wouldn't be heterosexual enough, lashing out at LGBT athletes who might qualify.In May, Maxson raged over a transgender weightlifter from New Zealand, feven though he (or she) is likely not a New Zealand resident and, thus, has no actual reason to care. Maxson then demonstrated his utter ignorance of how transgenderism works in a June 9 post:
The U.S. Olympic women's BMX team just got a whole lot more macho! A man is now in prime position to steal a spot from a woman on the U.S. freestyle cycling team. Chelsea Wolfe is expected to become the first transgender athlete to make a U.S. team, at the Summer Olympics in Tokyo next month.

In 2014, Wolfe suddenly decided that he was not a man, but a woman. And presto, he's a woman who defies the laws of biology! One who currently ranks third among female American BMX competitors. The two women ranked ahead of him will compete in Tokyo, and Wolfe will serve as the alternate, as things stand now.
Has Maxson ever met a person who is not heterosexual? Is he so cocooned in the heterogenic MRC bubble that he never has to, meaning he has free rein to make up stories about how and why a person feels the need to change gender?
Maxson ramped up his (or her) hatred of Wolfe in a June 22 post raging over a tweet in which she sarcastically said she would burn a flag on the podium if she won, smearing her as a "sicko" and ranting that "The two-faced IOC deserves a lot of the blame for allowing this assault on the integrity of women's competition by trans activists." He concluded by huffing that "The males Wolfe and New Zealand weightlifter Lauren Hubbard are officially qualified for Tokyo and they're destroying any chance these Olympic Games will promote fairness."
Abigail Streetman picked up the mantle of hate in a June 25 post, asserting without evidence that runner CeCe Telfer transitioned to female solely because he sucked as a male runner:
One small step for women, one giant hurdle for women's sports. Transgender track star CeCe Telfer was just deemed ineligible to participate in the United States Olympic trials as a woman due to his testosterone levels being too high. Of course, any real doctor that doesn't feed into the woke mob mentality will tell you that it's impossible for a man to become a woman just because they lower their testosterone levels.

Men produce nearly 20 times more testosterone than women, and there are obvious strength differences between the two genders. Telfer learned how to use this to his advantage. The 'star' ran for the Franklin Pierce University men's track and field team. He also placed in the top 200 in the 400m hurdles in the NCAA Division II men's division in 2016 and placed 390th in 2017. After these accomplishments he realized that he was actually a woman.

Is it a coincidence that after falling 190 positions from 2016 to 2017 he decided to transition and compete against women instead? I think not. In 2019, Telfer became the first man to win an NCAA title in the women's 400m hurdles.
Streetman apparently believes Telfer is as shallow as she is, and she knows as little about what she writes as Maxson does.
Meanwhile, Gabriel Hays -- who hates transgender people almost as much as Maxson -- cheered when former NFL quarterback Brett Favre (football isn't and never has been an Olympic sport) expressed "his disapproval of biological men competing in women's sports," specifically targeting Hubbard and Wolfe. Bridge O'Neal complained that a TV show committed the offense of having "celebrated non-binary track athlete Nikki Hiltz, who competed against women during the Olympic trials," going on to complain that "It seems that now the liberal media is criticizing conservatives for their attempts to maintain fair and traditional competition in the Olympics and in kid's sports."
Maxson returned for a July 7 post whining that "Professional sports and the media who cover them just couldn't impose enough LGBT propaganda on you in the recently completed month of June," citing as an example "Chelsea Wolfe, a man despite the female name, qualified to be an alternate on the U.S. Olympic women's BMX team for the Summer Games at Tokyo." Maxson ramped up the hate again in a July 19 post in which he (or she) specifically complained there were way too many LGBT athletes in the Olympics:
Queer theory is in full session at the 2021 Tokyo Olympics. And then some! The Summer Games will be the queerest ever, with 142 publicly out homosexual, transgender and nonbinary athletes going for the Gold.

Outsports and The Queerstory Files say the number of publicly out LGBTQ athletes in Tokyo is not only double the number of out athletes who competed in the 2016 Rio Games, but greater than the number of such athletes in all previous Summer Olympic Games combined. Aren't we all in for a treat?

Guess who's leading the gigantic LGBTQ parade. It's the United States with 30 out-standing athletes. The leaderboard also includes Canada (16), the United Kingdom (15), the Netherlands (14), New Zealand (9) (see trans weightlifter Laurel Hubbard in above photo), Australia (10) and Brazil (9).

Lesbians outnumber gay men 8-1, with women's soccer boasting 30 out players. Outsports says, "This continues a trend seen at past Olympics and is reflective of out athletes in elite non-Olympic sports where women also proliferate." Atta boy, girls!
Maxson concluced his (or her) rant by huffing, "The long-held Olympic motto of 'citius, altitus, fortius'' ('fastest, highest, strongest') just doesn't do justice anymore. The International Olympic Committee may as well make it official and add the word 'queerest.'"
If Maxson believes LGBT athletes are so inferior, why doesn't he (or she) put up or shut up, and race against them to prove that heterosexuality rules. Unless ... Maxson did race and was beaten soundly by an LGBT athlete, which would explain why he (or she) is so bitter and hateful.
Posted by Terry K. at 9:50 PM EDT
Updated: Wednesday, July 28, 2021 10:12 PM EDT